Summit attendees explored equity and access across different areas of education including technology, community engagement, and advocacy.
SLJ editor-in-chief Rebecca T. Miller opened the 2019 SLJ Leadership Summit talking about its theme of access and equity.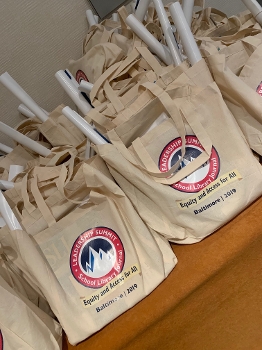 "When I think of access to ideas, inspiration, skills—literacy, STEM, research, stories—via many formats, self-exploration, school community, student success, I think of libraries and librarians, I think of each of you," Miller told the nearly 300 attendees. "When I think about equitable access, I get past despair and frustration about growing disparities by thinking about libraries and librarians."
The issues were further discussed in breakout sessions, including AR/VR in Education; How to Work with The Harry Potter Alliance; Encouraging Community Engagement, Providing Equity for Our Students; and Information Equity.
Some of the highlights included:
The AR/VR session with edtech consultant Jaime Donally and library media specialist Joquetta Johnson, of Randallstown High School in Baltimore County, left attendees "fired up," in the words of one librarian. The presentation and discussion introduced some AR/VR technology, offered new ideas and, most importantly, practical solutions from bringing the technology into their schools. They discussed specific technology, its requirements—and workarounds—and using AR/VR in the classroom in general.
Toward the end of the session when people shared their challenges and others offered solutions that have worked in their schools.
"We are a community of collaborators," Donally said.
---
The Harry Potter Alliance (HPA) managing director Katie Bower led a workshop after speaking to the entire group about what her organization does and how school librarians can get involved. She had the ballroom crowd nodding in agreement when she asked them to think about the kids in their school who know they have a voice and want to use it for change.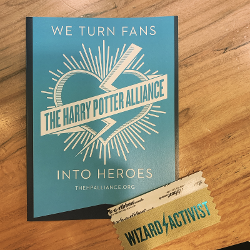 "The fact that you can think of exactly who those kids are indicates that there are a lot of kids that still need that community, still need that voice, still need to be recognized as heroes," she said.
The problem, she said, is most programs are designed for the students who are already inclined to take the steps into activism or leadership roles. "Your Gryffindors, if you will," she said.
"What about the kids who aren't necessarily Harry, Ron or Hermione?" she said. "Who is serving Neville Longbottom?"
In the packed room at her breakout session, Bower answered questions and had small groups discuss about ways to bring the HPA to their school and what specific projects would look like. They talked about the issues with book drives (such as receiving old and/or inappropriate books) and how to work around them.
---
Ali Schilpp, 2018 SLJ School Librarian of the Year, led the Providing Equity session, sharing the solutions she has created in her rural Maryland school. At her school, she said, about 70 percent of students don't have reliable internet access at home, if they have it at all. Many also take long bus rides, the longest being an hour and a half. Teachers must remember these issues when giving assignments. At her school, Schilpp said they offer time to do just about everything during school time so the students with internet access don't outperform those who don't.
Her husband, Brian, who is a teacher at the school, was also there, sharing with the group. He oversees a robotics club and says he often gets students that quickly outperform kids who have been on traveling teams and elite programs at other schools. It's a reminder that access is often the only thing keeping students from finding their talents and interests.
"We never know who's going to have an aptitude for some of these things until they have access to it," he said.