Join us to celebrate 10 Years of the Grishaverse! A decade after the publication of Shadow and Bone, #1 New York Times bestselling author Leigh Bardugo and educator Rose Brock will explore the creation of her wildly popular and immersive fantasy world, the Grishaverse, which now spans 10 books and a Netflix original series, Shadow and Bone. Plus, Leigh will talk with illustrator Dani Pendergast about the next chapter: Demon in the Wood, a new graphic novel about the origins of the Darkling.
Join Simon & Schuster Children's, Nobrow Press, and Lorimer Children & Teens to hear about their latest titles featuring positive representation of LGBTQIA+ themes and characters. Spanning every genre, from romance, to mystery, to fantasy and more: these publishers will cover the spectrum of hot upcoming titles for middle grade, teen, and young adult readers!
Do you love authors and hearing about their creative process? Do you live to add books to your TBR pile and library? Skip the travel, and join us October 6 for the most anticipated librarian gathering of the fall 2022 publishing season—fully virtual and free to attend! Our daylong program of author panels, in-depth conversations, and keynote talks will leave you informed, inspired, and entertained.
Learn how to approach your practice, programs, and partnerships through a social emotional lens and better support yourself, colleagues, and your community.
A growing body of research shows that many students enjoy nonfiction as much as or more than fiction, but library circulation doesn't always reflect that. Discover how five school librarians increased their students' interest in nonfiction through weeding aggressively, re-arranging and displaying books in creative ways, and highlighting it with innovative activities.
Learn how to cultivate and promote inclusive collections to ensure your library materials reflect the diversity of your community.
Learn vital skills for dealing with all of today's most pressing issues, including book banning, disinformation, patron and staff safety, and more, all from an equity and trauma-informed lens.
Drive greater impact in your community, and realize greater efficiency and confidence in your work, by becoming proficient in project management skills.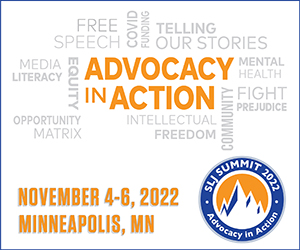 Join us November 4-6—live and in person—for the 2022 SLJ Summit: "Advocacy in Action."
Convening in Minneapolis, MN, the Summit will assemble school library leaders and community stakeholders to consider the challenges and opportunities surrounding top issues, from intellectual freedom and student mental health to the American Rescue Plan, the largest one-time federal investment in education.
Learn practical steps to ensure your cataloging practices are more equitable with support from library experts.