The author of So You Want to Talk About Race spoke with SLJ about what educators, and specifically librarians, can do to better serve students of color and change institutional bias and patterns of systemic racism in U.S. education.
Author Ijeoma Oluo. Photos: Libby Lewis Photography
Ijeoma Oluo, author of So You Want to Talk About Race, spoke with SLJ about what educators, and specifically librarians, can do to better serve their students of color and start to change the institutional bias and systemic racism in the U.S. educational system. Oluo calls herself a "writer, speaker, and Internet yeller." She has focused her professional life on the issues of race and identity, feminism, and social justice.
When it comes to the American education system, the mother of two school-age sons is not short on ideas. But first she often must convince people there is a problem.
"I encounter more resistance from educators than just about any other sector when it comes to talking about race," Oluo says. "I don't think teachers want to be a part of the problem. Teachers are underappreciated, often very selfless people working very, very hard for children. To then have someone say, 'You know you're probably perpetuating some racist things in your classrooms? Do you know you're also probably contributing to the oppression of students of color?' That doesn't sit well with people who genuinely love children."
When faced with denial or defensiveness, Oluo presents the facts, citing statistics such as the racial gap in test scores, the rate of suspensions of black preschoolers, and the number of arrests of students of color in high school which are not correlated to the amount of violence, drugs or truancy in schools but to the number of black and brown students in schools, she says.
So You Want to Talk About Race (Seal Press, Jan. 2018) includes a chapter on the school-to-prison pipeline and other educational issues. We discussed the need for diverse books and the first steps all educators must take to be part of the needed change, including looking at those statistics and the individual and institutional response to them.
"The numbers don't lie. If we don't engage with those numbers and decide to actively be a part of the solution, we are saying some fairly racist things about where these numbers come from. ...You either believe that black families are four times more dysfunctional than white families, that black students are twice as unmotivated in school as white students, that they are three times more criminal than white students, or you believe there's a systemic problem. Those are kind of the only options you have. …
I really need people to look that in the face and say, 'OK, we're doing something wrong, no matter what our intentions are. I'm not going to believe that the black kids in my school are broken. I have to believe the system is broken,' she says. That's part of loving your kids. That's part of being an educator. Then you have to engage it and think, 'Ok, if I didn't' realize that, I probably haven't been able to magically do the right things. It's not instinctual. I need some help.' Then you start looking for resources and start reading up on what you can do to proactively shift what's been happening in our schools since our inception. …
A lot of times teachers will ask me, 'What's one thing I can do to help my students of color?' I need educators to be less afraid of acknowledging race. You start by acknowledging the students of color. [For example], even if you don't have Asian students, but especially if you have Asian students, you need to be looking at your lessons and finding examples of Asian Americans doing great things in society. Then you need to say, 'This was an Asian American.' And the look of shock on their face—'Wait a minute, you want me to just say Asian American? '
Yes, actually say it. They're stunned. In fact, a college professor actually guffawed at me the other day when I said he needed to acknowledge great black people in his field when talking to students. 'You want me to just say black? I would get written up. I would get in trouble.'
Because white people think noting someone's race is racist.
Yes. But what people, especially teachers, don't realize is white is the default in this country. Just because you don't have to say white, doesn't mean you're not saying white.…We have to understand when we're teaching our students and we're not acknowledging race, we're saying white all the time.
To challenge that, you have to actually start acknowledging race. Start to specifically look for examples of people of color and say it. Recognize your students of color, let them know you see them. They feel invisible. Just because you're uncomfortable with it doesn't give you an excuse to continue to disserve your students that way.
And white students need to know that students of color can be absolutely anything when they grow up, and they won't know that if they don't see examples. We really do police what people of color can be in our society and our kids learn it young. We learn it because we never hear of people of color doing different things. We hear of them playing basketball. We know they can be musicians. And that's kind of where it ends. That really sets up what our peers expect of us. Then they become the people who hire for jobs, and they become future teachers. It becomes a real problem.
What about libraries and the movement for more diverse books? Is that a part of the solution for the bigger systemic issue?
When you look in a library, it's going to be mostly white subjects, white authors, it doesn't even matter what you're looking for. For young people trying to formulate what they can do in life, I don't think we realize the message that sends.
We talk about the beauty of imagination and books, right? You can imagine yourself being anything. But that sentiment usually comes from people who always see some sort of representation of themselves in the books. But if [people in books] never look like you, that sends a message too. That actually activates your imagination in a negative way—that you never see a black scientist, you never see an Asian politician. These things limit. The amount of imagination we're asking of our young people of color is astounding.
But it also affects white students, because it limits what they think their classmates of color can do. This has a real impact on how we see the world, how we support our systems. The young people are the carriers of our systems. They're going to inherit it all, and we need them to imagine something better, something more inclusive. We nurture that by showing diverse voices, showing diverse histories, and really giving them a new idea.
It's something I see some librarians take incredibly seriously. I'm incredibly grateful for how supportive many librarians have been and how hard they've fought to get copies of my books in schools, universities, and public libraries, because it matters. There are a lot of other amazing books out there—fiction, science, and all genres—written by people of color with protagonists of color that need to be really advocated for.
There's a norm that has been set. People are comfortable with what they always see. That means you have to put forth a deliberate effort to change that norm. That shift is actually fairly easy to make but only if you do something deliberately.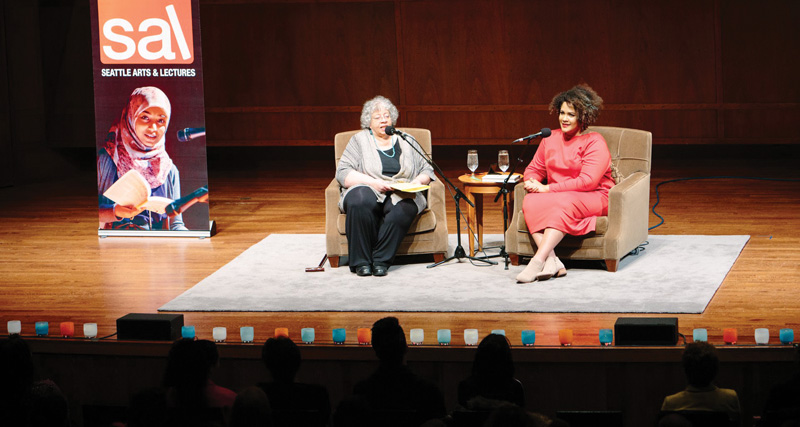 A Seattle-based writer and speaker, Oluo (right) travels the country talking about issues surrounding race, identity, feminism, and social justice.
What does that deliberate action look like? What should librarians do?
It's really important for librarians to regularly familiarize themselves with what's out there, what's new and getting good reviews from writers of color with protagonists of color, so they have things they can regularly recommend. They need to be ready and willing to start proactively recommending these books not just have them on the shelf. They need to talk to the teachers about these books as well—a lot of times teachers have a lot of influence as to what students go and pick up.
It's also really important to make sure they're keeping enough copies. Some of these books have the potential to be incredibly popular, but there's one copy and no one can get it. Having enough also sends a message to the kids that this is something they might want to read.
Schools, public libraries, and corporations are bringing in diversity training workshops for staff. Are they helpful in general, and are they worthwhile if not run by a person of color?
It can be very useful. There are some white speakers who do really well on this, especially white speakers who focus on whiteness. Because there's two parts of this, right? Race is not just people and people of color. White is a race and it has a function in society, so white speakers come in with that, knowing they're white and have functioned as white. Talking to other white people about these issues with that perspective in mind can be incredibly effective. But oftentimes it doesn't quite work that way. Often, you have white speakers who are just parroting—with less urgency and less authenticity—what they hear black speakers say.
You have to realize that racism is built into the bones of pretty much every organization, every structure in society, which means you have to build anti-racism into the bones if you want to fix it. No matter how talented the speaker, no workshop, be it two hours or two weeks, is enough. I do believe these can be helpful in activating people to sign on to longer-term work. But if you aren't allocating the long-term resources you would for any other major systemic problem that is stopping you from serving your populace the way you're supposed to, then you're just giving it lip service and it's really just a waste of time.
Teachers, and public library staff, are often white.* Can a systemic change be made without more teachers of color?
Not well, but progress has to happen. If you're in it, you're not exempt. Any teacher, regardless of race, needs to realize they have an opportunity to be a part of the solution.
The change needs to start to happen now and part of that change needs to be in outreach and support for black and brown students who want to be teachers. We absolutely need more teachers of color. As a whole, academia needs to understand that they are doing a disservice to all of their students by not having a diverse teaching body. Part of the problem is teachers themselves are a product of these systems.
My sister is getting her master's degree in education. Even going for her master's, every professor she had was white and everything she learned was from a white viewpoint. It's no wonder we don't have more black, brown, and Asian teachers. They're in the same system. It's just as hostile to them as they're trying to get their teaching certification as it is to when they're trying to get out of fifth grade.
Kara Yorio is SLJ's news editor.