Building access and equity into her collection and programming has become Melissa Corey's mission as media specialist at Robidoux Middle School in St. Joseph, MO.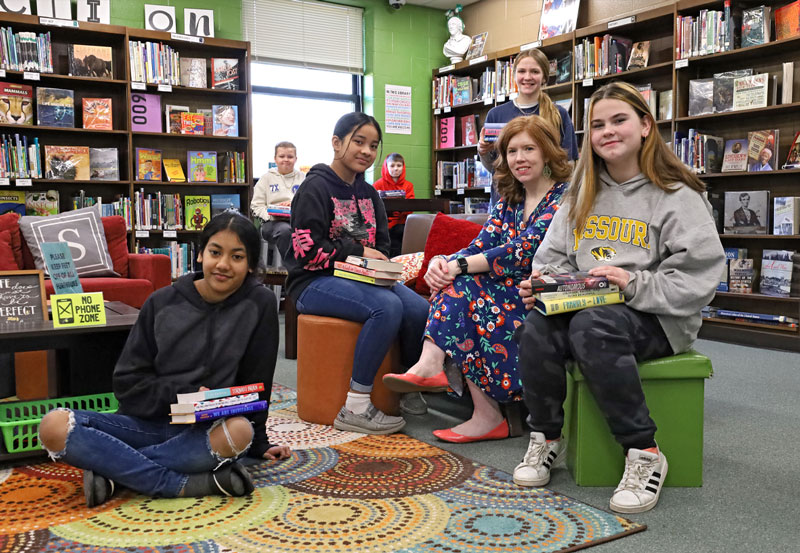 Melissa Corey Library Media Specialist, Robidoux Middle School, St. Joseph, MO
Photos by Ashley Coats/St. Joseph School District
For many of the students at Robidoux Middle School in St. Joseph, MO, books are a luxury they too often can't afford.
Robidoux is a Title I school, with 100 percent free and reduced-rate lunch. Its nearly 400 students in grades six through eight come from a community with higher than average poverty.
Building access and equity into her collection and programming has become Melissa Corey's mission as Robidoux's library media specialist.
When the pandemic hit, that inequity was only amplified, particularly when it came to access to reading materials. But there was also an unexpected opportunity. In 2020, funding that typically went toward in-person events was suddenly unspent and available, and the school's family involvement coordinator came to Corey with a big ask.
Could they give away books to every student?
"That was such a huge task, but I immediately said sure," Corey says. In October 2021, Corey launched the school's first Novel Nation Book Fair, her title for the entirely free book fair. Using Title I funding along with grants and community support, Corey has purchased 1,200 brand-new books each semester since then from First Book and Book Depot, offering every student three titles of their choice, free of charge.
Corey makes sure her book fair looks like any other, with decorations, prizes, and giveaways. It has made a huge impact on students as well as families. Marta Sansone, a social studies teacher who has taught at Robidoux for 26 years, says one parent was in tears after visiting the fair for the first time because her child never had money to buy anything at previous fairs.
"She said, 'We'd never be able to afford books and now we have them in our home,'" Sansone says. "That's because of Melissa." In December 2021, Corey was recognized as among "20 Who Count" by the St. Joseph News-Press, selected from a community of over 75,000 residents.
Throughout her 10 years at Robidoux, Corey has found other ways to build equity for her students. Through DonorsChoose, she raised money to create a Little Free Library just outside the school's front door, always stocked with free books for kids who don't have easy access to their own public library. Before the holidays, she sets up a free book cart and wraps books that students want to give to family members. She also collaborates with staff on interactive lessons, from one on the anniversary of 9/11 to a Black History Month gallery.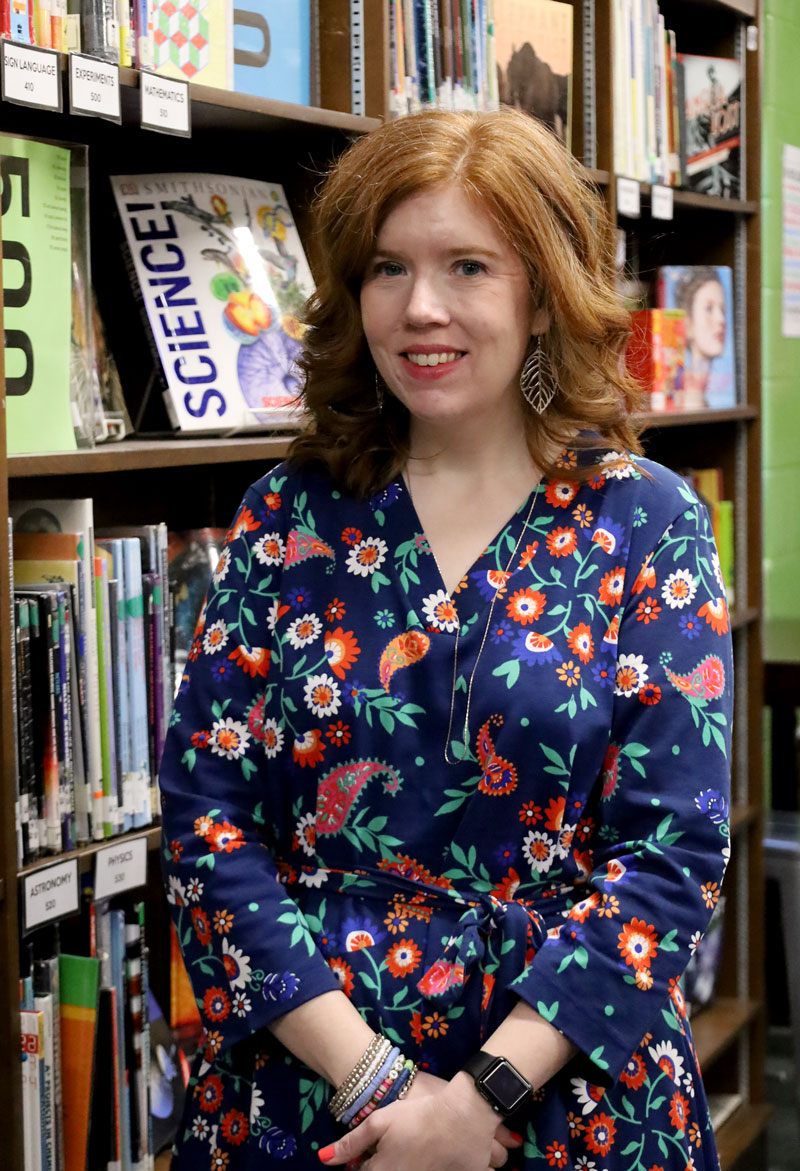 And over the past two years, she has worked to update her 2,700-square-foot space to get her 5,000-book collection "to where it needed to be in 2023," she says.
She weeded more than 1,000 outdated volumes to make room for new, diverse, representative titles, including LGBTQ–affirming titles she received through GLSEN's Rainbow Library program. Last year she also received $5,000 through a grant from the Laura Bush Foundation for America's Libraries that she used to supplement her $2,300 yearly budget, which covers books, supplies, consumables, and makerspace equipment.
Some of that money has also gone toward replacing lost or damaged books. That's because Corey has made it a policy not to charge her students replacement fees or late fees.
Some of her students have experienced fires in their homes because their families had to use unsafe space heaters due to financial hardship. "I've had students bring me books covered in soot. We don't charge students for that," Corey says, noting that her goal is to grow readers, not impose additional barriers. "We have to give students that grace when they are faced with poverty."
And with all those new library books, Corey wanted to make sure her students could discover the ones they most needed. Last spring, using Canva to create a template, Corey made her first visual book list (visualbooklists.com), an easy, eye-catching way to share library book recommendations with students. She filmed a short video and tweeted out her first visual book list to share with other librarians. It got nearly 25,000 views.
Corey has used the lists to amplify diverse voices and make it easy for students to find books on topics that might be difficult for them to ask for out loud.
"I had a student who came to me and said her brother had been diagnosed with autism spectrum disorder, and she wanted a book with a character with a sibling with autism. I connected her with a book; but how hard is that to voice in front of classmates?" Now, the visual book lists sit on Corey's desk, where students can flip through and easily spot books with LGBTQIA+ and neurodivergent characters.
All these efforts have made the Robidoux library "our happy place in the building," says Sansone. "Before, I felt like students came in and checked out books. Now, it's a whole experience in the library. It feeds all the senses."
This year, Corey is president of the Missouri Association of School Librarians, working on issues from helping build an online database of K–12 library lesson plans to creating the Missouri School Library Standards Task Force to write Missouri-specific standards.
In that role, Corey has also fought for the freedom to read in school libraries. She founded Missouri Allies of School Librarians to connect stakeholders with supports to protect school libraries from book banning and harassment, and she has coordinated with her state ACLU on litigation efforts against SB 775, a state senate bill related to book censorship, and to measure its negative impact on librarians.
"It's been an honor to serve in that capacity," Corey says, especially at a time when so many librarians are affected by book challenges. "We've talked with a lot of folks to make them realize that school librarians are professionals; we know what we're doing, and we care about our students as readers and individuals."
She is also proud of her work to add a graphic novel category to the Missouri Association of School Librarians Readers Awards. The Denny O'Neil Award is named for the Missouri comicbook artist who championed social justice in his work.
"We know that graphic novels often represent diverse voices and are a great way for students to connect with those voices, so that first list of exemplary novelists will come out in 2024," Corey says.
"Everything she does comes back to one thing: the impact it will have on students," Missouri librarian Shannon Grieshaber of Fort Zumwalt West High School wrote in Corey's nomination letter. "And not just her students, but also the students throughout Missouri."

---
Andrew Bauld is a freelance writer covering education.