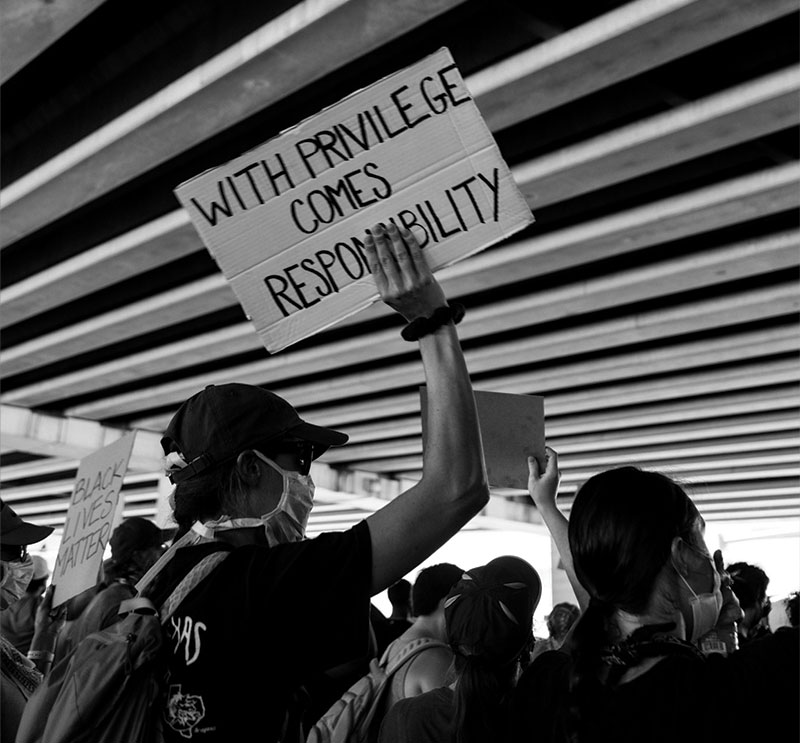 Photo by Lan Nguyen on Unsplash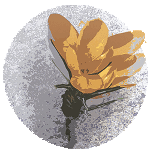 For some, the summer of 2020 will be remembered in part for the grand-scale activism against police brutality and racial injustice that flooded so many community streets for much of June.
As people of diverse ages, races, and ethnicities protested, cries grew for all individuals, businesses, and institutions—including schools and school districts—to actively work against racism and bias in society (i.e., to embrace antiracism).
Black Lives Matter teens in Santa Barbara, CA, advocated for mandatory ethnic studies. Students in Baltimore demanded that Maryland schools include antiracism education. In New York, there were similar appeals for antiracist reform in Rochester Public Schools.
Though necessary, answering these calls will be difficult. Teaching antiracism in schools requires legitimate buy-in and commitment of time and resources, tailored and skilled approaches, strong community, and, in many cases, considerable introspection.
Perhaps most challenging: Given the current uncertain and polarizing times, educators, including librarians, will have to navigate an exceedingly uneasy shift from a traditional education system that has largely not addressed race and racism.
"Schools treat racism as a historic artifact, a thing of the past," says Tara C. Raines, clinical psychologist and associate professor of child, family, and school psychology at the University of Denver.
"They talk superficially about racism toward Black Americans in February and sweep racist acts into broad anti-bullying policy," Raines says. As a result, Raines believes, the current education system disenfranchises students of color and fails to recognize the brilliance in every student.

READ: Representation Matters: Black Joy Is an Act of Resistance
Antiracist education helps counter that. "It teaches all children about historical inequities, celebrates contributions of all people…and prepares all children to dismantle systemic racism," Raines explains. "Antiracism is the first step toward educational equity."
Working toward equity for all means that meaningful antiracism education cannot fit into a couple of lessons each year. Rather, it calls for an across-the-board, long-term commitment.
"Every aspect of the school system—districting, curriculum, discipline, hiring, professional development, and more—has to be examined and consistently reexamined for their contributions to racist practices," says Raines.
Teaching antiracism begins with individuals. "Teachers, librarians, parents, administrators, and school leaders need to start by working through their own thoughts and feelings about racism," Raines says. The goal is to appreciate how their beliefs and values about race shape their approaches and impact students.
For example, a teacher or librarian could ask themselves, "What was I taught about race?" "Who benefits from what I was taught about race?" and "What are my relationships with people of color?"
Educators should also consider whether they have been taught to be "colorblind" or not "see" race. Those and similar notions (e.g., "People are already treated equally"), classify race as a taboo topic and can perpetuate racism by minimizing the experiences of people of color.
Colorblind viewpoints can also mask implicit bias (stereotypes and beliefs that unconsciously affect behavior). Implicit bias can negatively impact students in part because "teachers very much see race," says Raines.
For instance, eye tracking studies have shown that teachers track Black boys with greater frequency when looking for "problem behavior." Raines notes that this kind of implicit bias, which often leads to disproportionate discipline for students of color, has been seen in Black teachers as well as white teachers.
All educators can benefit from self-reflection about racial identity. A plethora of existing books and other resources can be useful. Also, trained facilitators and diverse, trusted peer groups can support this ongoing and essential work.
Raines believes that educators who can acknowledge their own core beliefs and values set the tone for the experience that their students have. "It is only when the adults begin to feel comfortable changing their behaviors that they can support children," she says.
Supporting children in antiracism education will involve difficult conversations. Because race and racism are, for the most part, not taught in schools, many educators will have to get comfortable being uncomfortable.
"Antiracism challenges a system designed to oppress individuals based on racial categorization. So the notion of comfortable conversations about race is inaccurate," says Maryam Jernigan-Noesi, a clinical psychologist whose work focuses on diverse youth and families.
"We can work for respectful and engaging conversations and commit to empathy and compassion. That does not mean the learning process will be devoid of emotion or always feel good," she says.
To begin, Jernigan-Noesi encourages educators to have a plan and be open. "Tell students that these are not discussions that have happened previously in your classes. This can help model…that there is no perfect way to have the conversation, but that having the conversation is essential," she says.
Active listening can also be useful. This might mean nodding when appropriate or validating student perspectives with nonjudgmental responses such as, "I hear you saying that…," or "I understand," or simply, "Thank you." Clinical psychologist and author Ann Hazzard reminds educators to "avoid assumptions…and listen."
Teachers and librarians should also set clear expectations for discussions and not start with the most difficult topics, says Kathleen Osta, managing director at the National Equity Project, a nonprofit focused on underserved children and families.
"Instead, practice engaging on less emotionally charged topics to build strong skills for having harder conversations."
This is a common approach in trauma-informed and restorative practices. Established early, classroom and library routines (e.g., discussion circles) support conversations and meaningful dialogue about topics such as book characters or current events. Over time, these same discussion circles can support conversations on more difficult issues such as bullying or discrimination.
Finally, when discussing race or racism, educators should avoid singling out students of color to provide examples. Jernigan-Noesi explains that this is a microaggression (commonplace behavior that communicates discrimination) often cited by students of color.
"There is sometimes an assumption that students of color should have more to say about racism," she says. "There are different experiences that can be acknowledged, but students should not be forced or expected to share."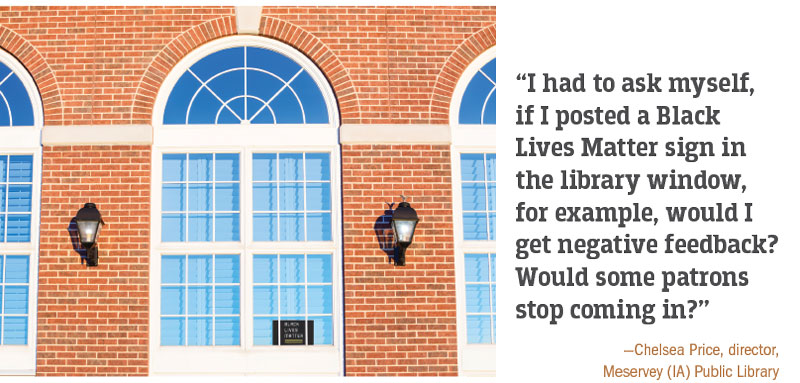 All schools, all students
In terms of what to teach, Osta, who is also a former school social worker, believes that "the starting point and nuances depend on who the educators and students are." Age, racial identity, and knowledge of race and racism in the context in which they live, work, and go to school matter.
For younger children, Jernigan-Noesi suggests beginning with concrete lessons. Start by asking, "What is race?" and addressing the history of race relations in America by discussing how people were treated unfairly based on their racial categorization.
"This can transition to stories of 'resistance,' about individuals who thought the unfair treatment was unacceptable and so organized to fight for the rights for all people to be treated fairly," she says.
For adolescents, educators can add more complex information and nuanced discussion. "Given that teens are defining their moral development, there is an opportunity to present antiracism as a human rights issue," Jernigan-Noesi explains.
Students can consider that people have the human right to live with freedom and dignity, how racism infringes that right, and how racism and privilege permeate society. However, lessons and materials should not focus solely on people of color being subjected to oppression.
"We need to decolonize the school curriculum…amplify stories of resilience including the rich histories and cultures of people of color and the extraordinary examples of Indigenous leadership across history," says Osta.
Additionally, antiracism education teaches that discrimination and bias are everyone's problem. "It is a mistake to assume that antiracism or equity work is most needed in schools or libraries that serve large numbers of students or people of color," Osta explains.

READ: Taking Stock and Taking Action to Educate Ourselves and Design Anti-Racist Curriculum
If white children are not taught about race, Osta says that they cannot develop critical consciousness about racial identity and advantage. This can reinforce harmful racial stereotypes and a status quo where "whiteness is the standard."
As a result, antiracism education should be taught in all schools and districts to all students. Osta believes that this will also help students understand why inequities exist and persist for many marginalized students. Raines agrees.
"Antiracist education is a foundation for more equitable practices for everyone—including students marginalized because of poverty, gender identity, disability, refugee status, etc.," she says.

Inside the library
Whatever shape antiracism education takes in a given school or community, the library is a special environment where everyone can experience the joy of learning, engage in critical thinking, and discover and share their voices through books, programming, and community.
Given that, embracing antiracism education in libraries—offering balanced materials and resources and making it clear that racism is not acceptable—would seem uncontroversial. However, a short SLJ online poll revealed that while most respondents feel equipped to teach antiracism, some fear politicization and backlash for doing so.
Chelsea Price, director of Meservey (IA) Public Library, conveyed a similar concern in a blog post, "Standing Against Racism in My Rural Library." bit.ly/39G3Rvq However, Price, who lives and works in what she describes as a small, largely white, conservative community, says she chooses inclusiveness over fear.
"I had to ask myself, if I posted a Black Lives Matter sign in the library window, for example, would I get negative feedback? Would some patrons stop coming in?"
Price acknowledges that these decisions can be tough—"particularly in a small library, where the number of people coming in is extremely important to the library's funding." But, she says, "believing that the life of a person of color matters as much as any other should not be a controversial thing."
Also, staying neutral or silent is not an option for Price. "Libraries are not neutral and never have been," she says. "We make biased decisions all the time—from the programs we choose to promote to the materials we choose to purchase."
Hazzard appreciates that "the pace of progress in addressing bias may depend in part on the community support educators have." But she thinks an antiracist perspective is key to educating every child and that "almost all educators can find [someone]…to support them in making some positive changes."
Janet R. Damon, library specialist for Denver Public Schools, agrees. "Antiracist librarianship requires partnership," she says. "Seek out people who have engaged in antiracism in sustained and committed ways."
Additionally, Damon suggests that librarians pause to reflect on their organizational culture and curate resources to support events and dialogues that highlight social justice leaders, movements, narratives, and stories.
Though she wants to do more, Price puts up signs stating, "Libraries Are for Everyone" and "We Stand Against Racism"; and is mindful about offering and promoting materials that reflect diversity. She stays up-to-date and educated on issues involving race and does not tolerate racism in the library.
When put into practice, in these and other ways by willing educators, antiracism education in libraries and schools has the potential to change for the better how students see themselves. It can also help cultivate a generation that supports fair treatment for all.
"Done well, antiracist education helps us heal, build bridges across our real and perceived differences, and develop student agency to lead and create strong communities where everyone is cared for and belongs, "Osta says.
---
Kelley R. Taylor is a writer and editor.