SLJ reviews the blockbuster Netflix adaptation of Jenny Han's YA series opener—epistolary style.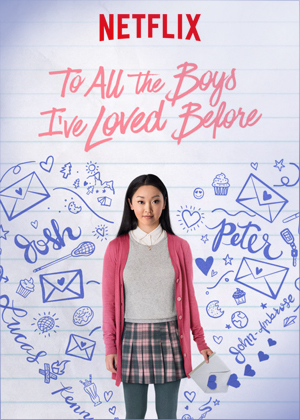 Dear Lara Jean,
This is my love letter for To All the Boys I've Loved Before.
I watched the Netflix movie before I read the book, but right after watching it, I knew I had to get my hands on the source material. For the first time, I felt I was watching a believable high school drama—and not what Hollywood dictated as one.
Following the John Hughes heyday of the 1980s, many teen rom-coms (10 Things I Hate About You, Never Been Kissed, She's All That, High School Musical, The DUFF) had some version of this prototypical plot followed a similar plot: smart but "ugly" and unpopular girl enters the orbit of a gorgeous popular boy (usually a jock) and, through a series of contrivances, ends up with him. My inner romantic was always giddy that the "invisible" girl got the guy by charming him with inner beauty and humor.
But there were always a few problems. The "ugly" girls weren't really ugly, the dialogue was usually artificial, the romance was rushed, and the cast was always composed of exaggerated archetypes. Plus, there were rarely any nonwhite and/or nonheteronormative characters—at least, none in any meaningful, multidimensional roles. (Kudos for pointing out how racist Long Duk Dong is in Sixteen Candles.)
So the Netflix movie totally surprised me, and here are the reasons why I love it:
1- Lara Jean Covey is an incredible role model. You, Lara Jean (Lana Condor), may fulfill stereotypes of the shy "goody-goody" student with solid grades, but you are an old soul. You're a hopeless romantic who is unapologetically honest about your feelings; you maintain your identity and set boundaries (shutting down Peter Kavinsky [Noah Centineo] when he asks about you and Josh [Israel Broussard]). Have you ever read Anne of Green Gables? Jenny Han mentioned that you embody Anne (with an "e) in spirit: you're bright and optimistic but no pushover. And I'm in awe of Condor for breathing life into "movie you" with her subtle expressions, deadpan delivery, and sarcastic voiceovers. She shows just how mature and strong Lara Jean is. Lara Jean may be secretly afraid of Gen (Emilija Baranac) and of falling in love, but she doesn't show it. And Condor portrays Lara Jean as vulnerable yet able to stand up for herself. Both "book you" and "movie you" are smart, fashionable, and thoughtful.
2- Authentic diverse characters. For the first time, I saw an Asian American as a lead character in a teen movie—and it didn't feel forced, like she was fulfilling an affirmative action quota. Did you know that your role was almost whitewashed? Only one studio wanted to keep you Asian American . While being Korean American isn't central to the plot, it is key to your identity and illustrates that real stories involve people of all races and cultures. In a world where so many Asians already feel "other," it would have been a huge disservice to remove such an important and beautiful part of Lara Jean. (After all, the best scenes involved Peter Kavinsky and Korean yogurt drinks!) The only other time I've seen an Asian teen as a love interest was Erwin Kim (Hayden Szeto) in The Edge of Seventeen .
3- Believable dialogue and interactions. There's nothing worse than watching a teen movie and thinking, "Ugh. Who talks or acts like that?" But scriptwriter Sofia Alvarez infuses the movie with insightful lines that stay true to the book. The conversations between "movie you" and Peter Kavinsky are sensitive and self-aware; there's a mutual ease and respect. Sure, sometimes the teens seem a bit too well-spoken, intuitive, and wise—like when 11-year-old Kitty (Anna Cathcart) points out you need a social life, when big sis Margot (Janel Parrish) explains why you put addresses on the letters, and even how Lucas (Trezzo Mahoro) reacts to your letter. But it was refreshing to watch emotionally intelligent characters with substance. Even Dr. Covey (John Corbett) gets some funny and heartfelt scenes as the caring, involved single parent who, ahem, provides condoms before the big ski trip and also shares Mama Covey's love for impromptu dancing. And when Gen reveals why she's nursed a grudge against you for years and years, it's hard not to sympathize (a bit) with her.
4- Genuine sisterhood. Yes, the plot centers on boys (#TeamPeter or #TeamJosh), but it was refreshing to see powerful female bonds. The Song sisters love and support one another. Some of the drama involving Margot and Kitty is sharper than in the book, but it's softened here without detracting from the plot. Both the shocking Josh kiss and the revelation that Margot slept with Josh have been cut to keep focus on the love letters. Kitty also sends the letters in a clumsy attempt to help you get a boyfriend—instead of sending them out of revenge (as she does in the book). There was already so much drama around the letters, so I liked that there was no cringe-y Josh kiss and that the sisters can still problem-solve together (like when Margot gets the hot tub video removed by reporting it as child pornography). Even BFF Chris (Madeleine Arthur) is a true soul sister as your constant champion and defender, not just a one-note wild child.
5- Peter Kavinsky. Peter Kavinsky. Peter Kavinsky. Circling back to Anne of Green Gables, Peter is a modern-day Gilbert Blythe (the love interest whom Anne initially resists). They're both self-assured but secretly sweet. The book version of Peter is more aloof and blunt, but the Mark Ruffalo–esque Centineo rounds Kavinsky's edges on-screen, with a mix of ease, swagger, and warmth. (Even Jenny Han got emotional during a few scenes.) I didn't even mind some book-to-movie changes with Kavinsky, in particular the hot tub scene. Yes, Josh is also equally contemplative and protective as the boy next door, but he takes a back seat in the movie, allowing Peter and his "whoa, whoa, whoa" to stand out.
6- Incredible soundtrack. Nothing enhances a movie like the music. Netflix even created a Spotify playlist of standout songs during pivotal moments , including "Lovers" by Anna of the North during the hot tub convo, "Human Right" by The Strike during the dance with Lucas and "Cool Out" by Matthew E. White during the big lacrosse field kiss scene.
7- The women who were involved! I marvel at the incredible women who kept this movie grounded and believable. Jenny Han, for creating an authentic Asian American character and for never wavering on keeping you Korean American in the film. Sofia Alvarez, for crafting a faithful book-to-movie adaptation that respects the characters. Director Susan Johnson, for well-framed scenes. Music supervisors Lindsay Wolfington and Laura Webb, for the soundtrack. Rafaella Rabinovich, for the character-defining costumes. And Condor, for her beautiful portrayal of a rom-com heroine .
Of course, as a teen rom-com, the film still features some recognizable tropes (e.g., the fake relationship , the escape-the-window-and-roll-down-the-roof gag, the mean girl confrontation, the sweeping kiss at the end), but this is the rare movie that makes the clichés ring true. And even though the conclusion wraps up too neatly (using a small part of the second book, P.S. I Still Love You), I had a huge smile on my face as the credits rolled. This movie achieved the impossible: showing a slow-burn romance that's invested in its characters, plus all the emotional complications of real life . Here's hoping there's a sequel!
Love,
Sherry
Sherry Huang is a big fan of strong feminists in YA novels (Anne Shirley, Stargirl, Katniss, Hermione, the Song Sisters). She currently works in the digital marketing industry, but always keeps an eye out for beautiful children's picture books to collect. Follow her on Twitter @Sherendipitea.