Publishers are increasing their efforts to produce works for children and teens that engage, inspire, and empower young readers to take action on environmental issues.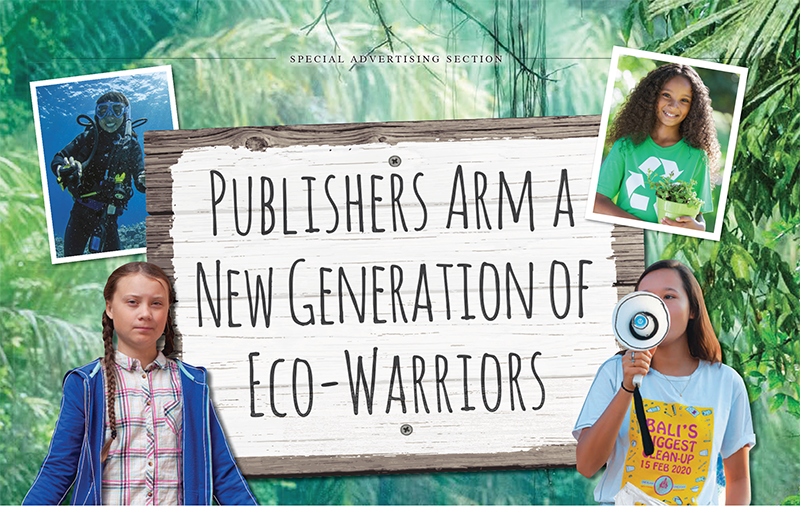 The past year has provided many examples of extreme weather events that suggest the worsening effects of global climate change, from wildfires across the Western United States to extreme cold in Texas. Last April, the Great Barrier Reef saw its third bleaching event in five years, while Arctic sea ice reached its second lowest extent in September, according to Mongabay, the conservation and environmental website. The 2020 Atlantic hurricane season was the most active ever recorded, with 30 named storms, 13 of which were hurricanes. In January 2021, the World Meteorological Organization confirmed that 2020 was one of the three warmest years on record.

The warning signs are all around us, and the young people who will become tomorrow's leaders are rightly concerned. "From Jakarta to New York City, children and teenagers are walking out of class and marching in the streets to demand action on climate change," Nature.com reports.

This new eco-conscious generation is creating a demand for books about the environment, and publishers are stepping up. The number of new kids' titles about global warming and the natural world more than doubled in the U.K. in 2019, as did sales. Publishers are calling this surge in titles targeted at empowering budding eco activists the "Greta Effect," after teenage climate change activist Greta Thunberg.

On this side of the Atlantic too, publishers are increasing their efforts to produce works for children and teens that engage, inspire, and empower young readers to take action on environmental issues. Here are some examples that stand out.

Lerner Publishing Group
Lerner publishes fiction and nonfiction books for pre-kindergarten through 12th-grade students, and many of its science-based titles have environmentalism as a theme. "We have some really talented authors who can bring this subject to kids in a way that is engaging and hopeful," says school and library marketing director Lois Wallentine.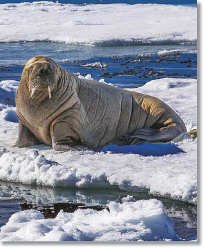 One of these authors is Patricia Newman, who was a 2018 Sibert Honor winner from the ALA. Newman has collaborated with diver and photographer Annie Crawley to create Planet Ocean: Why We All Need a Healthy Ocean, March 2021, ISBN 9781541581210. Intended for students in grades 4–8, the book shows readers how critical the ocean is for a healthy planet and what they can do to take care of this precious resource.

With stunning photography from Crawley, Planet Ocean takes students to the Coral Triangle near Indonesia to learn how climate change is affecting delicate coral reef ecosystems; to the Salish Sea in the Pacific Northwest to explore how ocean acidification is causing shellfish to die; and to the Arctic Circle to learn about the effects of ice loss on the planet.

"We wanted to select three starkly different ocean regions that on the surface seem unrelated," Newman says. "Readers will learn that what happens in the temperate seas of the Pacific Northwest affects the Arctic, and what happens in the Arctic affects the tropics. And all those events affect us. The ocean's story is our story."

Hothouse Earth: The Climate Crisis and the Importance of Carbon Neutrality by Stephanie Sammartino McPherson, March 2021, ISBN 9781541579170, is a comprehensive guide to understanding climate change for students in grades 6–12. Written by a former teacher and newspaper journalist, it summarizes the causes, effects, and solutions to this crisis. Aided by photos, diagrams, charts, and graphs, McPherson breaks down the science behind global climate change. The book also offers practical advice about what readers can do to limit their carbon footprint, such as buying local goods and unplugging electronic devices when they're not in use.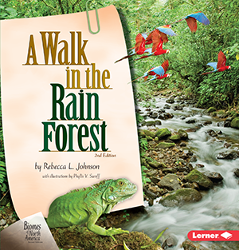 Biomes of North America, Second Editions by Rebecca L. Johnson, illustrated by Phyllis V. Saroff, January 2021, ISBN 9781728431819, is an updated series of six books that explore the interdependence of plant and animal species in various habitats. First published in the early 2000s, these books are written in a highly descriptive, narrative style that transports students in grades 3–6 to the rainforest, desert, prairie, tundra, and two types of forests. The updated versions include new information about the effects of climate change on these environments.

Orca Book Publishers
Founded in 1984, Orca is an independently owned Canadian children's book publisher that releases more than 80 new titles a year. "We try to have at least a few books on our list every season with an environmental theme," says marketing director Leslie Bootle.

Orca Footprints is a series whose goal is to teach kids ages 8–12 about the natural world and encourage them think about their place in it. Orca has released two new books in the series this spring.



Nature Out of Balance: How Invasive Species Are Changing the Planet by Merrie-Ellen Wilcox, February 2021, ISBN 9781459823952, examines various invasive species around the world—including humans. The book explains how and why species become invasive, what we can do to stop their spread, and how we can coexist with species that are here to stay.

Design Like Nature: Biomimicry for a Healthy Planet by Kim Ryall Woolcock and Megan Clendenan, March 2021, ISBN 9781459824645, takes a unique approach to environmentalism by looking to nature for answers to problems such as climate change. "Biomimicry" is the scientific term for when we learn from and copy nature. In this book, the authors look at how biomimicry could hold the key to designing more sustainable solutions for living, such as lamps that are powered by glowing bacteria instead of electricity.

Sisters Melati and Isabel Wijsen from Bali were just 10 and 12 years old when a school lesson about change-makers inspired them to tackle the plastic problem on their island. They started a campaign that led to the ban of single-use plastic in Bali in 2019, and they've been named among the world's most influential teenagers by Forbes and other publications. Their story is one of many inspiring profiles in How to Become an Accidental Activist by Elizabeth MacLeod and Frieda Wishinsky, illustrated by Jenn Playford, April 2021, ISBN 9781459826113. The book focuses on the real-life stories of nearly 100 people from around the world who became committed to a cause, from environmentalism to equal rights. It also advises students on how to become successful activists themselves, starting with not accepting things as they are.

National Geographic Kids
National Geographic has been supporting environmentalism for more than a century. "Part of our mission is to inspire kids to care about the planet and empower them to make a difference," says children's publishing editor Ariane Szu-Tu.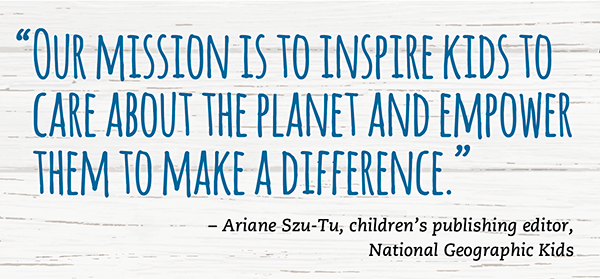 Beneath the Waves: Celebrating the Ocean Through Pictures, Poems, and Stories by Stephanie Warren Drimmer, March 2021, ISBN 9781426339165, is "an ode to the ocean," Szu-Tu says. "Its intent is to inspire kids ages 8–12 to protect the ocean and its myriad resources." Through striking photography, whimsical poetry, and fascinating profiles of animal and plant life, this beautiful collection celebrates the ocean and the critical ecological role it plays.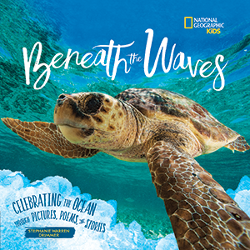 Highlights include a foreword from explorer and photojournalist Brian Skerry and an afterword by renowned ocean conservationist Sylvia Earle.

101 Life Hacks: Genius Ways to Simplify Your World by Aubre Andrus, April 2021, ISBN 9781426339080, takes a fun approach to reusing and recycling for students in grades 3–7. The book is filled with ideas that kids can use to makes their lives easier and more enjoyable. Many involve repurposing everyday items, so they don't end up in landfills. For instance, students can use an empty squeeze bottle for ketchup or mustard to dispense pancake mix, making the perfect-size pancake with less mess. Or, they can wrap their sandwich for lunch in a clean bandana instead of using a plastic bag, and the bandana then doubles as a napkin.

Interspersed with these simple life hacks are profiles of inventors who have come up with creative solutions to ecological problems. For example, engineer Topher White wanted to stop deforestation in Indonesia, so he added a microphone and solar panels to an old cell phone and stuck it in a tree. His device picked up chain-saw sounds from a mile away and sent an alert to other cell phones on the ground, to stop illegal loggers from cutting downs trees. It worked!

"Go Wild!" is a brand-new series that introduces children ages 4–8 to conservation in a fun and age-appropriate way. The series is launching with two titles this spring, and the company plans to publish two additional books each year. Go Wild! Sea Turtles by Jill Esbaum, ISBN 9781426371585, is coming out in May 2021. Go Wild! Pandas by Margie Markarian, ISBN 9781426371608, will be released in June 2021. Both books explore where these animals live, what they eat, how big they grow, and how they communicate. After learning about these creatures, young readers will learn why these animals need our assistance, what people around the world are doing to save them, and how they can help these endangered species survive.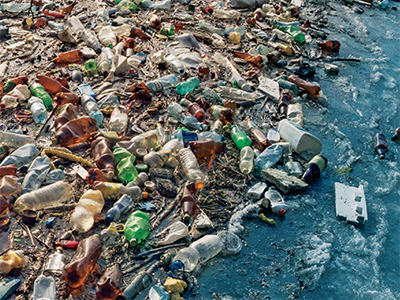 Like 101 Life Hacks, Kids vs. Plastic by Julie Beer, November 2020, ISBN 9781426339103, inspires students ages 8–12 to think about how they can reduce waste—in this case, plastic. Readers will learn about the history of plastic and how single-use plastic has become a problem for the environment. They'll also get practical advice about how to mitigate this problem, such as asking restaurants not to include plastic utensils in takeout orders and using metal straws instead of plastic ones.

Inspiring Change
When creating books about the environment, publishers face a delicate balancing act: Inform young readers about the interconnectedness of the natural world and inspire them to become change agents without frightening or discouraging them. Publishers are threading this needle by showing kids plenty of examples of positive role models who are making a difference.
"Many kids tend to feel powerless," Szu-Tu says. "We want to show them there are lots of ways for them to get involved."
SPONSORED CONTENT