Superheroes and alternate dimensions disrupt everyday life in these rollicking books for readers grade 4 and up.

Sony Pictures, PG-13. Theaters. Out now.
When white teen Peter Parker's secret identity as Spider-Man is revealed, he asks for help from Dr. Strange. But the doctor's faulty spell causes villains from all over the Spider-Man multiverse to be pulled into Peter's reality. This latest story from the Marvel Cinematic Universe, starring Tom Holland and Zendaya, has gotten rave reviews from critics and audiences alike.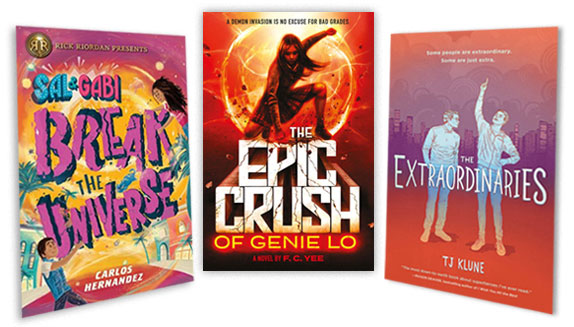 READ-ALIKES
Sal and Gabi Break the Universe by Carlos Hernandez. Disney. 2019.
Gr 4-8–Cuban American 7th grader Sal deals with his mother's death by entering other dimensions to find versions of her, but sooner or later, his dimension travel will have disastrous effects. Like the movie, this story is a mix of funny and serious. Hand this sci-fo romp to readers who love dimension-hopping stories.
The Epic Crush of Genie Lo by F.C. Yee. Amulet. 2017.
Gr 7 Up–When 16-year-old Chinese American Genie discovers that she is the reincarnation of the Monkey King's weapon and she must help corral 108 escaped demons, it throws her college prep plans all out of whack. An action-packed superhero adventure with amusing banter and a hero balancing supernatural responsibilities with everyday life.
The Extraordinaries by TJ Klune. Tor. 2020.
Gr 9 Up–Queer, white fanfiction author Nick has a crush on his favorite superhero, Shadow Star. But when they finally meet, Nick decides he's had enough writing about superheroes. Now, he wants to become one. An engaging and humorous superhero story with characters you'll love to root for.