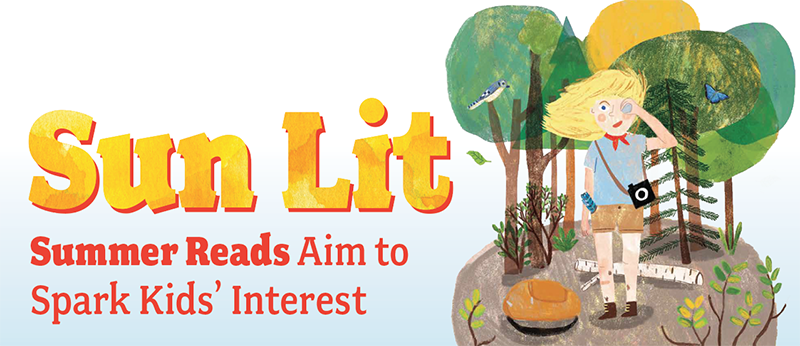 Summer reading has always been an important way to keep kids' minds engaged and avoid the "summer slide," or the tendency for students—especially those from low-income families—to lose some of the achievement gains they made during the school year.
But with the pandemic causing additional disruptions to learning, summer reading has taken on even greater significance in the last few years.
"The more time students spend reading, the better readers they become," says Deidra Purvis, director of classroom services for Mackin Educational Resources. Encouraging students to continue reading during the summer months can make a big difference in stemming or reversing the learning losses caused by COVID and time away from school.
Schools can support summer reading by making books easily available to students and allowing them to explore their interests.
"Summer is the perfect time to foster a love of reading outside of school, beyond what students are supposed to be reading for their education," says Carolina Schwarz, marketing consultant for Clavis Publishing.
Students can get lost in a good story or a compelling nonfiction book on a topic that engages them—and that's the kind of experience publishers are aiming for with their summer reading lists and programs.
Here are some of the top picks and programs for fostering summer reading in 2022.

Mackin Classroom
Mackin was founded nearly 40 years ago by a Minnesota couple selling surplus books to schools around the state. The company has since grown into one of the largest suppliers of books to prekindergarten through 12th-grade schools, with more than 3.5 million print and 3.2 million digital titles.
Mackin's Classroom division offers customizable collections of books for use within the classroom, including leveled readers, decodable texts, classroom libraries, and "inquiry kits" that help students probe essential questions. Mackin Classroom specialists work with educators to curate lists of titles appropriate for exploring the topics their students are learning about in school.
Mackin Take-Home/Summer Reading Book Packs are designed to help students build their own book libraries at home, and they're perfect for encouraging summer reading. The books are available in print or digital format, with digital titles available for viewing in MackinVIA, the company's free digital content management system.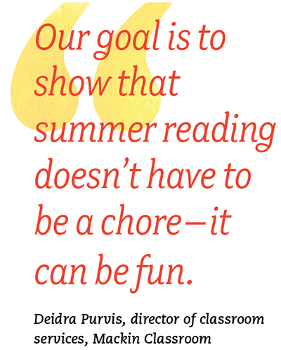 To make it easy to purchase Take-Home/Summer Reading Book Packs, Mackin offers standard packs of three books per student (two fiction titles and one nonfiction title). However, schools can request their own fully customizable book packs. "Districts can send kids home with one book or 12," says Deidra Purvis, director of classroom services. "There are limitless options for customizing."
The standard book packs are different for each grade level (preK–12). They all feature recent, high-interest titles that represent diverse authors and illustrators.
For instance, the 2022 Grade 3 Book Pack includes Cardboardia 1: The Other Side of the Box by Lucy Campagnolo (Pixel+Ink, September 2021, ISBN 9781645950998), a graphic novel about a group of friends who discover a parallel universe accessible only through cardboard boxes; Hockey Night in Kenya by Danson Mutinda and Eric Walters (Orca Echoes, October 2020, ISBN 9781459823617), about a Kenyan boy who reads about the men's Canadian hockey team and dreams of starting a hockey team in his own country; and Rodent Rascals by Roxie Munro (Holiday House, March 2020, ISBN 9780823447381), which introduces kids to a variety of rodents from around the world.
The print book packs come in a zip bag to make them easily distributable. They include a reading journal with fun activities, as well as a bookmark with a QR code that links to family literacy resources.
"We wanted to keep it fun and engaging, so it doesn't feel like schoolwork," Purvis says. "Our goal is to show that summer reading doesn't have to be a chore—it can be fun."

Kids Can Press
Kids Can Press is the largest Canadian-owned children's publisher and the 2017 recipient of the Bologna Prize for the Best Children's Publisher in North America. The company publishes about 40 new titles per year, including picture books, nonfiction, and fiction for children and young adults.
With its nonfiction books, Kids Can aims to present original information "in a way you can't find anywhere else," says Naseem Hrab, associate publisher, creative. A good example is Trapped in Terror Bay: Solving the Mystery of the Lost Franklin Expedition by Sigmund Brower, May 2022, ISBN 9781525303456. Written for ages 12–16, it probes the 1845 expedition of Sir John Franklin, who set out from England with two ships to explore what is now the Canadian Arctic in search of the Northwest Passage. The ships and the entire party of 129 men vanished, and this became one of the greatest mysteries in the history of exploration.
"This book is unique in that it takes the reader through three distinct narratives," Hrab says. Readers experience the story from the point of view of search parties, maritime leaders, and anxious wives; "reward seekers" of the mid-19th century; and modern-day researchers as they use the latest technology to figure out what doomed the mission.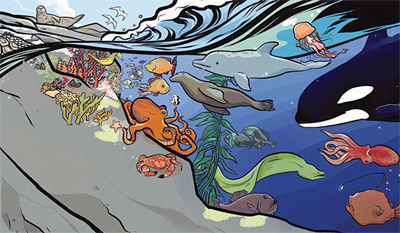 The Global Ocean by Rochelle Strauss, illustrated by Natasha Donovan, May 2022, ISBN 9781525304910, is "an up-to-date way of thinking about the ocean," Hrab says. Instead of focusing on the ocean only as a habitat for certain creatures, the book shows readers ages 8–12 how it supports all life on Earth. Part of Kids Can's "CitizenKid" collection of books on global issues, The Global Ocean is a follow-up to One Well: The Story of Water on Earth, which has sold more than 400,000 copies.
Our Green City by Tanya Lloyd Kyi, illustrated by Colleen Larmour, May 2022, ISBN 9781525304385, takes young readers ages 4–7 on a colorfully illustrated tour of an ideal sustainable city. Many residents use a bicycle, scooter, or their own feet to get where they need to go. Families collect rain to water their garden, and solar panels capture the energy of the sun. A windmill also helps power the community, and residents keep hens and hives in their yard. "It's a bit of a utopia where neighbors take care of all living things," Hrab says.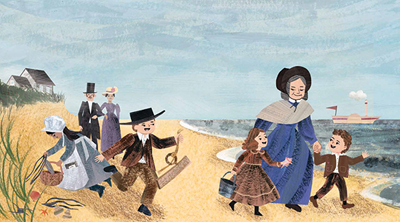 Two other Kids Can titles that are perfect summer reads are picture book biographies for children ages 4–8 about fascinating women in science. The Astronomer Who Questioned Everything by Laura Alary, illustrated by Ellen Rooney, May 2022, ISBN 9781525303487, tells the story of pioneering astronomer Maria Mitchell, who grew up on Nantucket in the early 1800s. As a child, she spent hours gazing at the stars with her father—and she went on to discover her own comet. She was also one of the first female professors of astronomy and the first female member of the American Academy of Arts and Sciences.
The Fossil Whisperer by Helaine Becker, illustrated by Sandra Dumais, June 2022, ISBN 9781525304187, is about modern-day fossil hunter Wendy Sloboda, who discovered a new species of dinosaur that was named after her—the Wendiceratops. "She's like a female Indiana Jones," Hrab says.

Baker & Taylor
Charlotte, North Carolina–based Baker & Taylor has been in business for more than 190 years. A distributor of books, videos, music, and other content to public schools and libraries, the company has formed a new publishing arm of its own this year.
Paw Prints Publishing will bring original content to market for young readers ages 3–8 in both physical and ebook formats. Its mission is to share stories that inspire and enlighten children, with a focus on social and emotional learning, diversity, and community.
"There are so many great children's books by diverse authors, written for diverse readers," says Bobbie Bensur, director of Baker & Taylor's Children's and Teen Services (CATS) division. "We wanted to add to that conversation."
Paw Prints Publishing is launching with 15 titles in 2022. One that might particularly pique the interest of librarians is The Adventures of Baker & Taylor: The Mystery of the Library Cats by Candy Rodó, ISBN 9781518263088. It's the first in a series of four books that follow Baker and Taylor, the book-loving cats that are the company's mascots, as they travel to different libraries around the country.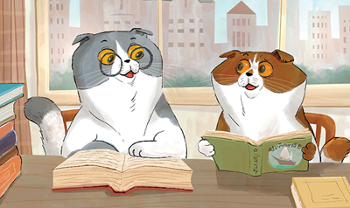 Each book showcases literary landmarks from the cities they visit. The Mystery of the Library Cats takes the pair to New York City, where they visit the other cats, world-renowned marble lions Patience and Fortitude, in front of the New York Public Library. Other destinations in the series are Houston, Chicago, and Washington, D.C.
Another notable title from Paw Prints Publishing is Forever Friends by Amandeep S. Kochar and Candy Rodó, ISBN 9781518262968. It's the first in a three-book series called "Jeet & Fudge!," about a young Indian boy and his new dog. In Forever Friends, Jeet is sad because his family has just moved to a new town. When he passes a rescue shelter as he's exploring his new neighborhood, Jeet volunteers—and meets a new friend.
"There is back matter written by a child psychologist about how working with animals can help kids emotionally," Bensur says. Both The Mystery of the Library Cats and Forever Friends are available in prebind and ebook formats in June 2022 and in trade editions in September 2022.
Baker & Taylor supports summer reading with several key initiatives. For instance, schools and libraries can buy steeply discounted paperback and board books from a list of about 700 high-demand titles to give away as incentives for their summer reading programs. The discounts are based on the total number of titles purchased, with no minimum number for each title.
In addition, Baker & Taylor collects downloadable activity sheets from publishers and makes these easily available to schools and libraries from one location on its website. What's more, the company organizes a series of virtual author events during the summer. In 2022, libraries and their patrons can take part in live Zoom discussions with children's authors such as R.L. Stine and Mary Pope Osborne. These events are open to any library free of charge.
"Summer is such a busy time, especially for youth librarians," Bensur says. "This is a great turnkey program for libraries to engage young users during the summer without having to do a lot of work for themselves."

Wattpad Books
Based in Toronto, Wattpad is an online social reading platform for users to read and write original stories. Launched in 2006, the platform has more than 90 million users worldwide, says Crystal McCoy, senior publicity manager. In 2019, Wattpad began publishing some of its best fiction in book format.
"Our mission is to remove barriers to writing and publishing," McCoy says. "We look out for high-quality works to bring to a larger audience."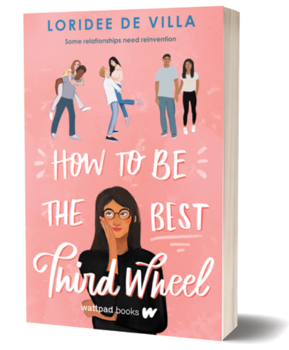 Wattpad Publishing Group publishes about 40 titles per year, most of which appear under its young adult imprint, Wattpad Books. A new title coming out this spring that would be perfect beach reading for teens is How to Be the Best Third Wheel by Loridee De Villa, May 2022, ISBN 9781777290085.
After a summer spent in the Philippines with her family, the main character, Lara, is eager to begin her senior year and reunite with her three best friends. However, she arrives back at school to find they're all in relationships. Feeling like a third wheel, Lara must learn to accept that change is inevitable—and she learns that being the odd one out is sometimes where inner power is found.
"It's a light and effortlessly funny book, but it also explores some important themes," McCoy says.
Until We Break by Matthew Dawkins, September 2022, ISBN 9781990259692, isn't a summer read, but Wattpad Books is excited about this story of Naomi, a young black dancer at a prestigious academy whose dreams are thrown off course when her best friend dies. When Naomi meets a street artist and activist, he awakens something inside her that helps her deal with her loss.
In addition to being a newly published author, the Jamaican-born Dawkins is also a talented poet and a student at Western University in Ontario. "We think this book will be of particular interest to the librarian community," says marketing consultant Lisa Ickowicz.

Clavis Publishing
Clavis is a Belgium-based publisher of children's books whose name means "key" in Latin. The company has been publishing independently for more than 40 years, with a U.S. office in New York since 2008.
Clavis's U.S. list is composed of diverse authors and illustrators. Most are English-language translations of content published overseas, although the company is increasing the number of North American works it publishes.
Summer Fun by Anita Bijsterbosch, May 2022, ISBN 9781605377599, is a perfect book for reading to children ages 3–5 this summer, says marketing consultant Carolina Schwarz. The book follows Fox, Mouse, Raccoon, and Owl as they play outside. As the friends try to fly a kite, the story asks children to help by shaking the book and blowing the kite up into the air.
"It's a great title to spark creativity, because kids are actively participating," Schwarz says.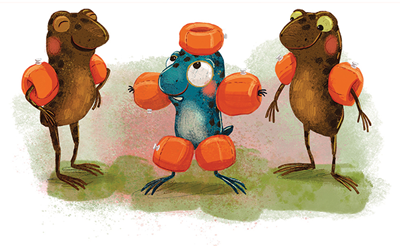 Another good summer read is Hop at Swimming Class by Ester van den Berg, ISBN 9781605377346. In this humorous story for children ages 4–7, Hop is a young frog learning to swim. However, he gets easily distracted and has fallen behind the other frogs. "It's a very relatable story about not giving up and finding strength in your own abilities," Schwarz notes.
Already available in seven languages worldwide, the book is making its U.S. debut in June 2022. A Spanish-language edition, Hop Aprende a Nadar, is being released in the U.S. on the same day (ISBN 9781605377544).
Another June 2022 release, Doggie by U.S. author Nancy Armo, ISBN 9781605376059, is the story of a young boy who wants a dog, but his mother says no. When a stray cat shows up on their doorstep, they take it in. The boy treats the cat like a dog, but the cat has other ideas. With time, the boy learns to love the cat for what it is. Schwarz calls the book "a fun title for introducing young readers ages 4–7 to caring about animals and adjusting expectations."
Until now, Clavis has published books exclusively for children up to age eight. This year, the company is expanding its range with a new nonfiction series for children ages nine and up, focused on the "Great Minds" of science, as well as a fantasy picture book for youth ages 12 and up, The Wonderful World of Eva.

Albert Whitman & Company
Founded more than 100 years ago, independently owned Albert Whitman & Company has published award-winning children's books since 1919.
"Our goal is to empower kids through reading and give them possibilities, create a safe space for children to learn about themselves and their communities, and help them become effective global citizens," says marketing specialist Brandon Marshall.
The company is perhaps best known for its classic "Boxcar Children" series about four orphaned children who create a home for themselves in an abandoned boxcar and have various adventures. The series began in 1924 under original author Gertrude Chandler Warner and is still producing new titles.
This year, Albert Whitman is launching a new spinoff series based on one of the Boxcar Children characters, Jessie Alden. Called "The Jessie Files," the series follows Jessie as she enters high school and becomes an investigative journalist for her school newspaper.
The first book in the series is The Friendship Feature by Stacia Deutsch ISBN 9780807537862. When strange things happen at the business owned by the parents of a new boy at school, Jessie takes it upon herself to investigate. Written for children in grades 3–7 and coming out in April 2022, it's a perfect summer read for anyone who likes mysteries, Marshall says—and especially fans of the Boxcar Children books.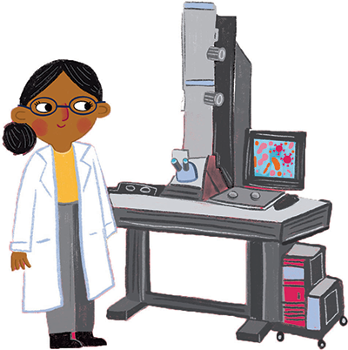 Although it's coming out too late to be read this summer, Vaccines Change the World by Gillian King-Cargile, October 2022, ISBN 9780807581070, is timely for a different reason. Also aimed at third through seventh graders, it covers the history of vaccines and their impact on diseases from smallpox and polio to SARS and COVID. A professor at Northern Illinois University (NIU), the author also directs NIU's STEM Read program, which introduces young readers to the STEM concepts behind popular fiction books.

Reycraft Books
Reycraft Books was created in 2019 with a mission to publish books of interest for all children, from early readers through the middle grades. The company publishes original and licensed works from diverse authors and illustrators who have unique stories to tell.
Reycraft produces both fiction and nonfiction. An example of the latter is "The Truth About..." series of books on animals for young readers in grades 1–3. The newest book in the series is The Truth About Frogs by Annette Whipple, illustrated by Juanbjuan Oliver, April 2022, ISBN 9781478875871.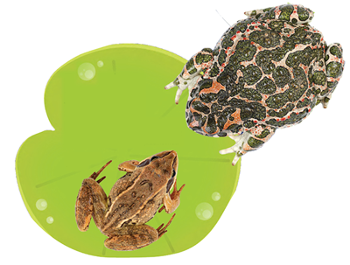 "The Truth About..." books are written in a question-and-answer format, using questions that kids are likely to ask—such as "What sounds do frogs make?" Fun facts are interspersed throughout the book, and the animal itself has a playful, ongoing conversation with readers in sidebar panels. "It has a very accessible and engaging design," says executive editor Eileen Robinson.
Chasing Bigfoot by Art Coulson, illustrated by Frank Buffalo Hyde, April 2022, ISBN 9781478875482, is a middle-grade novel rooted in Native American culture. The main character isn't happy about spending the summer with his Cherokee storytelling uncles and cousin at a convention in North Carolina. But while there, he becomes embroiled in a dangerous mystery.
"This book is high adventure, like a Cherokee version of Rick Riordan," says associate publisher Wiley Blevins. "It's perfect for taking to the beach."
Reycraft's "Magic Mirror" series offers further high adventure for summer readers. In this time-travel series for third through sixth graders, Chinese siblings Miranda and Marko use a magic mirror to journey through time and experience adventures connected to authentic Asian history and legends. In the final book in this seven-volume series, The Prince of Tricks by Luther Tsai and Nury Vittachi, May 2021, ISBN 9781478869290, Miranda and Marko help save a peaceful kingdom from Mongol invaders.
Summer is a time for family reunions and celebrations, and The Get-Together by Christine Taylor Butler, illustrated by Lonnie Ollivierre, August 2021, ISBN 9781478870630, is a picture book for children ages 4–8 that describes such a gathering by a suburban Black family. The author observed there were few books about authentic Black families expressing joy outside the urban experience, so she wrote one herself. The family is full of colorful characters; showy aunt Linda is described as follows: "She wears so much eye shadow, when she blinks, she blocks out the sun."
"This book is delicious," Blevins says. "I describe it as food, family, a little fighting, and a lot of fun. When I finished reading this manuscript, I wanted to spend more time with this family."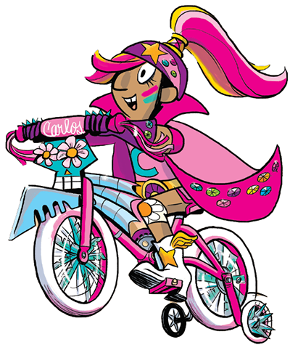 Another Reycraft book that's an ideal summer read is Carlos Gomez Freestyles...Heavy on the Style by Chuck Gonzales, September 2021, ISBN 9781478874126. Aimed at children ages 8–12 and loosely based on the author's own childhood, this graphic novel is about a boy who's searching for his identity as a member of the only Mexican-American family in his Midwestern town.
Many young readers will relate to Carlos's struggles as he feels different for a variety of reasons: his ethnicity, his lisp, and the fact that he doesn't fit into traditional gender norms. It's a very funny and heartfelt book that also deals with some serious topics.

Phoenix International Publications
With U.S. headquarters in Chicago, Phoenix International Publications produces children's books for infants through middle-grade students. The company publishes about 150 new titles per year across five imprints.
"We have been a long-time proponent of summer reading for kids," says marketing manager Casey Griffin. "We strive to create entertaining and engaging titles that encourage kids to read for fun, which has been shown to prevent summer learning loss and enhance reading skills."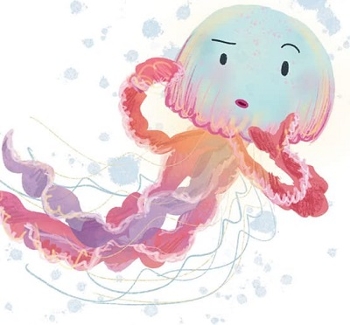 Author and illustrator Julia Seal was inspired to write Bloom, March 2022, ISBN 9781503762848, after reading that disposable masks would soon outnumber jellyfish in the ocean. This beautifully illustrated picture book for children ages 4–8 explains how issues such as climate change and pollution affect the jellyfish population in an easily digestible way for kids.
Phoenix's "It's Her Story" series profiles the lives of famous women such as Rosa Parks, Marie Curie, and Ida B. Wells in graphic novel format for readers ages 7–10. The latest book in the series is It's Her Story: Amelia Earhart by Kim Moldofsky, illustrated by Alan Brown, March 2022, ISBN 9781503762428. Not only was Earhart the first woman to fly solo across the Atlantic Ocean, but as this book reveals, she also piloted many record-breaking flights, became an author, advised engineers, taught college students, and defended women's rights.
The "It's Her Story" books "go beyond historical achievements to explore their subjects' lives as young girls and how they grew up to do amazing things," Griffin says. "I wish I'd had these books to read when I was younger."

Bearport Publishing
For 18 years, Bearport Publishing has created high-interest, visually appealing nonfiction books that focus on fun and unusual topics for K-8 readers. "Our goal is to have successful readers who are engaged," says president Jen Jenson.
Bearport's newest imprint, SilverTip Books, produces Curricular Hi/Low books written at a second- or third-grade level but designed for struggling readers in upper elementary and middle school. With a dyslexic-friendly font and design, these books are accessible to a wide variety of students.
Another Bearport imprint, Bear Claw Books, use shockingly true stories and colorful graphic illustrations to keep students turning the page of nonfiction content. A good example is "Danger Below," a series of six books published in August 2022 about actual encounters with dangerous sea creatures.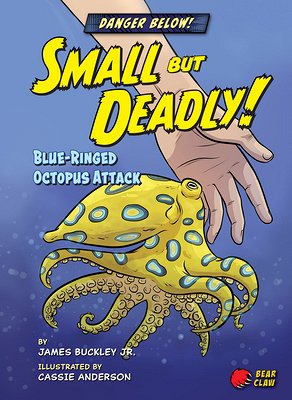 Small but Deadly! by James Buckley Jr., illustrated by Cassie Anderson, ISBN 9781647470555, relays the story of a blue-ringed octopus attack. The victim "thought the octopus was pretty and picked it up, not realizing it has a deadly venom," Jenson says. Fortunately, he survived after being rushed to the hospital in a medical helicopter. The book's back matter contains information on how to avoid a similar attack. Other books in the series profile encounters with stonefish, jellyfish, moray eels, and sharks.
Speaking of sharks, "Shark Shock" is a series of eight new titles that Bearport published in January 2022. For instance, Basking Shark by Jennifer Boothroyd, ISBN 9781636915289, focuses on this non-dangerous shark that eats plankton, with fun facts and a map of basking sharks' habitat. Erin McCombs, an educator at the Aquarium of the Pacific, consulted on the book's creation.
With Shark Week a highlight of the summer tv schedule, the "Shark Shock" books make for excellent summer reading, Jenson says, adding: "We try to make reading fun, and we want to be the books that kids pick up and read in the summer."
SPONSORED CONTENT