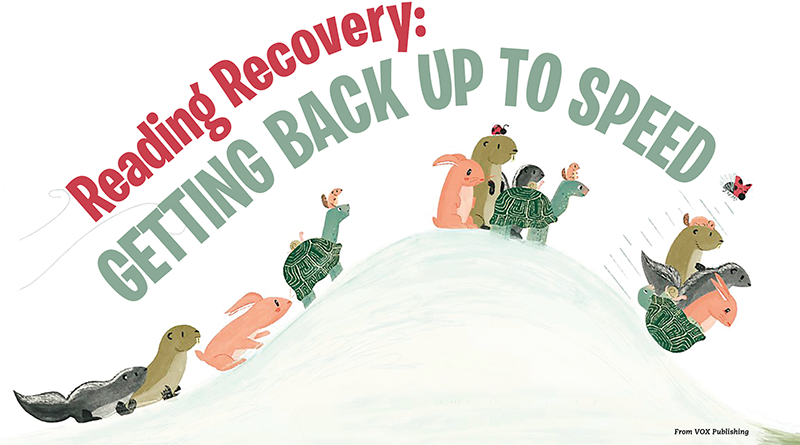 Nearly three years after COVID-19 shut down schools from coast to coast, parents and educators are still trying to help kids make up for interrupted learning resulting from the pandemic—and libraries play a pivotal role in their success.
A study by global consulting firm McKinsey & Company analyzed assessment data from a popular digital learning platform for students in kindergarten through eighth grade and found that students learned only 67 percent of the math and 87 percent of the reading their grade-level peers typically would have learned by fall 2021.
Not surprisingly, this has led to sharp declines in student proficiency. The results from the 2022 National Assessment of Educational Progress (NAEP), commonly referred to as the Nation's Report Card, indicate that a third of students in grades four and eight can't read at even a "basic" level.
The data show that schools still have a lot of work to do to make up for lost instructional time—and students need as many opportunities as they can get to learn key literacy skills. Reading high-interest, low-level books and large-print materials; listening to audiobooks; and immersing themselves in combined print-and-multimedia experiences both during and outside of class can help students of all ages make up significant ground in reading.
The good news is K–12 districts still have millions of dollars in unspent pandemic relief aid that school libraries can use to purchase literacy materials. Here are some promising resources for supporting reading recovery and accelerating students' reading skills.

Playaway Products
The shift to remote learning during the pandemic underscored the fact that many students lack home broadband access, hindering their ability to engage in extended learning opportunities that can help close achievement gaps. To overcome this challenge, Ohio-based Playaway Products offers a wide range of take-home electronic devices that come pre-loaded with content for learners of all ages—including audiobooks, read-alongs, and tablets.
Playaway gives schools and libraries the tools to promote literacy and bridge the digital divide. "We develop products that are accessible for everyone," says Torin Cone, head of sales and marketing. With these tools, Cone says, students don't need a home internet connection to access high-quality educational materials, which helps level the playing field.

Reading aloud to children helps them build critical literacy skills. In fact, children who regularly have books read to them score higher on literacy tests. "When you combine print and audio together, recall goes through the roof," Cone says. "Multisensory learning leads to phenomenal results, which has never been more important as we continue to see the effects of COVID learning loss." Wonderbooks from Playaway allow children to hear their favorite books read aloud while they follow along in the text.
Every Wonderbook is a print book with a ready-to-play audiobook permanently bound to the inside front cover. With easy-to-use, one-touch controls, children simply press Play to follow along as the book is read aloud to them. Plus, a learning mode asks educator-vetted questions about each book to boost comprehension, recall, and fluency.
Wonderbooks come with a headphone jack for independent listening and can be charged using a micro-USB charging port. The Wonderbook catalog features a diverse collection of more than 650 titles, including both fiction and nonfiction content for children ages three to thirteen, as well as a collection of large print chapter books.
Research suggests that audiobooks also increase students' knowledge, as well as their literacy skills and attitudes toward reading. For instance, listening to audiobooks allows students to access a more complex and diverse range of texts, enabling them to learn new vocabulary and giving them more opportunities to engage with stories.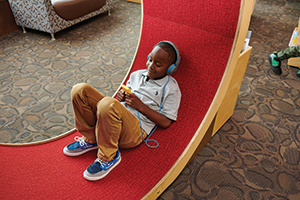 Playaway Audiobooks are listening devices that come pre-loaded with audiobook content. These battery-powered devices offer more than 30 hours of listening with no other technology or Wi-Fi connection needed—giving students the freedom to listen to literature, nonfiction, and other learning content anytime, anywhere. Students can speed up or slow down the audio as needed, and libraries can choose from among more than 7,500 titles ranging from juvenile to adult content, with dozens of new releases and best-sellers added each month.
Touch-screen tablets have revolutionized how children learn, and Playaway's Launchpad tablets come pre-loaded with educational apps, eliminating the need for an internet connection. These rugged devices are designed specifically for library circulation and include models aimed at kids or teens making them great supplemental learning tools.
In 2020, Playaway released Launchpad Academy, a series of guided learning tablets that combine apps, videos, and storybooks for a multimodal learning experience. For instance, Launchpad Reading Academy tablets include five skill-based levels to help kids master verbal, reading, and writing skills. Pre-K Academy tablets prepare children for kindergarten success, with apps that help them learn and practice motor and cognitive skills, math and science, language and literacy, social and emotional skills, and music and creativity. STEAM Academy tablets takes an interdisciplinary approach to develop well-rounded problem-solvers.

National Geographic Kids
National Geographic Kids, the children's publishing arm of National Geographic, offers several resources to help students get back up to speed after the learning stagnation experienced during the pandemic. These resources include leveled readers that help kids find books tackling high-interest subjects at an appropriate reading level for them and free, downloadable worksheets that can be used to extend learning beyond the classroom in a variety of subject areas.
The worksheets, available at kids.nationalgeographic.com/books, were created to address an urgent need at the pandemic's outset. However, National Geographic Kids has always been committed to "publishing books that are packed with information, learning prompts and activities, amazing photography, and fun facts," says Science Editor Katie Moore. "Helping kids learn at home is really a core goal of our whole publishing program—and we have many books that can help get kids excited about reading."
School librarians might be familiar with National Geographic Kids' popular "Weird But True!" books and favorite series such as "5,000 Awesome Facts." These books can help encourage reading recovery and get even reluctant readers engaged with fun facts and astonishing content. "They remind kids that reading is fun, and science is full of wonder and surprise," Moore says.
In fact, the company tries to inject a little bit of humor and lighthearted fun even into its reference titles and leveled readers. "Research has shown that humor increases children's engagement with the content and enhances recall," Moore says. "We like to call it 'sticky learning.'"
In addition to full series of STEM-based experiment books, "brain games" activity books, and interactive sports-based math books, National Geographic Kids includes games, experiments, activities, and suggested learning extensions in many of its individual books. "Numerous studies support that learning by doing is extremely effective," Moore says, "so what better way to support learning recovery than with fun, activity-packed books?"

National Geographic has two books coming out this spring that take kids ages eight to twelve on a deep dive into two seemingly familiar topics: water and money. Both titles feature practical ways to understand and engage with the subjects.
Not-So-Common Cents: Super Duper Important Facts About Money You Can't Afford to Miss by Sarah Wassner Flynn, January 2023, ISBN 9781426373282, is packed with information to help students develop financial literacy. Money is a highly popular topic with kids, and this book offers not only historical and international context and easy-to-absorb information, but also practical tools and guidance for how to earn, save, and budget.
Water! Why Every Drop Counts and How You Can Start Making Waves to Protect It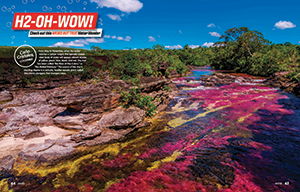 by Lisa Gerry, March 2023, ISBN 9781426373558, teaches kids about water conservation and how they can make small but powerful changes in their daily lives to help protect this vital resource. In addition to surprising facts—did you know that it takes about 300 gallons of water to produce one cheese pizza?—kids can learn how to make a water filter at home and engage in other fun activities.
Another new title this spring, Bite, Sting, Kill! The Incredible Science of Toxins, Venom, Fangs, and Stingers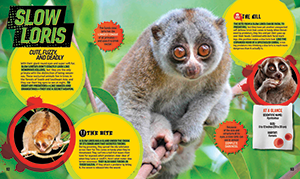 by Julie Beer, February 2023, ISBN 9781426373411, appeals to kids' fascination with deadly creatures while slipping in tons of facts about animal, laboratory, and medical science. Readers can dig deeper into topics such as how fangs work, how antivenoms are developed, what snake milkers do, and the surprising ways venom can actually help humans.
How to Survive in the Age of Dinosaurs: A Handy Guide to Dodging Deadly Predators, Riding Out Mega-Monsoons, and Escaping Other Perils of the Prehistoric by Stephanie Drimmer, April 2023, ISBN 9781426372827, is a tongue-in-cheek way to engage kids with paleontology, prehistoric geography, science, and—of course—dinosaurs. Packed with fascinating facts, survival tips, and helpful maps, this book is the ultimate guide for dinosaur fans who want to know what life was really like when these creatures ruled Earth.
The 2024 edition of the New York Times best-selling National Geographic Kids Almanac, coming out in May 2023, ISBN 9781426375316, is the company's quintessential brain-boosting book. It contains interviews and features from National Geographic Explorer, as well as fun quizzes, activities, and games on every subject from space and science to culture and history—plus homework help, maps, and other resources.
"It's a Numbers Game!" is a series of books that help kids ages eight to twelve learn math in the context of sports and statistics. The most recent book in the series, It's a Numbers Game! Football by Eric Zweig, July 2022, ISBN 9781426372896, explores the math behind one of America's most popular sport by showing students how to calculate a quarterback's completion percentage, for instance. Readers will learn how much it costs per minute to buy a commercial during the sport's biggest game, which NFL team defenses have allowed the fewest points per game, and what angles are involved in different pass patterns. Other titles in the series focus on basketball, soccer, and baseball.
Break Down by Mara Grunbaum, August 2022, ISBN 9781426373053, reveals the math, science, and engineering behind how things fall apart, break down, crack, crumple, shatter, and explode. The book also features hands-on activities that guide kids through their own experiments in destruction.
Dinosaur Atlas, September 2022, ISBN 9781426372797, is a definitive resource for helping students understand the amazing world of dinosaurs. Kids can journey from the Triassic to the Jurassic and Cretaceous periods to find out how Earth slowly shifted over time—and how the variety of dinosaurs ruling the planet changed too. Readers will discover how some of these creatures took to the land and others to water or air, as well as what their habitats were like. They'll learn how these prehistoric lands correspond to current locations on Earth and hear from paleontologists about the groundbreaking discoveries they're making in these fossil-rich locations today.

Bellwether Media
Now in its sixteenth year, Minnesota-based Bellwether Media aims to improve students' literacy skills with an extensive collection of nonfiction titles for beginning, struggling, and reluctant readers in grades K–8.
"We want to get kids hooked on reading early," says Bellwether president Derek Zobel. The company does this by publishing compelling, easy-to-read books featuring high-interest subjects and a mature design, with reading levels that go up to grade five.

Bellwether publishes nearly 250 new books per year. All are series-based nonfiction titles. "We have series that focus on academic subjects like geography and ancient history, as well as series on favorite foods, unexplained phenomenon, and other fun subjects," Zobel says.
In addition to its leveled readers, graphic nonfiction, and other books, the company has two imprints devoted to publishing hi-lo books with sophisticated graphics and illustrations that appeal to older readers—and these books are perfect for helping to mitigate learning loss and close the gaps in students' reading skills.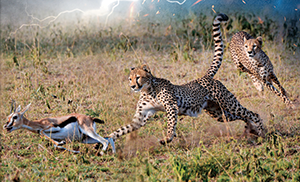 Torque is a hi-lo imprint that publishes action-packed narratives written at a third grade reading level on topics such as sports, vehicles, and adventures for students up to the eighth grade. An example is "Animal Battles," a series of twenty-four-page, full-color books that spotlight some of the world's fiercest predators. Readers learn about the weapons each animal has, from sharp teeth to super senses, and every book imagines a fight between two species in particular, with statistics and charts that compare the combatants and how they'd stack up against each other.
"This series is a runaway bestseller," Zobel says. "It's fun and high-octane, featuring two animal books in one."
Four new titles in the series are being published in January 2023, all by author Nathan Sommer: American Alligator vs. Wild Boar (ISBN 9798886871647), Dung Beetle vs. Tarantula Hawk (ISBN 9798886871654), Ostrich vs. Cheetah (ISBN 9798886871661), and Tiger Shark vs. Leopard Seal (ISBN 9798886871678). These four new titles bring the series total up to thirty. School libraries can purchase the complete set or each title individually.
Epic is an ultra hi-lo imprint designed to inspire students who are reading well behind their peers. The books are written at a second-grade reading level and include large-print text, eye-popping photos, diagrams, and infographics. An example is "Ancient Marine Life," a new series of six books published in January 2023 by author Kate Moening that describe prehistoric sea creatures such as giant turtles and enormous sharks.
The titles in the series include Archelon (ISBN 9798886871685), Ichthyosaurs (ISBN 9798886871692), Megalodon (ISBN 9798886871708), Mosasaurs (ISBN 9798886871715), Plesiosaurs (ISBN 9798886871722), and Sea Scorpions (ISBN 9798886871739). Again, librarians can purchase each book individually or the set as a whole.
With the mature design of these books, "no one's going to look at you like you're reading a baby book," Zobel says.
Every book published under the Torque and Epic imprints includes "fun fact" sidebars that add high-interest bonus information to keep readers engaged. For example, Archelon was the biggest sea turtle that ever lived, growing to more than fifteen feet long. Ostriches lay the largest eggs in the world, weighing up to three pounds—and wild boars can run up to thirty miles per hour.
"The pandemic has expanded reading gaps that already existed," Zobel notes. "There is a lot of work to be done."

Land of Tales
Established in 2018, Land of Tales (landoftales.com) is a streaming site of online children's tales and ebooks published by Zoomikon Press, a small publishing company based in Holland. Land of Tales was created to make books and reading fun for kids. It provides large-print text accompanied by multimedia such as audio narration, animations, special effects, and video.
"In our increasingly technological world, children are naturally drawn to their screens, and it's hard to pull them away—especially after the pandemic," says Co-Founder Sergio Margetides. "We must accept this change by turning their mobile devices into books."

Land of Tales produces two types of multimedia books: "Movie Books," in which the text is accompanied by a fully animated movie, and "Musical Tales," which are lightly animated books with music, special effects, and narration.
The content includes abridged versions of classic stories such as The Snow Queen by Hans Christian Andersen, Aladdin, and Alice's Adventures Under Ground by Lewis Carroll, as well as wholly original works. There are more than 300 animated books and stories available now, with more content continually being added.
"We discovered this format had a huge impact on kids' reading skills and their enjoyment of reading," Margetides says. "Even children on the autism spectrum have been able to follow along and remain engaged. That encouraged us and made us realize we were on the right track."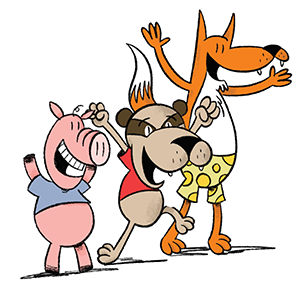 Many of Land of Tales' digital stories convey messages about important themes such as selflessness, friendship, self-acceptance, and learning from mistakes. For instance, The Spotted Zebra by Lizzy Short, illustrated by Tatiana Varlakova, is a story about a young zebra who has spots instead of stripes. The other zebras have bullied her throughout her life and told her she was ugly. However, that all changes when she's discovered by a group of explorers who are fascinated by her appearance—and she becomes an international celebrity.
"It teaches kids that being different has merit, and that we all bring something precious to the world," Margetides says.
Humor is another hallmark of the platform's stories. Ginger and the Nasty Burglars by Shirley D. Fox, illustrated by Matias Molusko, is a reimagining of the movie Home Alone, in which a cat named Ginger humorously protects his family's home from a pair of burglars.
Even when republishing classic stories, Land of Tales has infused them with humorous plot twists and amusing details. "Children like to laugh," Margetides explains.
Land of Tales' content encompasses all genres, including science fiction from writers such as H. G. Wells and H. P. Lovecraft, stories of adventure and survival from Jack London and Jules Verne, and mystery and detective stories by Arthur Conan Doyle and Edgar Allan Poe.
The content is web-based and is available on any internet-connected device. The company is developing native apps for Android and iOS devices as well. Libraries can purchase a subscription that includes unlimited access to all the platform's content, or they can purchase individual titles.
"As Einstein said, 'If you want your children to be smart, tell them stories,'" Margetides concludes. "'If you want them to be brilliant, tell them more stories.'"

VOX Publishing
VOX Publishing, the content-publishing arm of global media firm Library Ideas, produces multimedia books that are ideal for helping emergent and struggling readers develop literacy skills.
The company's signature products are VOX Books, or "books that talk." These printed books provide full audio narration at the push of a button so that children ages three to nine can listen as they read along in the text, using an audio reader attached to the book's inside cover.
Research shows that reading aloud to students is an effective way to promote literacy skills and cognitive development, says CEO Brian Downing. As the Wall Street Journal reports, children learn more sophisticated vocabulary while also picking up grammar, syntax, and general knowledge when they're read to. In fact, young children who have had many stories read to them enter kindergarten as much as 14 months ahead in language and prereading skills.
"Our products are well positioned to help address learning loss," Downing notes.

VOX Books include nearly 600 fiction and nonfiction titles from numerous publishing partners. For instance, All Are Welcome by Alexandra Penfold, illustrated by Suzanne Kaufman and narrated by Janina Edwards, is a New York Times best-selling picture book about a school where diversity and inclusion are celebrated. Originally published by the Penguin Random House imprint Knopf Books for Young Readers in 2018, the story's VOX Books version was released in August 2022, ISBN 9798885190718.
Creepy Crayon! by Aaron Reynolds, illustrated by Peter Brown, is the third book in a spooky series about a young rabbit named Jasper and his peculiar encounters—in this case, with a sinister crayon. When Jasper first finds the crayon lying in the gutter, he's thrilled to discover that it helps him with his schoolwork. But then it starts taking over the rest of his life as well. The VOX version of this book from Simon & Schuster Books for Young Readers came out in November 2022, ISBN 9798885191364.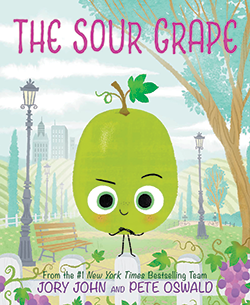 The Sour Grape by Jory John, illustrated by Pete Oswald, is the sixth picture book in the New York Times best-selling "Food Group" series from this creative duo. The Sour Grape holds grudges for every reason under the sun, but when a friend holds a grudge against the Sour Grape without listening to an explanation, the Sour Grape realizes how unfair grudges can be. The VOX version of this newly published HarperCollins book is scheduled for release in February 2023, ISBN 9798885191487.
Pete the Cat and the Perfect Pizza Party by Kimberly and James Dean, narrated by James Fouhey, is a story about being open to trying new things. Pete is excited to have the perfect pizza party when he loads his pizza with his favorite topping, pepperoni. But when his friends come over and add their own toppings, will Pete's perfect pizza be ruined? The VOX version of this HarperCollins book from 2019 was published in August 2021, ISBN 9781954635739.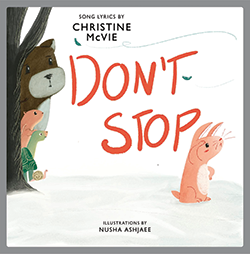 VOX also publishes sing-along versions of "LyricPop" titles from Akashic Books. These are picture books featuring popular songs, such as "Don't Stop," the Fleetwood Mac song penned by the late Christine McVie. Don't Stop, illustrated by Nusha Ashjaee, ISBN 9781955675505, was released by VOX in November 2021.
Another VOX book created from a popular song is Every Little Thing, November 2021, ISBN 9781954635906, based on the song "Three Little Birds" by Bob Marley. His songs are known worldwide for their powerful messages of love, peace, and harmony. This upbeat picture-book adaptation—written by Marley's daughter Cedella Marley, illustrated by Vanessa Brantley-Newton, narrated by Jonathan Luck, and originally published by Chronicle Books—reminds children that the sun will always come out after the rain and mistakes are easily forgiven with a hug.
In addition to publishing English- and Spanish-language titles, VOX also publishes bilingual titles in 15 different languages, including Mandarin Chinese, Tagalog, Arabic, Russian, Ukrainian, Korean, Japanese, Hindi, Urdu, and Vietnamese. These bilingual versions include text and audio in both English and a second language, with the two languages appearing on facing pages.
While it used to be thought that reading aloud primarily benefits younger children, a 2019 study from the University of Sussex showed that being read to helps older students' development as well. For the study, English teachers at ten participating schools read novels to students who were twelve or thirteen years old.
According to the Wall Street Journal article cited above: "Morale and test results soared. Children who had hated English lessons, who had experienced literature as daunting and indigestible, were practically running into the classroom to find out what was going to happen next in the stories. Seventeen of the educators used the word 'joy' to describe their own experiences. When the children were given reading-comprehension tests afterward, average readers had made 8.5 months of progress while poorer students had made 16 months of progress."
With these results in mind, VOX Publishing will be adding new books aimed at middle-grade readers this year, Downing says.
Besides VOX Books, VOX Publishing offers immersive ebooks that are built on an augmented-reality platform. These iVOXTM books, or "books that move," include images that move and respond to a child's touch. "They're a modern version of read-alongs," Downing says. "The reaction from children is incredible."
There are nearly 60 iVOX titles currently available, with new titles being released each month. Aimed at children ages two to ten, the iVOX books are accessible through any web browser, as well as a native app for iOS, Android, and Kindle Fire devices.
VOX Publishing also produces IR BooksTM, which provide an immersive-reality experience for children ages five to twelve. These books focus on science-related subjects, such as the moon, sharks, or industrial robots. At different points in the book, readers can scan a QR code with a mobile phone to launch a 360-degree immersive experience. "Children can read about the moon and then go to the moon," Downing says. Priced at $39, each book includes a plastic-coated set of immersive-reality goggles.

The Rosen Publishing Group
An independent publisher founded in 1950, the Rosen Publishing Group produces educational books for students in pre-kindergarten through twelfth grade, mostly series nonfiction. Rosen publishes about 2,000 books a year across numerous imprints, including books that teach social and emotional skills from Windmill Books and Hi-Lo readers from West 44 Books, a middle-grade and young adult fiction imprint from Rosen company Enslow Publishing.
Accelerating students' reading skills requires them to read more frequently both in school and beyond. "We know that reading practice is one of the leading indicators of literacy success," says Vice President of Curriculum Solutions Richard Hasenyager. Rosen LevelUp (levelupreader.com), an adaptive digital reading platform, advances reading recovery by encouraging kids to read from home and in school with a personalized digital library tailored to their interests and reading ability.

Supporting small group and whole class instruction as well as individualized practice, Rosen LevelUp is a subscription-based product that includes nearly 2,500 cross-curricular texts from Rosen imprints, as well as interactive phonics-based activities for helping students learn to read. LevelUp is aimed at students in PreK through third grade but is expanding to include middle-grade content as well.
All of the digital books included in LevelUp have embedded assessments to check for comprehension. Teachers can track students' reading habits, including how many texts they've read and how well they understand what they're reading. The books include accessibility features as well, such as the option to have the text read aloud. "That's important for learning academic concepts when students are struggling or emergent readers," Hasenyager notes.
An example of the books included in LevelUp is Jalani and the Lock by Lorenzo Pace, January 2015, ISBN 9781477792773, which is part of the "African American Quartet" series from Windmill Books. Pace is an art professor and sculptor who created the African Burial Ground Memorial sculpture in New York City, which has at its base a replica of the lock that imprisoned his great-grandfather as a slave. His book about the fictional Jalani's chained arrival in the United States tells an uplifting story for children about Jalani's ultimate freedom.
Another example is A Case of the Can-Dos! by Jill Keppeler, illustrated by Rachel A. DiNunzio, December 2020, ISBN 9781725394193, also from Windmill Books. It's about a girl named Sophia who's used a wheelchair most of her life. One day, Sophia wakes up with a case of the "can-dos" and decides she wants to learn ballet. When she's told she can't join ballet classes, Sophia sets out to prove the doubters wrong.
Coming soon to LevelUp is Detention Is a Lot Like Jail by Brynn Kelly, December 2019, ISBN 9781538382264, a hi-lo title from West 44 Books. Written at a third grade reading level but aimed at students in grades five through eight, it's about a boy named Jordan whose father was sent to jail for a reason Jordan doesn't know. His mom won't talk about it and spends most of her time crying. Jordan defaces school property, refuses to take tests, and picks on kids who look like easy targets. He's sent to detention almost every day and wonders if that's what it feels like to be in jail. But when Jordan discovers the truth about his dad's crime, he begins to question the path he's on.
SPONSORED CONTENT