On the Diverse Books Survey page, users can access related content, newly updated, as well as our Diverse Books Survey report.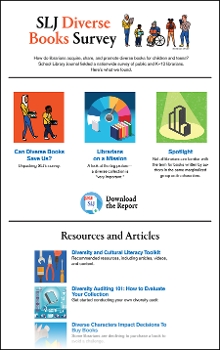 School Library Journal has launched a dedicated landing page for SLJ's Diverse Books Survey. It includes the full survey report, related graphics, and a set of resources, including booklists, related content and our evolving Diversity and Cultural Literacy Toolkit.
The page is intended to serve as a resource to aid educators, librarians, and the publishing community to explore the issue of diverse books from all angles, and will be continually updated. Here you'll find our cover story examining the big picture of the survey results, and a deeper dive into related issues, including awareness of #OwnVoices; librarians declining to buy a book because of diverse characters and shelving diverse books separately, and more.
As many of the librarians who responded to the survey noted, curating a diverse collection is one of the most important responsibilities in the profession right now, and SLJ will be with our readers, offering insight and information while learning from you along the way.