When considering videos for classroom use, finding a balance between current topics, top-notch information, and engaging delivery means the difference between media that sparks an eye roll and content that comes across as genuine, thereby captivating viewers and inspiring intelligent discussion. Here are 15 strong selections for library collections.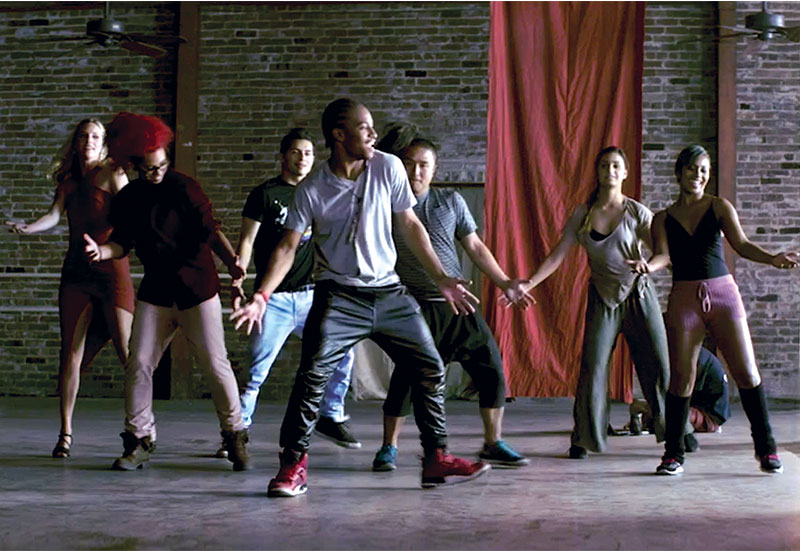 All Styles: Make Your Move (Shout Factory) ©2018

What's cool in the teen world can change at lightning speed, and yesterday's on fleek is tomorrow's #old. When considering videos for classroom use, finding a balance between current topics, top-notch information, and engaging delivery means the difference between media that sparks an eye roll and content that comes across as genuine, thereby captivating viewers and inspiring intelligent discussion. More mundane classroom considerations include library and classroom budgets and matching media length to available class time. While not all mainstream videos are suitable for high school classroom use, and not all important high school topics (vaping, sexual harassment) are covered by mainstream videos, there are cases where the two intersect. High school students are likely to appreciate authentic coverage and presentation of information that speaks to them like the adults they are soon to be.
All Styles: Make Your Move. 91 min. Shout Factory. 2018. $14.98. ISBN unavail.
Gr 7 Up –Few students will stay seated through this energetic, optimistic dance extravaganza. College student Brandon knows that dance is his passion and forms a dance crew with his nerdy roommate. The plot is secondary to the choreography and music, an awe-inspiring mix of hip-hop, ballet, break dancing, folk dancing, and more. Tuned-in teens will recognize faces fromSo You Think You Can Dance, 13 Reasons Why, and Glee. Inclusivity, athleticism, a bit of romance, and the occasional bump-and-grind move blend perfectly, making it hard to sit still. Entertaining for everyone and of special interest to schools with dance teams, dance troupes, or cheer programs.
Becoming Johanna. 27 min. New Day Films/The Youth and Gender Media Project. 2016. $95. ISBN unavail.
Gr 6 Up –From an early age, Johanna felt like a sister and not a brother. A poised and charming spokeswoman for transgender teens, Johanna urges everyone to "be true to themselves." Emotional interviews with her tearful mom struggling to understand (Johanna eventually moves in with a foster family) and occasional f-bombs mix with girly-girl fashion shoots and a catwalk to raise funds for transgender youth. Johanna happily and publicly holds hands with her boyfriend at a follow-up two years after the original filming. A supportive documentary that doesn't sugarcoat the costs Johanna paid to be her authentic self. Online ­resources and an educator's guide are also available.
A Dangerous Idea: Eugenics, Genetics and the American Dream. 106 min. Bullfrog Films. 2017. $350. DVD ISBN 1941545971.
Gr 10 Up –Is biology destiny or is human behavior and development influenced by social, political, economic, and environmental factors? Proponents of biological determinism go up against scientists and social thinkers to explore the question. ­Experts in this film come down convincingly on the side of free will. They seem opposed to the "pseudoscience" that says genes predict intelligence and behavior and that certain races or genders are locked in to violence, passivity, or lower potential for success. Some of the commentary is likely to be shocking to students unfamiliar with white supremacist rhetoric or past U.S. eugenics policies. Discussable issues abound for sociology, biology, humanities, history, current events, political science, and philosophy classes.
Dream Big: Engineering Our World. Shout ­Factory/MacGillivray Freeman Films/American Society of Civil Engineers. 42 min. 2017. $19.97. ISBN unavail.
Gr 4-6 –This recruitment film for engineering professions combines science with the smooth narration of Jeff Bridges to explore China's Great Wall, earthquake-resistant structures, bridges, robots, renewable energy, hyperloop technology, and more. Women are highlighted as successful engineers, and children join teams to design robots and race solar cars. Filmed for IMAX and giant screens, the DVD works equally well in a classroom setting. A sure fit for schools with STEM initiatives. Includes ample extension materials such as a "Girl's Night Out" planning guide and short "fun facts" videos.
Graphic Means: A History of Graphic Design ­Production. 85 min. Tugg Films. 2017. $75. ISBN unavail.
Gr 9 Up –From Gutenberg's early printing press through hot metal and cold type to today's all-digital productions, the art and craft of printing and publishing has changed completely in some respects, yet often still adheres to classic layout and design principles. Fascinating interviews and vibrant animations introduce students to kerning, paste-up, and today's desktop publishing tools. Interviewees discuss design principles and the "why" behind design choices. There is also a brief, helpful printed educational toolkit with a glossary and discussion questions. Yearbook staffers and art students are a natural fit, with tangential interest for history and technology studies.
House Not Home. 15 min. Scenarios USA. 2015. $89.99. ISBN unavail.
Gr 8 Up –Terran, a gender-fluid teen, puts safety on the line every day when they venture to school dressed in their preferred skirts and dresses. Terran discusses their fears for physical safety, the sting of family rejection, school bullying, and more with supportive online friends, while facing cyberbullying from classmates. The film was written by a 16-year-old transgender teen. The discussion of preferred pronouns and overall encouragement to be your authentic self is uplifting. The DVD includes helpline contact information at the end, along with a lesson plan PDF.
Logan's Syndrome. 79 min. Video Project. 2017. $79. ISBN unavail.
Gr 9 Up –Logan Madsen has Miller syndrome, a rare inherited condition that manifests in physical challenges such as small hands with four fingers and compromised lung function. He is also on the autism spectrum. Logan films himself as he goes about his artist's life and includes daily chores like making dinner and feeding pets, as well as toileting, painting, and taking 15 daily pills. Viewers may cringe as Logan discusses his problematic drinking, and his mother conveys her hopes that he finds a loving romantic partner. Overall the film is an open, often humorous, and emotionally candid view of Logan's world, culminating in a gallery show that excites him while completely stressing him out. For mature teens.
Mankiller: Activist. Feminist. Cherokee Chief. 57 min. Good Docs. 2017. $129. ISBN unavail.
Gr 9 Up –From a background of poverty in Oklahoma, Wilma Mankiller was an activist in the 1960s and became the first female Principal Chief of the Cherokee Nation in 1985. Along the way, Mankiller's focus gradually turned from protests to community building within the Cherokee Nation, where she was an unceasing advocate for health and education initiatives. The documentary includes historical information on Native Americans, the Trail of Tears, and more current issues such as tribal sovereignty. Mankiller died in 2010. Consider for history, political science, and women's studies classes.

Maya Angelou: And Still I Rise. 114 min. PBS. (American Masters). 2016. $16.99. ISBN 9781627899871.
Gr 9 Up –Dr. Angelou undertakes much of the narration. The film covers her earliest memory at three years old through her poetry reading at Bill Clinton's presidential inauguration to tributes at her death in 2014. Angelou took on roles from singer and actor to political activist, before and while finding her voice as a writer. Those she mentored and motivated pay tribute to her in interviews throughout. For students who study Angelou's works, and anyone interested in her influence on literature, poetry, and American thought.
More Than A Word. 70 min. Media Education Foundation. 2017. $350. DVD ISBN 1944024999.
Gr 9 Up –In addition to discussing the use of redskin, a pejorative and racist term often used against Indigenous peoples of North America, Standing Rock Sioux tribal members John and Kenn Little look at sports team names and logos featuring stereotyped Native American images, while explaining the history of the Dakota Access Pipeline and its effect on Standing Rock Sioux tribal lands. Interviews, historical footage, and news coverage are skillfully blended. This timely topic deserves exploration from social and cultural viewpoints. The film also discusses court rulings on the matter.
Neil Gaiman: Dream Dangerously. 74 min. ­Cinema Guild. 2018. $295. ISBN unavail.
Gr 9 Up –This highly personal video follows writer Gaiman on a book tour, catching him sometimes at his energetic best and other times tired and icing an elbow sore from signing. Family photos along with interviews with colleagues and others paint a well-rounded picture of the famous and beloved creator. Four-letter words pepper his speech, as he comments on the value of myth, literature, and fantasy in today's world. Gaiman comes across as hardworking, confident, opinionated, yet with an air of humility. Gaiman fans will be mesmerized.
Personal Statement. 52 min. Good Docs. 2018. $129. ISBN unavail.
Gr 9 Up –Three determined Brooklyn, NY, high school students take matters into their own hands when a lack of ­college counselors complicates completing the Common App for college. Enoch, Karoline, and Christine receive Peer College Mentor Training and become mentors, prodders, and a cheering squad for other students, while applying to college themselves. All are distinctive, funny, and authentic. Viewers walk with the students through a semester, experiencing prom jitters, heady successes, and tearful disappointments. Inspiring, with insight to share on the college application process.
The Pushouts. 56 min. Good Docs. 2018. $129. ISBN unavail.
Gr 9 Up –It's not so much that students drop out, Dr. Rios purports, but that many of them are pushed out when the educational system fails them. Whether students cease attending school due to poverty, drugs, or other systemic challenges, Rios offers hope and thanks important mentors as he pays it forward, encouraging high school students in East Oakland, CA. Rios, with felony ­convictions in his youth, is an author and sociology professor at University of ­California, Santa Barbara. Motivating and inspiring, with a strong message of resilience and ­perseverance.
Sauti (Voice). 73 min. NeeNee Productions. 2017. $150. ISBN unavail.
Gr 9 Up –Filmmakers follow Peninah, Betty, Beatrice, Napona, and Favourite for about three years as they struggle, laugh, fetch water, sweep dirt yards, and talk about their dreams beyond Kyangwali, a Ugandan refugee camp. Each young woman left her homeland under troubled conditions, several are orphans, and all are united by their determination to pursue an education, their key to an independent ­future. Despite often desperate circumstances, their voices are filled with optimism and determination. The film concludes with a brief note on each young woman; the film wrapped in 2017. Some realized their dream, and some did not.
The Terrorist Hunter. 33 min. Video ­Project. 2018. $79. ISBN unavail.
Gr 10 Up –Counterterrorism investigation sounds dangerous, exciting, and maybe a touch glamorous. In reality, it is hard work involving painstaking hours tracking down leads. Rita Katz, founder of SITE Intelligence Group, a business that advises on trends, threats, and global potential for terrorist activity, balances her often dangerous profession with roles as wife and mother. The film juxtaposes Katz's dire warnings with input from those who say that SITE and similar groups self-servingly inflate terrorist attack potentials, as it builds their business. Educators may want to preview, as there are short clips of disturbing footage, including violent deaths of hostages. The film supplies ample topics for history, sociology, journalism, political science, and philosophy classes.
---
Maggie Knapp is the middle/upper school librarian at Trinity Valley School in Fort Worth, TX