School libraries are key to information literacy, and investment will drive impact.
There's a clear gap in college readiness, but we can help close it through investment in information literacy work by school librarians and their peers in other institutions. This will reap lifelong benefits for the kids who master this critical skill set.
That is my optimistic takeaway after reading the articles in our college readiness package "Ready or Not," which explores the findings of SLJ's recent national survey of middle and high school librarians on information literacy. Don't get me wrong, we have a problem: While high school librarians responding to the survey report that some 69 percent of seniors are expected to go to college, as noted in Wayne D'Orio's "Lacking Resources, Students Struggle. School Librarians Can Help Address the College Readiness Gap," only a quarter of high school libraries have defined college-readiness goals. That's not to say they aren't striving to address information literacy—96 percent of respondents report that it is taught at some level in their schools—but they struggle to create space for it among competing priorities. Therein lies the source of my optimism. The experts who are best prepared and passionate about closing the gap are ready to go—they just need more support to make the impact.
Look at how much one librarian could do when she carved out the space in her day to talk to college librarians—natural partners as the inheritors of the researchers she was currently training. As Susannah Goldstein, a librarian at the Brearley School in New York City, shares in "The Key to Teaching College-Level ­Research," those conversations transformed her approach to teaching. The college librarians she spoke to agreed that "students are missing the forest for the trees. They can do specific tasks but are missing the bigger picture of research," she writes. Goldstein's insights resulted in a stepped approach to go deeper with students as capacity grows.
It's exciting to see that explosion of insight inspired by connection to peers, which points to the opportunity afforded by more collaboration. There is plenty of room to move the needle; less than a quarter of high school librarians surveyed partner with a college or university library. For those who do, the partnering ranges widely from relatively passive exposure to the academic library setting to actual collaboration around information literacy instruction, which only 16 percent engage in.
This window of opportunity extends to public libraries as well, as only 24 percent of high school librarians surveyed said they partner with those institutions. As information literacy applies to all areas of life, fostering it in another setting and outside of school tasks could be effective. Of course, not all students will go on to college, but this lifelong skill set remains critical to their success as well, so the approach should be as robust as possible.
As D'Orio and Goldstein illuminate via various perspectives, the research process is full of complexity, and students need complex support to be prepared to thrive in college and beyond. Individual librarians should be looking for ways to magnify their impact through more partnerships, and school administrators should be prioritizing librarians' valuable teaching time, recognizing that their hard work is worth the investment.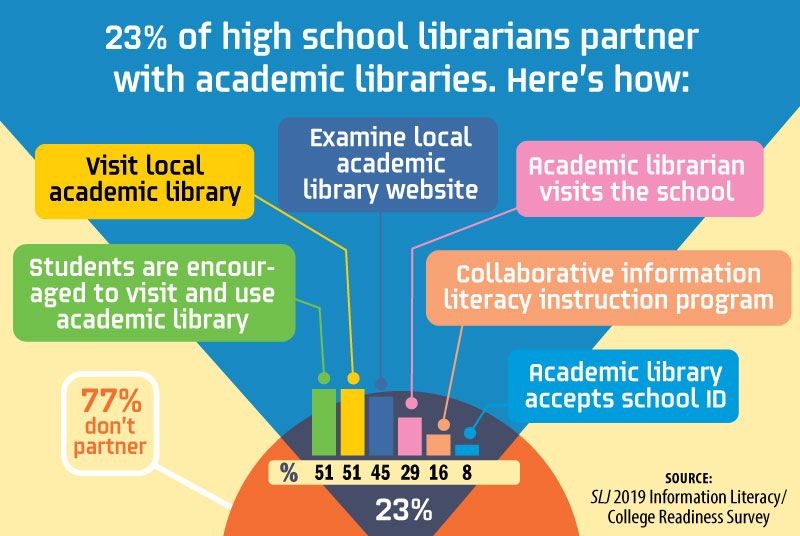 ---