These SLJ School Librarians of the Year have big things in store for their students.
SLJ asked our past School Librarians of the Year what new projects they are looking forward to in the 2018–19 school year. Here's what they had to say.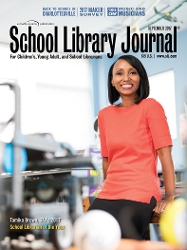 I'm excited about for the upcoming school year. We are planning to set-up a flex schedule, so students can access the library and its resources as they need it.
I am also looking forward to continuing to incorporate makerspace activities with curriculum and share new books and authors with students to continue to build literate lives.
---
Todd Burleson, 2016 School Librarian of the Year
During the summer I've worked on many programs and experiences I hope to bring to my library, makerspace, and school.
One whole school initiative is centered on The Kindness Rock Project. We'll be integrating this wonderful program as part of our year-long community building and social-emotional curriculum. I'm looking forward to exploring the literacy connections to share throughout the school.
A second project that will highlight student voice, creativity and empathy is a school and hopefully district-wide film festival. Many festivals do not include young filmmakers. Ours will feature ALL of our students. I've been amazed at what they can do when they are given access to tools like stop-motion animation. I am confident that they can tell deeply meaningful stories if given the chance.
The last program I'm excited to be preparing for this year is a mock Caldecott contest with the other elementary librarians in our district. We are eager to connect students and give them the chance to collaborate and communicate around books and their fantastic illustrations.
---
Kristina Holzweiss, 2015 School LIbrarian of the Year
I'm happy to announce that I will be the new educational technology enrichment specialist at Syosset (NY) High School. I will support the school librarians, provide support to the faculty so that they can integrate technology in their lessons and assessments in line with the 1:1 Chromebook initiative, and create curriculum for their new Innovation Lab. This school year will be especially exciting for me because of this new position will be in a high school setting, a new environment for me after teaching middle school students for 23 years. So, how will I prepare?
I am going to do all that I can to learn about the culture of the school and the expectations of my administrators and faculty through new teacher orientation and conference days. Good teaching is about building relationships and applying sound pedagogy when crafting lessons and assessments. It's not about the teching, it's about the teaching. Through listening and asking questions I will begin to learn about my colleagues' teaching needs. Since attending ALA and ISTE in June, I have begun planning ways to support literacy through hands-on learning and STEM. Through social media (Facebook, Twitter, and Voxer) as well as professional reading, I have been learning more and more about digital making, invention literacy, and design thinking.
In addition, I am developing my skills in using the Google Suite of educational tools including Google Classroom, Google Drive, Gmail, and Google Hangouts. This summer I also attended the Scholastic Reading Summit in Connecticut as well as FlipgridLive at the Flipgrid headquarters in Minneapolis, Minnesota. In connecting with educators of all subject areas and grade levels, I will be able to better serve my new school community in September.
---
Anita Cellucci, 2016 School Librarian of the Year Finalist