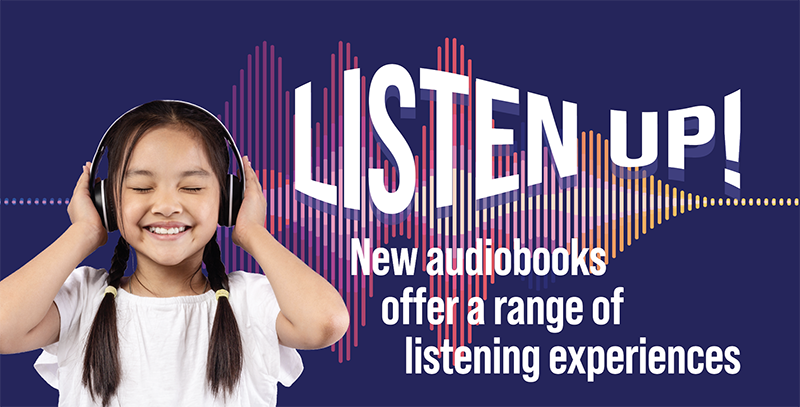 By Dennis Pierce

A growing number of children are listening to audiobooks, according to a survey from the Audio Publishers Association. In fact, the percentage of parents with children ages 17 and younger who say their children listened to audiobooks in 2020 was 49%, up from 35% the prior year.
One reason is that parents have discovered audiobooks as an outlet to reduce screen time for their children during the pandemic. But children are also discovering audiobooks on their own, with the help of teachers and school librarians.
Audiobooks offer many benefits for children and teens. For instance, they can help engage children who struggle with reading or who are reluctant readers in stories and texts. What's more, children can listen to more complex texts than they can read on their own, thus exposing them to a broader range of stories while helping them develop vocabulary, listening, and literacy skills.
Audiobooks targeted to children and teens include a variety of formats, from standard downloads to read-alongs. With a wide range of listening experiences available, school librarians are sure to find options that appeal to students of all ages.
Here are some intriguing new audiobook titles for the school library market.

Lerner Digital
Children's book publisher Lerner Publishing Group has been selling read-aloud ebooks through its Lerner Digital division since 2014. These books, many of which are branded as Audisee® eBooks with Audio, combine narration and text highlighting to engage reluctant readers and auditory learners. As children listen to the books, they can follow along in the text.
"These have been extremely popular during the pandemic," says digital product manager Kris Tomes, who notes that sales of the company's read-aloud ebooks have doubled since March 2020.
Lerner Digital offers more than 1,400 read-aloud ebooks, as well as more than 600 Lerner Audiobook titles. Most of these titles are narrated by professional voice actors, but in a few select cases, the books are narrated by the authors themselves.
Two notable examples are A Map into the World, August 2021, ISBN 9781728439181, and The Most Beautiful Thing, August 2021, ISBN 9781728439242, both written and narrated by Kao Kalia Yang. For readers ages 5–9, these touching picture books are based on the author's childhood experiences as a Hmong refugee in the United States.
"Kalia's personal connection to the content comes out in her narration," says Lois Wallentine, Lerner's school and library marketing director.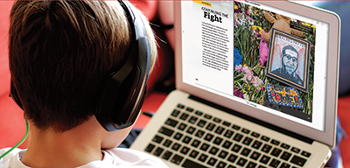 Another Lerner Audiobook narrated by the author is AfterMath by Emily Barth Isler, September 2021, ISBN 9781728446080. Isler is a former child actress who per­formed in the­ater, film, and TV. Her middle grade novel explores issues such as trauma and isolation. The main character, Lucy, is struggling to cope with her brother's death while also being new to a community that experienced a school shooting four years earlier. The print and audiobook versions will be released simultaneously.
One of Lerner's best-selling books is Ruth and the Green Book by Calvin Alexander Ramsey. Published in 2010, this picture book for children ages 7–11 chronicles the Jim Crow–era experiences of African American travelers, who turned to The Negro Motorist Green Book to avoid the indignities of racism on the road. With Civil Rights back in the national discourse, the Audisee read-aloud ebook version, August 2021, ISBN 9781728446103, is especially timely. The story is narrated by voice actor Angela Juarez, while author Ramsey narrates the back matter explaining the real history behind this work of fiction.

Disney Publishing Audio Books
Although Disney Publishing Worldwide has existed for 30 years, the publishing arm of the Walt Disney Company has always licensed the rights to produce audio versions of its books to other companies—until now. This year, Disney launched a new division, Disney Publishing Audio Books, that brings the company's audiobook production in-house for the first time. "We know how popular audiobooks are, and we're excited to get into this space as well," says Dina Sherman, school and library marketing director for DPW.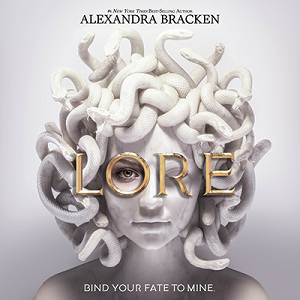 The company's first self-produced audiobook was Lore by Alexandra Bracken, narrated by Fryda Wolff, January 2021, ISBN 9781368075107. Released concurrently with the print and ebook versions, this young adult fantasy novel brings Greek mythology to modern-day New York City. As punishment for a past rebellion, nine Greek gods are forced to walk the earth as mortals every seven years. They are hunted by the descendants of ancient bloodlines, who are eager to kill a god and become immortal themselves.
"We knew it would do well, but we have been amazed," Sherman says. The hardcover version has been on the New York Times best seller list for more than five months.
The Last Fallen Star by Graci Kim, narrated by Suzie Yeung, May 2021, ISBN 9781368075350, was released through DPW's Rick Riordan Presents imprint. With this imprint, best-selling author Rick Riordan mentors new authors, whose stories explore mythologies from around the world. The first book in a middle grade series called "Gifted Clans," The Last Fallen Star draws upon Korean mythology in telling the story of an adopted Korean American girl who discovers her heritage—and her magic—on a perilous journey to save her witch clan family.
Disney audiobooks include middle grade books, young adult novels, and even adult novels from the company's Hyperion Avenue imprint. A good example of the latter is If the Shoe Fits by Julie Murphy, August 2021, ISBN 9781368077767. Narrated by Jen Ponton, an actress who has appeared in 30 Rock and Unbreakable Kimmy Schmidt, this book is the first in the "Meant to Be" series, which reimagines classic Disney stories as modern-day romantic comedies.
If the Shoe Fits is a retelling of Cinderella. The heroine, Cindy, becomes a social media icon when she appears on a reality TV series called Before Midnight. "It's hilarious and also just a fun read," Sherman says.

Naxos AudioBooks
Founded in the U.K., Naxos AudioBooks has its roots in producing classical music. The company began publishing streaming audio versions of classical British and American literature through its Naxos Spoken Word Library but has expanded to include nonfiction titles as well.
Naxos AudioBooks has two imprints focused on younger readers: Junior Classics and Young Adult Classics. Junior Classics publishes audiobooks for children ages 8-13, featuring abridged or unabridged versions of classic works such as Alice's Adventures in Wonderland and Adventures of Huckleberry Finn, as well as original productions such as "Tales and Myths," a 12-volume series of story collections from all around the world.
One example is King Arthur & The Knights of the Round Table by Benedict Flynn and narrated by the actor Sean Bean, October 2004, ISBN 9789629543983. "This work is indicative of what we were trying to do with the Junior Classics imprint—introduce great literature to children," says William Anderson, audiobook sales and marketing manager. Other titles in the "Tales and Myths" series focused on Greek, Norse, and Irish mythology.
Another successful audiobook series from Naxos AudioBooks is "Famous People in History." Written by company co-founder Nicolas Soames, this series launched in 2000. Famous People in History, Volume 1, narrated by Trevor Nichols and Katinka Wolf, February 2000, ISBN 9789629544263, features such luminaries as Shakespeare, Mozart, Darwin, and Abraham Lincoln. Other titles in the series focus on great explorers, scientists and inventors, famous composers, and rulers of ancient Rome.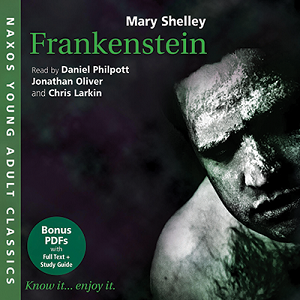 Launched in 2009, Naxos AudioBooks's Young Adult Classics imprint features eight titles. Each production is abridged and comes with the complete text for the abridged and unabridged versions of the work, as well as a study guide for students. One example is Mary Shelley's Gothic novel Frankenstein, narrated by Daniel Philpott, Jonathan Oliver, and Chris Larkin, April 2009, ISBN 9789629548551. Other Young Adult Classics from Naxos AudioBooks include The Hound of the Baskervilles, Pride and Prejudice, and Wuthering Heights.
As young adult novels take inspiration from classic works such as The Odyssey and The Iliad, like Madeline Miller's The Song of Achilles and Circe, Naxos AudioBooks is seeing renewed interest in the classics among teens, Anderson says.

OrangeSky Audio by Findaway
Ohio-based audio company Findaway has been involved in the audiobook market for many years as a distributor of audiobooks from other publishers. In October 2020, the company launched a new audiobook publishing imprint of its own, OrangeSky Audio, that aims to bring a more diverse audio catalog to listeners.
"Only a small fraction of books is available in audio formats, especially for children," says Global Content Partnerships Manager Colleen Prendergast. "Our goal is to bring more audiobooks to market, including both new releases and backlist materials."
OrangeSky publishes about 25 new audiobooks per month, including children's and adult fiction and nonfiction. Every children's audiobook title is available as a digital download and also as a Playaway® or Wonderbook® product. Playaway listening devices come pre-loaded with audiobook content; Wonderbooks are printed books with a ready-to-play audiobook bound to the inside front cover, allowing children to hear the text read aloud while they follow along.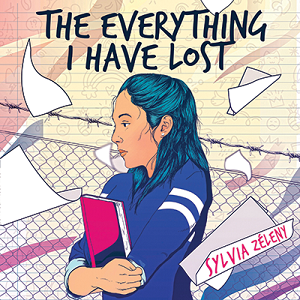 Nominated for YALSA's "Amazing Audiobooks for Teens" list, The Everything I Have Lost by Sylvia Zeleny, narrated by Lori Felipe-Barkin, May 2021, ISBN 9781664988668, is a coming-of-age story for readers ages 12 and up. It follows the story of 12-year-old Julia as her family migrates from Juarez, Mexico, to El Paso after the disappearance of her father.
When the killings of George Floyd and other unarmed black men by police sparked nationwide protests last summer, it was impossible to avoid the media coverage. How can parents talk with children of all races about this difficult issue, but especially young black children?
For Beautiful Black Boys Who Believe in a Better World by Michael W. Waters, illustrated by Keisha Morries, September 2021, ISBN 9781662260551, is a picture book for children ages 6–10 that aims to help. The audiobook version is narrated by the author himself. This intimate look at one family's response to racism and gun violence includes a discussion guide created by the Muhammad Ali Center in Louisville, Kentucky.
Another OrangeSky audiobook that tackles important issues is Dangerous Play by Emma Kress, narrated by Rachel Jacobs, August 2021, ISBN 9781664991743. Available in print and audio formats simultaneously, this debut YA novel from Kress focuses on a girls' high school field hockey team whose co-captain, Zoe, is sexually assaulted at a party. To ensure that no girl feels unsafe again, the team takes justice into their own hands.
For younger children, OrangeSky is bringing the "Little Elliot" series of picture books written and illustrated by Mike Curato to audiobook format. These books about friendship and bravery for children ages 4–8 follow the adventures of a young polka-dotted elephant who lives in the city. In the first book in the series, Little Elliot, Big City, October 2021, ISBN 9781664994423, Little Elliot starts to explore his surroundings and makes a new friend, Mouse.
SPONSORED CONTENT