Chills, thrills, and heart infuse these four elementary and middle grade selections featuring goblins, monsters, and more.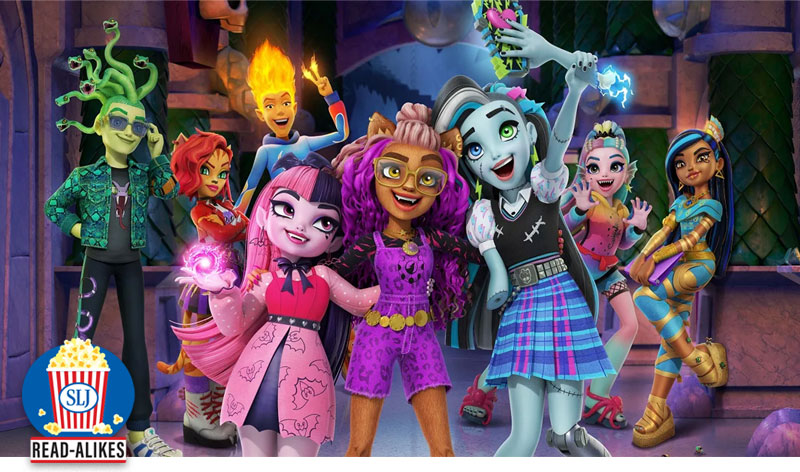 TV-PG. Nickelodeon & Paramount+. Out now
Half human, half werewolf, Clawdeen (played by biracial actress Miia Harris) is a new student at Monster High. When a secret plot to destroy the school threatens to reveal her half-human identity, she and her new friends must save the day. Based on the 2010 TV series of the same name, this movie will generate new fans.


READ-ALIKES
"13th Street" series by David O. Bowles. Harper. 2020.
Gr 1-5–Three Mexican-American cousins take a "shortcut" to the water park that transports them to creepy 13th Street, where they must battle evil creatures in this early chapter book series. These fast-paced scary stories will engage new and reluctant readers looking to give horror a try.
The Dark Lord Clementine by Sarah Jean Horwitz. Algonquin. 2019.
Gr 4-7–Twelve-year-old Clementine, who is white, must take charge of the family farm when her Dark Lord father is cursed by a witch. Struggling to balance farm responsibilities and performing "Dastardly Deeds" in order to to uphold her family's commitment to dark magic, she starts to question her father's system of good and evil. Recommend this witty, heartfelt fantasy to readers interested in the supernatural.
Beetle & the Hollowbones by Aliza Layne. Atheneum. 2020.
Gr 4-8–Beetle, a 12-year-old goblin and witch-in-training, reconnects with her childhood best friend, Kat, and tries to stop Kat's magical aunt from demolishing the Allows Town mall. That's where Beetle's friend Blob Ghost is trapped. As the girls work magic together and Beetle's feelings for Kat grow, the clock ticks down to the mall's demolition, when Blob Ghost will be lost forever. A creative graphic novel that centers strong friendships among supernatural protagonists.
ChupaCarter by George Lopez and Ryan Calejo, illus. by Santy Gutierrez. Viking. 2022.
Gr 4-8–Sent to live with his grandparents in New Mexico, 12-year-old Mexican-American Jorge befriends a young chupacabra and must try to protect him from the people hunting him. Readers who enjoy fast-paced contemporary fantasy about kid monsters should check out this one..
---
Abby Johnson is the collection development leader at the Floyd County Library in New Albany, IN.