The new ISTE Standards for Educational Leaders broaden the scope of digital citizenship education for students. Here are up-to-date resources to help librarians promote these skills.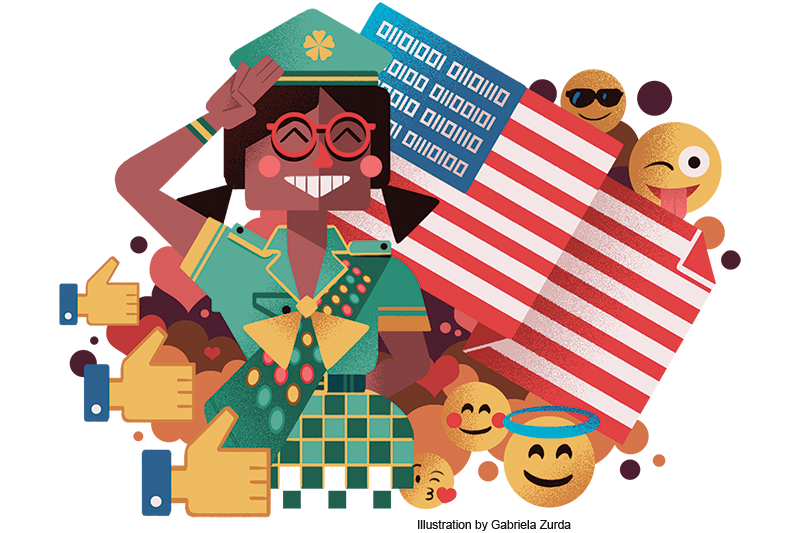 For years, I've taught online safety to my high school students—how to secure personal information, be aware of their online footprint, and protect themselves from predators and bullies. It's vital. They seamlessly connect to hundreds of "friends" via Snapchat, Instagram, Messenger, and other apps, but understanding privacy, account security, online predators, and sharing etiquette still falls short for many.
These skills remain essential—and are part of a larger, and evolving, vision of how young people can safely and responsibly engage online. The new International Society for Technology in Education (ISTE) Standards for Educational Leaders, released this summer, broaden the scope of digital citizenship education for students, encouraging teachers to model digital citizenship by critically evaluating online resources, participating in civil discourse online, and using digital tools to contribute to positive social change.
They also prompt us to differentiate between digital citizenship and online safety—and know how one can impact the other. We want our students to be safe, but we must also expand their definition of digital citizenship to include networking online with a diverse set of people, ethically sharing information and resources, and taking thoughtful actions to promote a positive outcome in their communities or across the globe.
All of these efforts can help defuse cyberbullying and personal attacks. After all, the goal of e-citizenship is to promote a greater understanding and to actively embrace empathy for others.
ISTE CEO Richard Culatta considers digital citizenship to be a list of "dos," not "don'ts." He emphasizes encouraging students to make their communities better by teaching online skills that help them interact with people with different beliefs.
"Digital citizenship is using tech to solve problems, engage respectfully with people of different viewpoints, make your voice heard, and understand how to recognize fact from fiction," Culatta said at the ISTE conference.
We need to empower kids by teaching them ways to learn about, shape, and change policy—in their classrooms and in online communities where their voices can have an impact.
Several resources can help librarians promote this type of citizenship at the library or in partnership with classroom teachers. Here are three of my favorites.
• The Global Oneness Project has lessons and resources to help students develop understanding and empathy. They include photos, videos, and articles on different cultures and people positively shaping our world, as well as on the similarities among cultures.
• The United Nations' 17 Global Goals for Sustainable Development can encourage social justice activities. It covers 17 topics—including hunger, poverty, education, and gender equality—and calls students to action by providing background information, examples of positive social media presence, and ideas for students to engage in their communities or across geographic boundaries. These lessons can easily turn into hands-on civic projects or research opportunities. Shining a light on global inequities and working toward finding solutions or common ground can be crucial in helping our students become responsible global citizens.
• The Stanford History and Education Group's Civic Online Reasoning lessons. More than 30, free, short lesson starters help students critically evaluate information on social media and websites, in YouTube videos, and more. They help students consider questions such as "Who's behind the information?" "What's the evidence?" and "What do other sources say?"
Straight-up online safety must be taught hand-in-hand with digital citizenship. For bullying, try the Stand Up and Preventing Teen Bullying curricula, offering lessons to demonstrate face-to-face citizenship skills using VR movies from Harmony Labs.
Websites such as Rethink Words encourage students to find ways to stop online bullying and model appropriate relationships. Even Facebook has promoted a digital literacy library of lessons (facebook.com/safety/educators), partnering with Youth and Media at the Berkman Klein Center for Internet & Society at Harvard University to create concise plans for educators and parents on topics such as security and privacy, community engagement, and positive behavior.
---

Phil Goerner is the teacher librarian at Silver Creek High School in Longmont, CO.