Get ready for Valentine's Day with these novels by Renée Watson, Ashley Woodfolk, and others.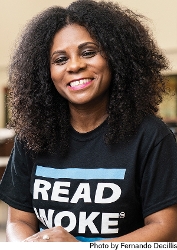 "Read Woke" doesn't usually bring to mind romance. We're so busy trying to educate our students and make sure they are represented in literature, that we can forget: representation needs to be present especially when related to romance and joy!
Black Joy in books was a big focus last year, after many educators recognized a critical need. It's just as important for our youth to see characters falling in love, celebrating success, and being happy, as it is for them to see themselves fighting for justice. Showcasing love that has been neglected, forbidden, or just never acknowledged is one of the biggest revolutionary acts we can take in the fight for representation in literature. I hope your students fall in love with these titles.
One True Loves by Elise Bryant. Balzer + Bray. Jan 2022.
Gr 9 Up–From the Author of Happily Ever Afters comes this story that begins with a bold statement from protagonist Lenore: "My Life is not a Romance Novel." A gifted artist with a flair for style and who has to shoulder familial pressure to succeed, Lenore is headed to NYU in the Fall. First, she's off on a Mediterranean cruise with her family—much to the envy of best friend Tess, who's certain Lenore will find romance on the trip. Lenore doesn't think things like that happen to girls like her. But then her parents hit it off with another couple, and she she meets their son, Alex Lee.
The Kindred by Alechia Dow. Inkyard Press. Jan. 2022.
Gr 7 Up–"One bond can save a kingdom" is the tagline of this fast-paced, intergalactic romance. Readers will fall in love with this adventure about a commoner Joy and duke Felix, who is accused of murdering his family, making him first in line to the throne. Assassins target Felix, and Joy by association. Will they and their love survive? This story is out of this world!
For All Time by Shanna Miles. S. & S. 2021.
Gr 9 Up–In this genre-bending novel, Miles expertly weaves a powerful story of love. Tamar, who has a deteriorating lung condition and has suffered tragic losses during the pandemic, sets out to pursue her passion of studying cryogenics. At the airport, an explosion occurs, and she and her love interest, Fayard, are the only survivors. They awaken to find that they have no memory of their present life. Miles transports readers back and forward in time from the 1325 to 2260, testing their relationship along the way.

Nothing Burns As Bright As You by Ashley Woodfolk. HarperCollins/Versify. Apr 2022.
Gr 6 Up–This novel in verse is a powerful story of complex female friendships and queer love. Told in second person with an unnamed narrator, the story takes us through a day centered on a fire started by two friends, and the aftermath. When one protagonist realizes she's falling in love with her best friend, she runs to her grandmother and asks, "Why can't we just be friends?" The beautiful language makes it hard to look away. Will the girls find love, or will the flames turn to ashes?
Instructions for Dancing by Nicola Yoon. Delacorte. 2021.
Gr 7 Up–High school senior Evie has a psychic ability to envision the romantic start, middle, and breakup of every couple she sees. Her quest to find out more about this gift leads her to a dance studio—where she meets a cute guy breaking up with his girlfriend. As the dance competition heats up, will they fall head over heels for each other?
Love Is a Revolution by Renée Watson. Bloomsbury. 2021.
Gr 7 Up–Nala loves trying new ice cream flavors, and her love interest, Tye, is passionate about community service and activism. Once reluctant to join Inspire Harlem, the youth activist group that her cousin, Imani, has been begging her to join, Nala can't sign up fast enough, since Tye's involved. Finding love is on her list of things to do this summer, right along with finding a new hairstyle. So Nala lies about her level of activism. Another hurdle: she's not comfortable with using the word "fat" like Imani does, and she struggles with self-acceptance. A story that's also about self-love and love for one's community.
More New and Upcoming Diverse Romance

Perfectly Parvin by Olivia Abtahi. Putnam. 2021.
Love Times Infinity by Lane Clarke. Little, Brown. July 2022.
The Edge of Summer by Erica George. Little, Brown. June 2022.
Epically Earnest by Molly Horan. HarperCollins/Clarion. June 2022.
Rise to the Sun by Leah Johnson. Scholastic. 2021.
A Pho Love Story by Loan Le. S. & S. 2021.
Meet Cute Diary by Emery Lee. HarperCollins/Quill Tree. 2021.
Crumbs by Danie Stirling. HarperCollins/Etch. June 2022.
Right Where I Left You by Julian Winters. Viking. Mar. 2022.