Hand these just-scary-enough stories to kids taken with the new movie based on the iconic Disney World ride.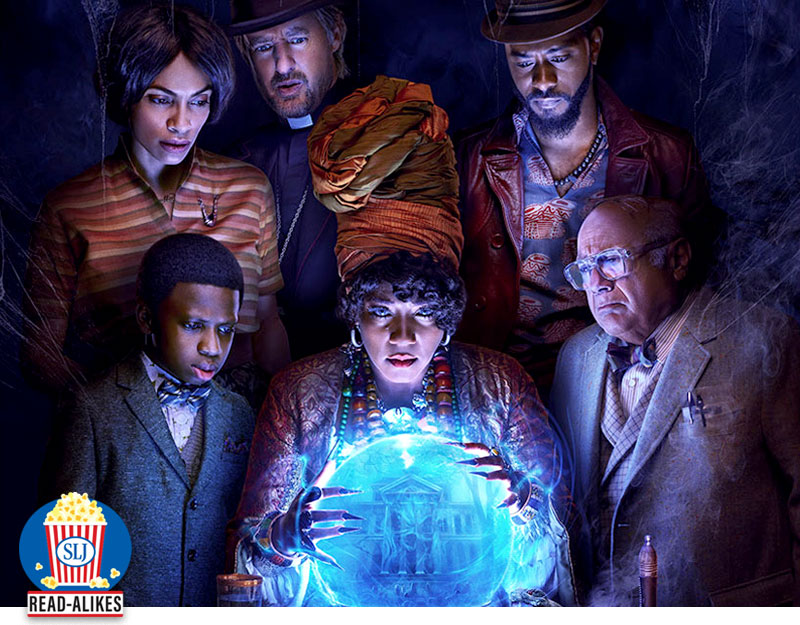 The Haunted Mansion. PG-13. Theaters. July 28.
In this film based on the iconic Disney World ride, mom Gabbie (Rosario Dawson) hires a slew of professionals to exorcize the ghosts in her haunted house. The star-studded cast includes Jamie Lee Curtis, Winona Ryder, Owen Wilson, and Tiffany Haddish.



READ-ALIKES
Ghost Squad by Claribel Ortega. Scholastic. 2020.
Gr 4-7–Dominican-American 12-year-old Lucely must save the day after she accidentally unleashes evil ghosts on her hometown. Spooky, suspenseful, and ultimately heartwarming, this book will appeal to fans of ghost stories.
The Haunted Mustache by Joe McGee. Simon. 2021.
Gr 5-9–Fifth graders Parker (depicted as dark-skinned in illustrations) and Lucas (depicted as light-skinned) investigate the legend of a supernatural mustache that haunts their town once a year in this funny thriller. With its blend of humor and spine-tingling scares, this novel is great for readers who enjoy RL Stine.
"Lockwood & Co." series by Jonathan Stroud. Disney.
Gr 5-9–When a ghost-hunting job goes awry, white teenage ghost hunters Lucy, Anthony, and George must prove themselves and save their company by tackling the most haunted house in London. This action-packed series blends horror with humor, starring a cast of likable characters in a supernatural setting.