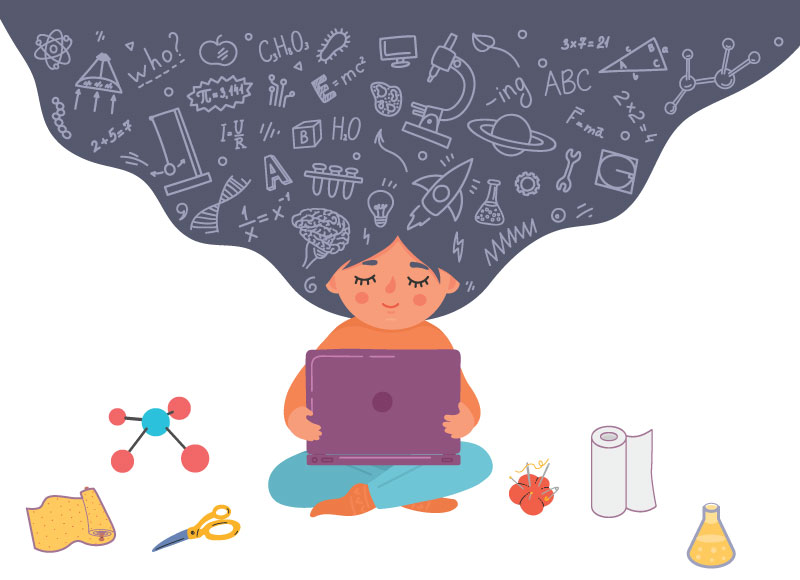 Main illustration by Natalie_. Maker supplies by: Ksenia Zvezdina; Svetlana Chernova; and Bigmouse108. All Getty Images.

In a typical day at Glendale-Henderson Elementary School's library in Madison, WI, kindergartners through fifth graders tinker and build in the Fostering Active Brains Lab, or FAB Lab—a STEAM makerspace with rotating hands-on learning stations. Students may choose to build a domino run, code Ozobots, craft a musical instrument to conduct a soundwave experiment, weigh animal skulls from the local nature center, or try a new spotlight station introduced each week.
"Sometimes when people come in, they think it looks like chaos," says Sara Milewski, a teacher specializing in STEAM makerspaces at the school. "But once you stop and look, you'll see they're all pursuing something that they are genuinely interested in."
But by the end of spring, FAB Lab had transformed into something much different. Instead of a bustling makerspace filled with students, stations were represented as colorful Bitmojis in a virtual activity portal: the Virtual FAB Lab.
Milewski and her team are among the thousands of library staff that pivoted to remote education as schools closed during the coronavirus lockdown. As plans for reopening U.S. schools vary widely, librarians are strategizing amid uncertainty and adapting makerspace environments—whether in-person, remote, or through hybrid learning models—to ensure hands-on learning remains available to all students.
In a survey of 100 public libraries' digital offerings during the shutdown, researchers at the University of Wisconsin-Madison Information School saw an uptick in both the number of curated online resources that libraries offered and the diversity of media. Websites boasted new video channels, synchronous sessions, and Instagram and TikTok campaigns promoting maker activities.
"It captures this really robust learning potential of hands-on, authentic, tangible learning experiences," says Peter Wardrip, assistant professor at the University of Wisconsin-Madison, who says a mix of makerspace offerings is a creative way to meet community needs. "It's not just a 3-D printer or circuit blocks. It's lots of different media. It's high technology, it's low technology, it's digital, it's analog…It gives libraries the opportunity to respond to their patrons' needs and represent the flavor of their region."
Makerspaces can help students recharge and avoid burnout, says Rebekah Willett, an associate professor at the University of Wisconsin-Madison. Losing access can be a blow. "The thought of sitting in front of a screen for six hours is really tough for me. I can't do it, so how a five-year-old would do it is beyond me," she says. "Especially in a time of online schooling, having things that involve bodily kinesthetic functions is super important."
Educators are addressing this with hands-on engagement ideas for home. At the start of the 2019-20 academic year, Milewski evaluated when students would connect most with an activity. When things went remote and kids lost access to school resources, she was concerned about equity of experience. "I noticed that very few of our kids of color were participating, particularly our African American students, even though my data from earlier in the year showed that our African American students had a higher level of engagement with the content that comes through my class," she says.
Milewski found that initially, online maker activities were put at the end of classroom assignments as "bonus work," and many students didn't get that far. She and her colleagues brainstormed ways to make the content resonate with all students.
"What kids identified with most in my in-person instruction is the ability to choose," Milewski says. Online, "I felt like I couldn't offer all of the choices I normally would because there's no way of knowing what students have access to at home, or what kind of safety supervision they might have."
Inspired by educators on Twitter, she devised the Virtual FAB Lab, an interactive, clickable Google Slide offering a variety of activities in Spanish and English. Like a "Choose Your Own Adventure," students can select from activities that require varying levels of equipment, such as sock puppet making, nature walks, paper airplane engineering, and math BINGO. "I decided to take elements of what we were doing in the library and make them as open-ended as possible," Milewski says. She's further improving the Virtual FAB Lab this fall and will assess if the format helps reach more students.
Rosemary Herold, a teacher librarian formerly at Philip Simmons Elementary School in Wando, SC, also focused on choice-based learning through Maker Maps, a nine-square grid of maker challenges she created on Google Draw. One square featured a drama and arts activity, while another involved a build or an investigation of a book, for example. "At the library, students can come into my room and everything is fair game and an option," says Herold. "I tried to keep that alive, even though we were virtual and we weren't all in the same room."
Ensuring equity
In one activity, Herold read a book on Google Hangouts about a group of women in Kentucky during the Great Depression who delivered library books to people without access in the Appalachian Mountains. The scenario resonated, since Herold couldn't get books to students at the time. "The build challenge was to create a way they could check out books from the library," she says. In Herold's Google Classroom, one student shared a drone delivery system, in which she built a model drone out of cardboard and attached it to a wagon of books.
Pushing students to think about the items around them as building materials lets them be creative and promotes equity and accessibility, she says. Herold likes challenges only requiring items easily found around the home or yard. "I'll start a build where it has to come from their trash can or recycle bin, sort of leveling the playing field," she says. "Any material could be used. That is also important when it comes to makerspaces."
Access for students and caregivers are key to boosting online participation. Herold records all her sessions so that families with spotty internet or limited minutes can watch later. At Van Meter (IA) Community School, Shannon McClintock Miller promotes her library's activities and resources through Facebook, Instagram, email, and on the library website. "We have to make sure that we are in multiple places, that we're providing these things to families in a variety of ways," says Miller, the school's district teacher librarian and innovation director. "We need to make sure that our parents [also] feel comfortable in what they're using."
At the beginning of shelter-in-place orders, Miller primarily utilized tools that students and families were already familiar with, such as the library's catalog of ebooks, before expanding into other programming, such as her summer Virtual Camp Adventure of weekly maker activities. "I always tell people, don't try to introduce a ton of new stuff during this time. Build on the things that you already have in place," she says.
The pre-K through 12th grade school of about 950 students expects to return to in-person learning this fall, with restrictions. Students can't come to the library, and library staff can't teach in the classroom. Among other online programming, the team plans to Skype into lessons and resurface a maker kit lending program. "This was made in the beginning of the makerspace movement, and I called it 'Makerspace To Go,'" Miller says.
Maker kits are packed with hands-on STEAM activities that the librarians rotate out. "It's going to be a little different because we can't use certain activities, like our Spheros, because they move around and are handled too much, but the Ozobots can be just placed on the desk," she says.
At Heritage High School in Newport News, VA, lead school librarian Melanie Toran also plans to supply maker toolkits through checkout. Toran helps coordinate a coding program for moderately intellectually disabled students using the app GrooveCoders. Students code their own music and beats. In 2019, they debuted the songs at a private prom event. "We were going to do it again [last] year, but of course COVID-19 came and took that away from us," she says.
Toran still wants to provide coding and STEAM learning opportunities this fall. She hopes to utilize weekly curbside lunch and assignment pickup to lend out library materials, including small maker activities. "They need normalcy in their life, they need structure," she says. "All the activities and manipulatives they're familiar with can hopefully help with that."
Ashley Illig, media specialist and teacher librarian at Cainhoy Elementary in Huger, SC, had tried to spread word about online STEAM challenges by posting about the events on Facebook, and Canva and Dojo class sites, but she couldn't communicate with students or supply materials like she would in the library. With one in three U.S. children receiving school-based meals during the pandemic, according to a study by the Urban Institute, coordinating library outreach with meal pickup was the solution. Illig was able to increase awareness through parents, working with fellow staff members who organized meal pick-up for students. "My cafeteria manager is awesome. She sent out flyers and materials when kids or parents picked up their lunches," she says.
Some STEAM challenges included building towers out of at-home materials, like index cards and tuna cans. Illig also works closely with teachers to pair activities with curriculum and lesson plans. She'll provide a marble run activity in time with a lesson on potential kinetic energy. "I ask a lot of teachers what they're doing in class and find an activity that meets a standard," she says.
Real-world relevance
As librarians at Chicago public schools seek ways to keep kids connected and engaged in a distance-learning setting, the district's manager of libraries and digital media, Sarah Steiger, uses makerspaces as an avenue to try to address real-world problems.
"Having real world questions that kids can access makes it engaging," she says. That means "asking things like, 'What can I design to make my community a better place?'" Think about essential, deep questions and then have students test, reflect, share, and iterate, she suggests.
For example, Steiger asks students to design bridges that can sustain a flood, and brainstorm ways to make a school more accessible for someone unable to walk. She often challenges kids to connect their thinking to local community problems—like applying an exploration of drinking water access in Linda Sue Park's novel A Long Walk to Water to the Flint Water Crisis in Michigan or the nearby Great Lakes. She keeps the structure of activities loose and questions open-ended. "I try to provide a question that can be answered in a multitude of ways," she says, which allows kids more creativity in their solutions.
While the pandemic has created barriers in learning, librarians are opening up to the challenges in order to help education in a way that they haven't in the past, Steiger adds.
"During this time, I think libraries have been able to see and reestablish their role as a resource, as a place to gather resources, and mediate those resources for the public, and some of that has been through makerspaces," says Willett.
Hands-on learning and makerspaces don't have to be controlled by the environment they are held in, Milewski says.
"It's getting kids to look at their world around them and imagine the possibilities—you're tinkering, you're exploring, you're trying things out," Milewski says. "At the same time, you're having the opportunity to really dig into something that excites you. If you think of makerspaces that way, then all of a sudden, it's not tied to a physical space or a specific list of materials. It is what you make of it."
---
Lauren J. Young is a science journalist based in New York City.