There's nothing quite like a charming meet cute or the ups and downs of first love. Check out these contemporary YA romances that teens will fall in love with in the next few months.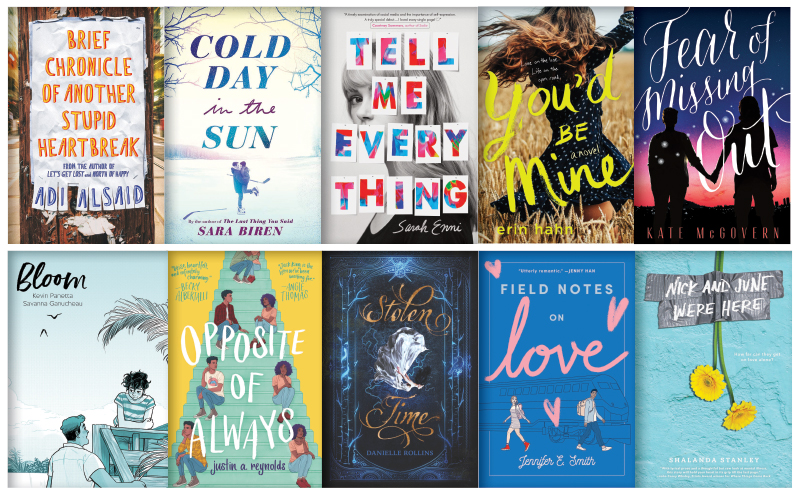 There's nothing quite like a charming meet cute or the ups and downs of first love. Check out these contemporary YA romances that teens will fall in love with in the next few months.
Alsaid, Adi. Brief Chronicle of Another Stupid Heartbreak. 384p. Inkyard. Apr. 2019. Tr $18.99. ISBN 9781335012555. POP
Gr 9 Up–Lu's boyfriend dumped her at the beginning of the summer anticipating that their relationship would not go the distance as they travel to separate colleges. This horrible turn of events affects Lu's work as well as her spirit. As a writer for a stylish online magazine, Lu is expected to write about love from a teen's perspective. Now she has writer's block, and her college scholarship is on the line. Lu's best friend, Pete, tries to persuade her to write about her breakup, but Lu is convinced that her column needs a new angle. After eavesdropping on another young couple, Iris and Cal, Lu becomes obsessed with their story. Similar to her own, Iris and Cal decide to part ways before going their separate ways for college. However, unlike Lu's predicament, this couple decides to postpone their breakup and spend one last summer together. Lu is determined to figure out why they are staying together while her own relationship fell apart. Alsaid accurately captures the teen angst and drama. The protagonist is struggling to find that balance among her job, friends, family, and love life. When one part of Lu's world goes awry, it affects all other aspects of her life. Alsaid's authentic language and relatable situations will have teens experiencing Lu's frustrations right along with her. The fast pacing will appeal to reluctant readers. VERDICT Recommended for general purchase, especially where the author's previous books are popular. –Jeni Tahaney, Summit High School, Manfield, TX
Biren, Sara. Cold Day in the Sun. 320p. Abrams/Amulet. Mar. 2019. Tr $17.99. ISBN 9781419733673.
Gr 9 Up–Romance heats things up for an ice hockey player and her team captain. Holland Delviss is at the top of her game in a sport dominated by boys. She works hard to keep her spot on the male varsity team, but tensions rise as some people in her community question whether she should be on the team. Worse, her captain, Wes, is giving her a hard time during practice. She's soon surprised to learn that he shares her enthusiasm for glam metal, but her growing attraction for him is a concern. When she and Wes realize their mutual feelings for each other, Holland breaks her own rule: no dating teammates. As the romance builds, Holland's team prepares to compete in a televised, statewide event, and she finds herself the center of attention as her relationship with Wes endangers everything she's worked for. Biren has created a romance that fans of Jenny Han and Sarah Dessen should love. The chemistry between the main characters is engaging, and the conflict within the team will keep teens interested. VERDICT A worthy addition to any YA romance or sports fiction shelves. –Sandi Jones, Wynne High School, AR
Enni, Sarah. Tell Me Everything. 288p. Scholastic. Feb. 2019. Tr $17.99. ISBN 9781338139150.
Gr 9 Up–Ivy has one best friend, Harold. When Harold goes away for the summer, he leaves Ivy alone. Before he goes away, Ivy constructs an igloo in Harold's backyard with a dome designed to view the stars. The implication is Ivy's unspoken love for Harold. As the summer progresses, Ivy dives deeper into the Veil app. While she never posts to the app herself, she is exposed to art that gives her insight into worlds and people that are new to her. When Harold comes home from camp and school starts again, Ivy sits next to Nate in art class. Nate is a handsome, popular football player who appears to be a fish out of water in the class. Nate has a twin brother, Tag, who has been expelled from school for posting anti-gay comments on the Veil site. Harold starts a Gay Pride Club at school to counteract the negative statements posted to Veil. Ivy's desire to connect with other artists by giving anonymous gifts helps her arrive at various cross roads, and relationships develop as a result. Ivy experiences quintessential teen life in this modern-day drama. Her connection with an anonymous app for artists allows her to grow as she learns to respect autonomy, understand her peers, and meet new people.VERDICT A charming debut for fans of contemporary YA.–Margo Fryling, Cobb County Public Schools, Marietta, GA
Hahn, Erin. You'd Be Mine. 304p. Wednesday Bks. Apr. 2019. Tr $17.99. ISBN 9781250192882. POP
Gr 9 Up–Teenage heartthrob Clay Coolidge recently won best new artist at the Country Music Awards, but his bad boy image (fueled by the death of his brother who was fighting overseas) needs to be cleaned up as he is about to begin a U.S. summer tour. His record label has him invite Annie Mathers and her group to be his opening act. Annie is the child of country music royalty, but she has her demons too. Her mother died of an overdose, and her father committed suicide. As a tween, Annie was the one who found them dead. Annie's music eclipses Clay's as they make their way across the country, and both of them try very hard not to fall for the other. Romance may or may not be in store for Clay and Annie, but two of their band mates make a connection. Annie and Clay offer their views on the tour in alternating chapters, chronicling the ups and downs of the music and the band members' platonic and romantic interactions. The characters are very likable and seem true to life. The difficulty of having a normal life in the face of celebrity is addressed many times in this layered and fun romance. VERDICT Readers do not have to be fans of country music in order to root for Annie and Clay to find their way to love. A strong choice. –Elizabeth Kahn, Patrick F. Taylor Science & Technology Academy, Avondale, LA

McGovern, Kate. Fear of Missing Out. 320p. Farrar. Mar. 2019. Tr $17.99. ISBN 9780374305475.
Gr 9 Up–Sixteen-year-old Astrid has an astrocytoma in her brain, a sweet younger brother, a grief-stricken patient advocate of a mom, a loyal and honest best friend, and a super caring boyfriend. But she may not have any of them for long, with little hope for treatment of her tumor. Her future on earth looks grim, but what if she woke up in a future where there was a cure? While her mother urges a grueling trial study, Astrid pursues cryopreservation with mixed reactions from her friends and family. A vlog to help fund a road trip to the cryopreservation company and potentially the experience itself goes viral after Astrid finally makes a decision about how to handle the end of her life. Yet this is not a road trip YA novel; rather it is an unflinching account of the intrusion of terminal illness into a teen's life. Astrid approaches her ordeal with candor and self-respect, which does not make her a saint; she makes mistakes and misjudgments along the way. The author compellingly portrays her unique ties with her loved ones and how her death will affect each one differently. The relationship between Astrid and her mother is extraordinarily, palpably full of love and vulnerability. The poignancy is tempered by humor, the science Astrid so loves, and by her determination to take what control she can over her painfully shortened life. McGovern's impeccable writing carries readers through an incredible journey of self-exploration. VERDICT A compelling and heartrending read that should not be missed. Highly recommended for all YA libraries.–Lee De Groft, Jamestown High School, Williamsburg, VA

Panetta, Kevin. Bloom. illus. by Savanna Ganucheau. 368p. First Second. Feb. 2019. Tr $24.99. ISBN 9781250196910; pap. $17.99. ISBN 9781626726413.
Gr 8 Up–Aristotle Kyrkos has graduated from high school and desperately wants to move to Baltimore with his friends to make it in the music industry. His father, owner of their family-run bakery, is less than understanding of Ari's "anywhere but here" mentality, so, with the summer tourist season coming up, Ari hires a replacement. Enter Hector Galea. On sabbatical from culinary school, he's in town to organize his late grandmother's estate and figure out where his life is going. His skills boost the family's struggling business, and Ari realizes the reason he's spending so much time in the bakery has nothing to do with the delicious cupcakes and baguettes. With Baltimore starting to feel like a distant dream, Ari must make a decision about his future. Beautiful artwork depicts characters coping with life's increasing responsibilities and is especially sumptuous when focusing on the yummy desserts. This is both a delicious foray into the world of baking and young love and an endearing, realistic tale of two teens helping one another grow. ­VERDICT A fresh take on the coming-of-age story that spotlights the triumphs and travails of young people. A must-read for teens craving a realistic love story.–Michael Marie ­Jacobs, Darlington School, GA

Reynolds, Justin A. Opposite of Always. 464p. HarperCollins/Katherine Tegen Bks. Mar. 2019. Tr $17.99. ISBN 9780062748379. POP
Gr 8 Up–Jack King is the King of "almost" with a slew of unfinished projects under his belt. He's almost athletic, almost a rock star, almost at everything. He is sitting on the stairs at a college party staring at his best friend and unrequited love interest Jillian, when he meets Kate. These two teens forge a bond over the love of cereal, bad dance moves, and nerdy movies. Jack becomes the Cap'n to Kate's Crunch until Kate is a no-show at Jack's high school prom. Jack survives the heartbreak through the efforts of Jillian and his other best friend Franny "Francisco," Jillian's boyfriend. Jack learns that Kate has sickle cell anemia and was in the hospital during prom. While at the hospital, Kate tells Jack about a doctor who has some promising experimental trials, but the treatment is expensive. Jack goes home to rest only to be awakened by a phone call from Kate's mother telling him that Kate has died. He's headed to his car when falls down the stairs and wakes up back at the college party where he first met Kate. Jake's life now cyclically reboots as he attempts to save Kate and maintain his friendships. This is a love story about friendship with a "choose your own adventure" twist. The humor in this story will keep readers engaged. Any teen who's ever wanted a do-over will enjoy reading this story. VERDICT A great title for public and school libraries seeking excellent realistic fiction with a twist.–Desiree Thomas, Worthington Library, OH
Rollins, Danielle. Stolen Time. 416p. HarperCollins/HarperTeen. Feb. 2019. Tr $17.99. ISBN 9780062679949.
Gr 8 Up–Dorothy and Ash's love story spans centuries, but is set in motion when Dorothy, living in the year 1913, stows away aboard Ash's time machine and winds up in the year 2077. Plenty of cross-space-time adventure—and flirting—ensues. Rollins's sci-fi romance features a diverse cast of characters, which suits the plot's emphasis on access to all of space and time. Chapter headings clearly indicate whose point of view readers are meant to inhabit, and although perspectives and settings change nearly every chapter, these clear markers alleviate potential confusion. Most of the third-person narration alternates between Dorothy and Ash, with the exception of intermittent epistolary chapters written from the perspective of the mysteriously missing Professor, for whom Ash has been searching space-time for years. Paradoxes feature as heavy plot devices, and occasionally the exposition reads as clunky and ill-defined. Romance is the main focus of this trilogy, although both Dorothy and Ash spend so much time internally remarking on their own beauty, it's unclear whether they'll ever have the time to become an item. This light time-travel novel is fast-paced and sprinkled with just enough science-fiction tropes to satisfy most fans of the genre. VERDICT Recommended for purchase where teens are eager for more books similar to series by Kiera Cass and Alexandra Bracken.–Jessie Hedrick, Westmont Public Library, IL
Smith, Jennifer E. Field Notes on Love. 288p. Delacorte. Mar. 2019. Tr $18.99. ISBN 9780399559419.
Gr 9 Up–Eighteen-year-old Hugo Wilkerson is one of the famous sixtuplets born in Surrey, England, where his childhood has been a series of publicity events. Now he is ambivalent about starting school at the local university, which has given the Wilkerson siblings a full scholarship in exchange for ongoing interviews. When Hugo's girlfriend, Margaret, breaks up with him, she urges him to go without her on the cross-country train trip they had planned in America. Because the tickets are in her name and non-transferable, he posts an ad online looking for another Margaret Campbell to be his travel companion. When Mae, an aspiring filmmaker from New York, and rising freshman at the University of Southern California, sends Hugo a short film in response, she has no idea what she's getting herself into. The two teenagers meet at New York City's Penn Station as awkward strangers, and set out on a week-long adventure across the country that brings them joy and heartache. Smith's novel is a feel-good, page-turning romance. The charming British characteristics of Hugo contrast humorously with Mae's tough-girl New York grit, making delightful drama. The author explores what it means to seek independence, while still clinging to childhood comforts. The intriguing backdrop of train travel gives the story a nostalgic mood, perfect for the soul-searching that the two teens engage in. VERDICT A highly readable and enjoyable choice for libraries serving teens, especially those with a demand for literary romance.–Karin Greenberg, ­Manhasset High School, Manhasset, NY
Stanley, Shalanda. Nick and June Were Here. 304p. Knopf. Feb. 2019. Tr $17.99. ISBN 9780399556586.
Gr 7 Up–This is a love story between two well-intentioned teens who struggle not to let their specific challenges define them, or their relationship. June has long dealt with hallucinations and some trouble with perceiving reality. Fully immersed in the college application process, she stops sleeping and finds that the voices in her head are becoming harder to ignore. Her newish relationship with longtime pal Nick is part of what helps keep her grounded, even as he faces his own struggles related to poverty and crime. June and Nick idealistically hope that their love will help them overcome forces beyond their control, but soon learn that real-life problems require far more complex responses. A dual narrative, alternating between June and Nick's perspectives, allows for a fuller understanding of both characters. June's chapters reflect her at-times fragmented reality, while Nick's perceptions of her behavior help to illuminate what may be really going on. Stanley deals respectfully with the very real obstacles these two face, including the refusal to apply an easy out or happily-ever-after in this challenging situation. The inclusion of helpful adults, including family members and medical professionals, teach both the characters and readers more about June's eventual diagnosis and how she can learn to live with it. VERDICT A sincere, thoughtful romance well suited for those interested in better understanding some mental health issues, as well as fans of quiet works by Sarah Dessen and Nicola Yoon.–Ann Foster, Saskatoon Public Library, Sask.