Authors Renée Watson, Ibi Zoboi, and Ellen Hagan joined Cicely Lewis to discuss Woke Books and their own novels.

Left to right: Renée Watson, Cicely Lewis, Ellen Hagan, Ibi Zoboi, and moderator Daryl Grabarek
Give voice to the voiceless. Seek to challenge the status quo. Include a protagonist from an underrepresented group. Those are some elements of a #ReadWoke book, articulated by Cicely Lewis at the panel Read "Woke": A Movement Takes Hold, at the SLJ Leadership Summit in Brooklyn this weekend.
Last year, Lewis, the school librarian at Meadowcreek High School in Norcross, GA, launched a "Read Woke" student reading challenge that garnered international enthusiasm, inspiring related initiatives and grant applications.
Wearing a sparkling blue "Read Woke" T-shirt that her sister had made, Lewis said that she is also encouraging her Muslim, Vietnamese, and other students to #WriteWoke as well in order to make their stories known. "You write that book. You be that change," she said.
Being that change is what the writers who joined her on the panel, Ibi Zoboi, Renée Watson, and Ellen Hagan, are achieving in their books Pride and Watch Us Rise, both featuring young women protagonists of color finding their voices and validation in their schools and communities. SLJ senior editor Daryl Grabarek moderated the conversation.
The authors also shared the "Woke" books they read as teens. Alex Haley's Queen was the first book to deeply resonate with Zoboi, leading her to more titles about slavery, as well as works by Toni Morrison and Octavia Butler's Kindred. The copy of Queen was a library book that Zoboi never returned—but she did pay the library fee. Those were pre-Amazon days, and "there were no bookstores in my community," she explained. Any books had to come from the library.
Hagan, coauthor, with Watson, of Watch Us Rise, recalled that a librarian gave her Alice Walker's The Color Purple, which she read while grounded one high school weekend. For Lewis, that world-changing book was Mildred Taylor's Roll of Thunder, Hear My Cry, set in Mississippi, where Lewis is from. The story tells a "portion of the sharecropping experience that I had no idea about," Lewis says. She read the sequel and then moved on to a book by Richard Wright, another Mississippi writer, that she found in her sister's room.
Watson shared that poetry had the greatest impact for her: she was "exposed to the idea of talking back through the world through art and poetry." Confirming that everyday people had a story to tell, poetry was a way to talk about social issues, she added.
Young women finding their voices
"Don't expect an exact replica of Pride and Prejudice," Zoboi said of Pride, a modern-day version of Jane Austen's classic set in Bushwick, Brooklyn. It's "a remix—a little hip-hop, a little poetry."
"I love putting in poetry and lyrics to break up what I see as the monotony of prose," added Zoboi. In the novel, "[Protagonist] Zuri remixes a classical poem in the way I remix a classical novel." Zoboi read aloud Zuri's poem—which draws from "O Captain! My Captain!" by Walt Whitman, another native Brooklynite.
In Pride, Zoboi replaces Austen's institution of marriage with "education as a way for young women to move up in the world and be financially independent," rather than codependent." Zuri dreams of attending Howard University.
"I would want readers to know that [Zuri] may not be the smartest, but she's the most passionate," Zoboi noted. "Characters don't always have to be the most smart, know-it-all feminists…. Zuri sure has a lot of pride but is not fully away of what's outside of her community."
Zoboi stressed that imperfect characters are important and that readers need to allow "room for our characters to grow in the pages of our stories."
"Books are supposed to [make us] more empathetic," she said. "We want to be more empathetic to our characters, too."
Watch Us Rise protagonist Jasmine is a large girl who keeps getting cast in stereotyped theater roles and has been taught that you can't always speak up—you have to pick and choose battles, Watson described.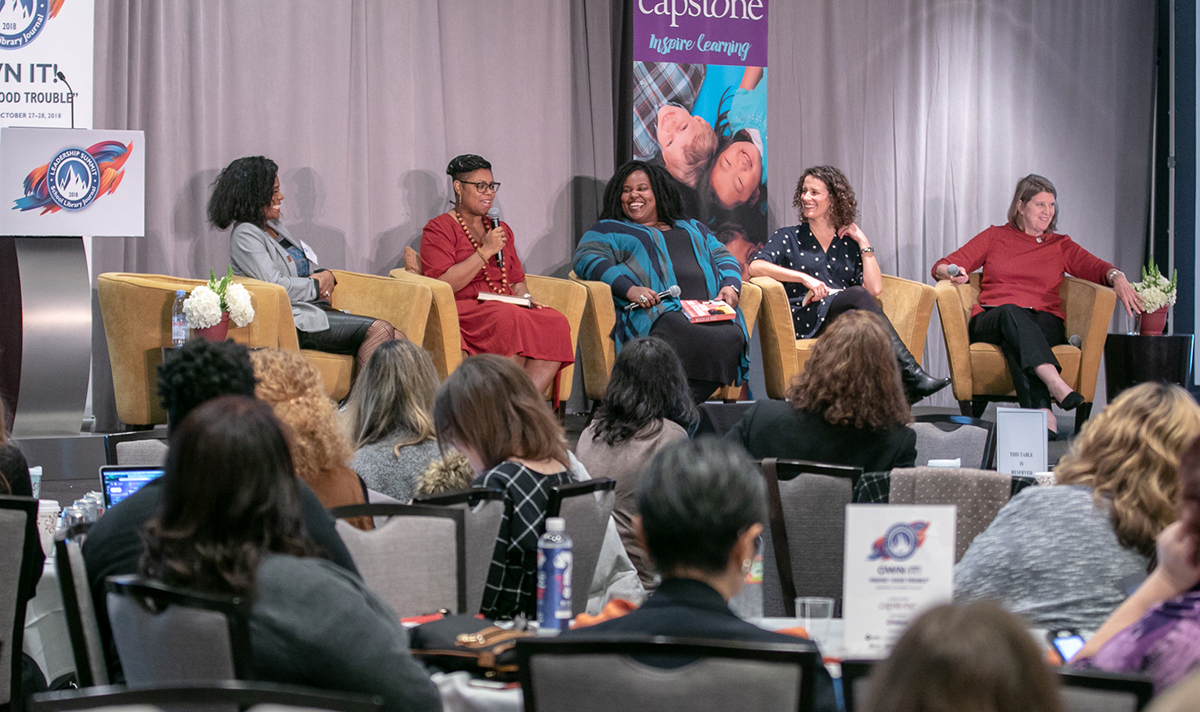 Left to right: Cicely Lewis, Ibi Zoboi, Renée Watson, Ellen Hagan, and moderator Daryl Grabarek
Publishing in February 2019, Watch Us Rise follows best friends Jasmine and Chelsea as they start a women's rights club at their New York City high school. A blog post that Jasmine writes about the racism and sexism she experiences as a black girl goes viral, attracting supporters and trolls, as does a video of Chelsea reciting slam poetry.
Chelsea's journey is about "how do I use my voice, calm it down a bit, have these conversations and figure out what I want to say to the larger world?" said Hagan. That includes "reading Seventeen magazine graciously and also wanting to rip it apart," as Chelsea does in a potent poem from the book that Hagan read to the audience.
Hagan speculated that Barbara Findlen's Listen Up: Voices from the Next Feminist Generation would have been a formative book for Chelsea, who is "going back and forth figuring out what feminism means to her."
At one point in Watch Us Rise, Chelsea neglects to order T-shirts for students in plus sizes—a hurtful moment for Jasmine. Such actions show that "even though they're so woke, there are blind spots," Watson said. "You can be so knowledgeable about certain things, then completely ignorant in other ways." It raises the question, "Are you still going to be an advocate for other people, even if you don't fall into that group?"
"She's not seeing outside of her own orbit sometimes," Hagan said of Chelsea, adding that authors can "message to young people that it's OK if they don't know everything."
Watson encapsulated the impossible, contradictory advice that Jasmine experiences and her hunger for validation: "It be like learning how to play hard to get, told you are too sweet, too woman, not girl enough. Being a wild flame wanting to burn. It be like trusting the mirror when it shows you your beauty."
Depictions of family and multiple generations populate these stories. The authors made sure to include older characters, including parents and grandparents, as occasionally flawed guides and role models.
It was important for Zoboi to portray low-income families who weren't suffering and who experienced joy, threw block parties, and had a sense of community. "Zuri gets her mean mug when people would look at her and her family. She pushes away from those stares by staring back and saying 'We may be poor, we may be messy, but we love each other,'" Zoboi said. She wanted to include "grandfatherly and grandmotherly characters also. I need to have elders in my books as a way to guide young people. It's not always the parents that are guiding. I need to close that generational gap."
Watson included imperfect parents in Watch Us Rise, allowing Jasmine to struggle with her parents' traditional gender roles and her mother's negative messages about Jasmine's weight. "I love including adults in YA, [though] some authors like to take them out," she noted.
Asked what students are requesting in books, Watson responded, "The girls want to see themselves." She described the popularity of Bryan Collier's cover art of her previous novel Piecing Me Together, showing the face of a dark-skinned girl.
"They want books that push the envelope; they want to feel stuff. They are looking for answers; they want books that ask the big questions," Zoboi added.
Young people have always wanted to have conversations about racism and injustice, Watson emphasized, noting that it's the adults who haven't been comfortable discussing it. But she thinks that things are changing.
"I want to have that conversation [with readers] where I say, 'I see you, yeah, body shaming is a thing, micro-aggressions are a thing,'" Watson said. She has been moved by mail from white teens thanking her and saying, "I've been trying to figure this out with my friend."
She also likes when boys read her books and engage in conversations about feminism. "Teachers making space for that in their classrooms means a lot."
Add your suggestions to Cicely Lewis and SLJ's crowdsourced Read Woke Book Booklist .