The anniversary of women gaining the right to vote is a good time to revisit resources and offer titles that teach not only about the suffrage movement, but the women who continued the fight for equal pay, education, and more.
August 26 is Women's Equality Day, the commemoration of the day the 19th Amendment was certified by U.S. Secretary of State Bainbridge Colby, who signed a proclamation to make a women's right to vote official.
The anniversary is a good time to revisit resources about the day from the National Women's History Museum and National Constitution Center, as well as look at related statistics from the U.S. Census Bureau and have students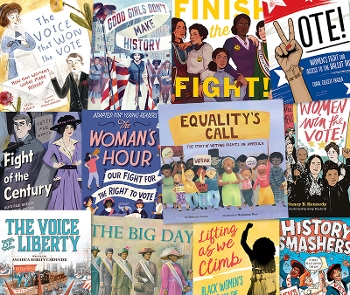 break down the data. All of this information can be shared with kids year-round and give educators a jumpstart on some March lessons and programming for Women's History Month.
SLJ has booklists and individual titles to help students and young patrons learn not only about the history of the fight to give women the right to vote, but also find out more about women who have fought for equal rights beyond the ballot box: fighting for equal pay, education, and more.
12 Picture Books and Middle Grade Titles For Women's Equality Day
Women and the Vote | By the Book
An Uncomfortable Truth: 12 books that discuss the 19th Amendment and the limits of women's suffrage
A Woman's Place Is in a Graphic Novel: Outstanding Works for Young Readers Center Women in History
12 Women Who Took Action and Changed the World
10 Collective Biographies for Women's History Month
Individual titles:
Citizen She!: The Global Campaign for Women's Voting Rights by Caroline Stevan
Gloria Steinem by Maria Isabel Sanchez Vegara, illus. by Lucila Perini
I Am Malala: How One Girl Stood Up for Education and Changed the World by Malala Yousafzai
Loud and Proud: The Life of Congresswoman Shirley Chisholm by Lesa Cline-Ransome, illus. by Kaylani Juanita
One Life: Young Readers Edition by Megan Rapinoe