Unlock kids' creativity with episodes about origami, bookmaking, beavers, and more inspirations.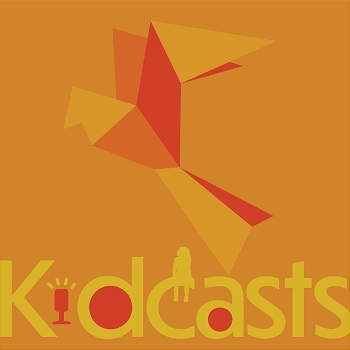 Social distancing and school closures have driven an increase in demand for arts and crafts activities. Kids Listen, a grassroots nonprofit dedicated to the promotion of high-quality audio for kids, knew they could help. On March 13th, they launched the new Kids Listen Activity Podcast. Each day, for 52 days, kids and families were introduced to a different show, and at the end of each episode, hosts shared a hands-on activity.
Families can continue listening to these episodes for free. Heading into summer, the need for arts and crafts ideas will remain essential to keep kids occupied and relieve stress. This playlist includes a creative mantra to help children be their creative best and answers kids' questions about how arts and craft supplies work and what types of supplies artists use. It includes interviews with artists who create with natural materials and found objects, information about how books are made, a game show about sewing, and stories about how craft—specifically Origami Yoda—can transform lives. Listen and create!
Access the Arts & Crafts Playlist here.
Activist, You! "Art as Activism (or Artivism) with The Butterfly Effect"
Ages 7 to 12–Host Lindz Amer interviews kid activists Lily and Kaia from The Butterfly Effect, in this episode. Lily and Kaia share details about how they use butterfly art as a tool to bring awareness to children being held in U.S. detention centers. Listeners get to hear who inspired them to become activists and how they too can get involved in creating change, no matter their talents. Young listeners will feel empowered by listening to activists their own age talk about on how to use one's voice to speak up for others who may not be able to speak up for themselves.
Anytime Art : "Paper Sculpture, Part 1"
Ages 5-12–Anytime Art walks kids through step-by-step instructions for making a craft. Here, kids learn how to begin a paper sculpture. The pacing of instructions and the descriptions inspire close listening and imagination, because kids will need to picture each step and create as they listen. This show is produced by Pinna, a paid subscription audio streaming service for kids. Pinna provides free playlists of episodes from many of the shows included in their library. Currently, due to COVID-19, it is offering families 60 days of free listening.
Best Day Yet "You are Filled with Creative Ideas (Words to help you never be bored again)"
Ages 5-7–Before you break out the arts and craft supplies, get into a creative mindset with a Best Day Yet episode. The show's host, Marjorie Stordeur, uses messages of positivity to inspire kids to be kind to themselves and others. Listening to this episode, kids will slow down, listen to nature, and find inspiration from one of the best builders around—beavers. It begins with a great art idea: Say thanks to your mail or delivery person, and ends with a mantra kids repeat, to remind themselves that they are filled with creative ideas.

Read: 14 DIY Books to Get Kids and Adults Doing and Making | Summer Reading 2020

"But Why?: " Why is Tape Sticky?"
Ages 5-12–But Why? researches questions from kids. In this episode, hosts take on all sorts of queries about arts and crafts, including: Why is tape sticky? How do you make paint? And, How do erasers work? Organic artist Nick Neddo talks about about how to make paint from rocks and creating supplies from other natural materials. Curiosity to explore nature will be piqued.
The Big Fib : "Sewing"
Ages 8-12–The Big Fib uses a game show format where kids compete to see who can tell which supposed "expert" grownup is telling the truth and which one is lying. Here, the topic is sewing. With plenty of puns and fun facts about sewing, kids will be entertained while learning about this craft. The original title of this podcast was Pants on Fire. Disney+ picked it up and transformed it into a TV series called The Big Fib, which began airing on May 22, 2020.
Brains On! : "Books, How They're Made and How Your Brain Reads Them"
Ages 8-12–We all know stories are magic; this episode explore the magic of bookmaking. Brains On!, a science podcast for curious kids, answered 10-year-old Laura's question, "How do people make books?" Host Marc Sanchez walks listeners through the history of the book, sharing the different materials used as the book evolved. A visit to a printer helps kids understand the process and craft involved in bookmaking, and host Molly pauses to share the steps to make a 16-page book from one sheet of paper. Kids can make one too, and doodle along in their own 16-page book while hearing about what happens in the brain when we read.
Book Club for Kids : "Strange Case of Origami Yoda by Tom Angleberger"
Ages 9-12–The "Origami Yoda" series is very popular with kids. Here, some young super fans talk about their plot to get author Tom Angleberger to write more books! Both author and kid readers share how making their own origami Yodas changed their lives. Each episode of Book Club for Kids brings kid readers, celebrity readers, and authors together, offering young listeners a way to discover what book they may want to read next.
Rendered : "Everything is an Instrument"
Ages 9-17–Formerly known as Destination DIY, the Rendered podcast hung up in 2015, but this particular episode stands the test of time with an inspiring interview with artist Ken Butler. He makes instruments out of household objects and tools...and plays them! Kids will look around at the objects in their world and see new possibilities for their next art project.
To link or embed this playlist to share with your students, click here: Kidcasts: Arts & Crafts
To add additional episodes, request to be a contributor to the link to the playlist.
Youth technology integration consultant Anne Bensfield helps libraries and schools implement new models for innovation. Librarian and Buttons & Figs podcast creator Pamela Rogers inspires creative expression from elementary school kids by reading, writing, and playing with words.

Read: Podcasts for K-12 Chefs | Kidcasts