Author Kate Messner argues that "shining a light on science, on history, on injustice, and representation is work we all should have been doing all along. And it's work that will need to continue long after someone else is leading the nation."
Before I was a full-time writer of children's books, I was a middle school teacher, and before that, a journalist. For me, the gold standard for all three careers came down to three goals:
1. To tell the truth.
2. To shine a light on lies and injustice.
3. To help people—especially young people—see the world and one another in ways that build wonder, understanding, empathy, and agency.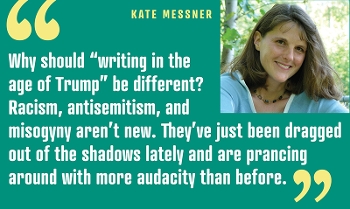 The books I've been writing lately reflect those values. Chirp (Bloomsbury, Feb. 2020) is a STEM-infused mystery set on a cricket farm, with themes of sustainability, entrepreneurship, and multi-generational feminism. It's also a book about finding your voice in a world that hopes you'll shut up and go along with the way things have always been. I'd be lying if I said that theme had nothing to do with the current president. I watched the video back in 2016. I heard the audio from the bus, the bragging about acts of sexual assault, and, like so many other women, I was flooded with memories from my own life. These replayed in sharper-than-comfortable focus as I wrote Chirp, and the result is, I hope, a novel that will let girls know they're not alone and empower them to speak up. I hope it's also a story that will remind adults to listen—really listen—when a young person says something isn't right.
I've also been working on an illustrated nonfiction series called History Smashers, which shines a light on myths, lies, and untold truths of the history we teach kids. The series will launch with books about the Mayflower and women's right to vote (both Random, Jul. 2020)—two titles that share stories of some of our most lauded heroes and heroines, including their flaws and the harm they did along the way to making history. The work of sharing uncomfortable truths about America's past also takes on added weight under an administration whose "Make American Great Again" motto ignores the truth that those years of "greatness" were marked by brutal inequality and violence.
I'm excited about these books, but there's also some discomfort when I reflect on what fueled them. Why should "writing in the age of Trump" be different? Racism, antisemitism, and misogyny aren't new. They've just been dragged out of the shadows lately and are prancing around with more audacity than before.
I have been and continue to be shocked by many of the words and actions coming from the White House. But my friends who are people of color are not. They know better. As author Tracey Baptiste pointed out on a recent panel, people of color have been facing this ugliness and racism their whole lives. "It's just that it's missed the attention of white, cis, straight people," Baptiste says, "and so what's really different now?"
Perhaps it's that more people who aren't from traditionally marginalized groups are paying attention. Which begs the question, where were the rest of us before? The truth is, the work of shining a light on science, on history, on injustice, and representation is work we all should have been doing all along. And it's work that will need to continue long after someone else is leading the nation.
So what does that work look like today? What can we do as writers and educators—as people who share stories—to counter harmful rhetoric and policies?
We can meet efforts to erase immigrants and people of color with libraries and classrooms full of diverse books that let kids know everyone's story matters.
"I am more motivated than ever to write stories about Jewish kids to normalize being Jewish," says author Joanne Levy. "I felt like a unicorn growing up in a very small minority, sometimes hiding in plain sight. No more. Especially now."
Emma Otheguy says the current vilification of Latinx people has affected every aspect of her life—the way she shares political views, deals with microaggressions, and interacts with the public at book festivals. "And all of that impacts my writing," she says, "makes it more important to tell MY version of the story to counter the story that's being told about my people."
We can all share those stories. And as white writers, we can step back when OwnVoices authors ask us to leave space and time for them to tell their own stories.
We can counter the message "You don't belong" with "Welcome. We're so glad you're here."
We can shout down "Go away and be quiet" by empowering kids to speak up.
We can make it a point to teach good, solid science and quality journalism. Lies thrive in the shadows. When we shine a light into those spaces, there's nowhere for them to hide. And really, the time for hiding, for pretending, is over.
More writers and educators than ever are doing the honest, tough, risky work that our colleagues from marginalized communities have been doing all along. Telling the truth. Shining a light on lies and injustice. Building wonder, understanding, empathy, and agency in the kids we serve.
---
Kate Messner lives on Lake Champlain with her family. Her books have been New York Times Notable, Junior Library Guild, IndieBound, and Bank Street Best Books selections.