This Brothers Grimm folktale is elaborately illustrated in a traditional, yet interactive manner.
Who doesn't love this tale by the Grimm Brothers? Enhanced in this narrated version are all the raucous animal sounds and rough-and-gruff robber exchanges that we imagined while listening to the story as children.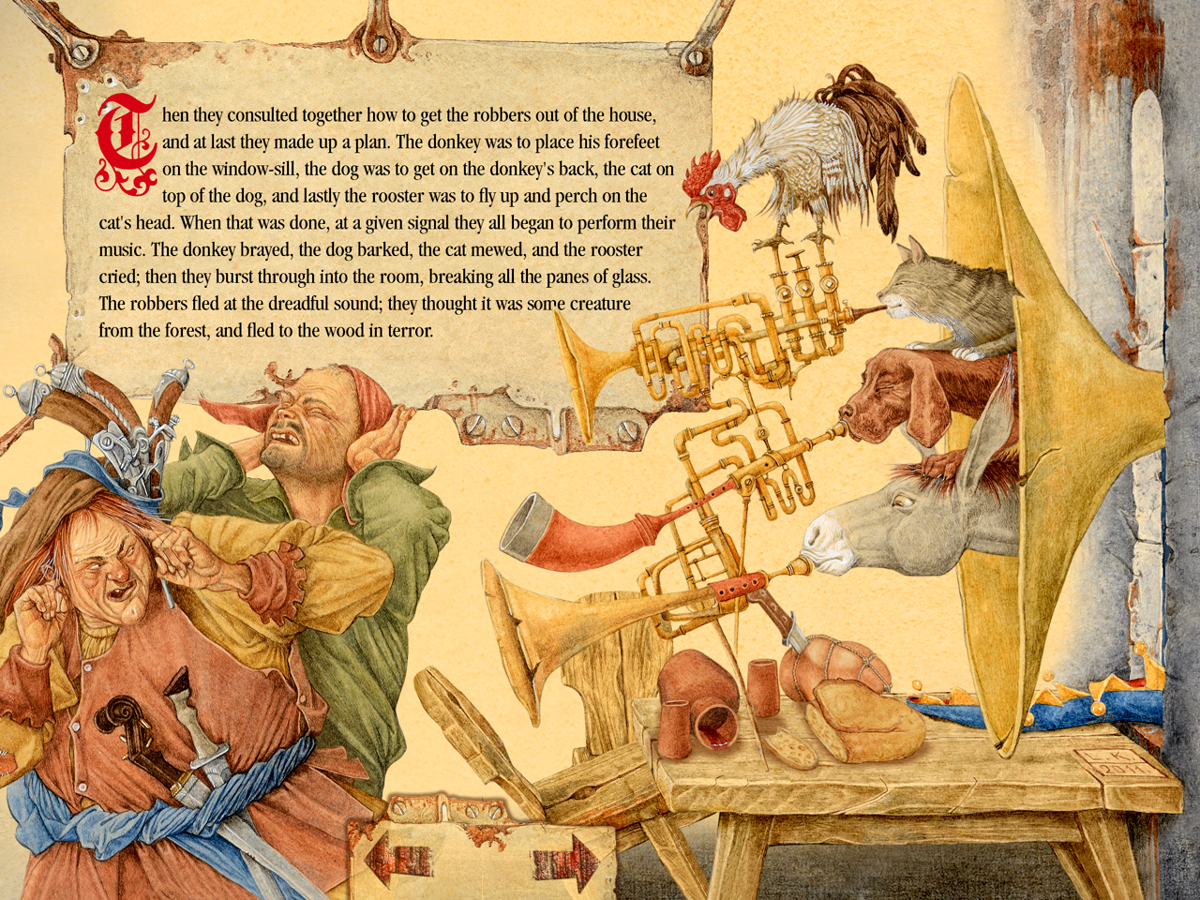 A wonderful old folktale by the Brothers Grimm is elaborately illustrated in this traditional, yet interactive telling. Users may swipe, tap, or tilt to experience Town Musicians of Bremen (Albert Frischmann, iOS, $.99; PreK-Gr 3). Each screen/page of descriptive text features numerous animations (the developers boast some 800-plus) and sound effects. Navigation is sequential; with a touch to an arrow, viewers can advance forward or backward. However, with each movement a "loading" page appears briefly, potentially frustrating viewers. There is no way to return to a home screen until finished with the tale.
The story is clearly narrated with expression. Children will intuitively discover the numerous embedded ambient sounds of the story as well as those that these aged-but-not-so-useless animals make on their journey. They'll cheer as the creatures conquer the abode occupied by the robbers, and later, defeat their attempt to regain it. The finely detailed illustrations by Leo Kaplan will be enjoyed with every viewing. The app is available in several languages. A trailer is available. TVERDICT This engaging version of a classic tale that offers sharing on up to six devices is a can't-go-wrong purchase.—Deb Whitbeck, formerly of West Ottawa Public Schools, Holland, MI
For additional app reviews, visit School Library Journal's dedicated app webpage.