These 10 audiobooks represent the best of November 2017 to October 2018 releases, with selections for all age groups and interests.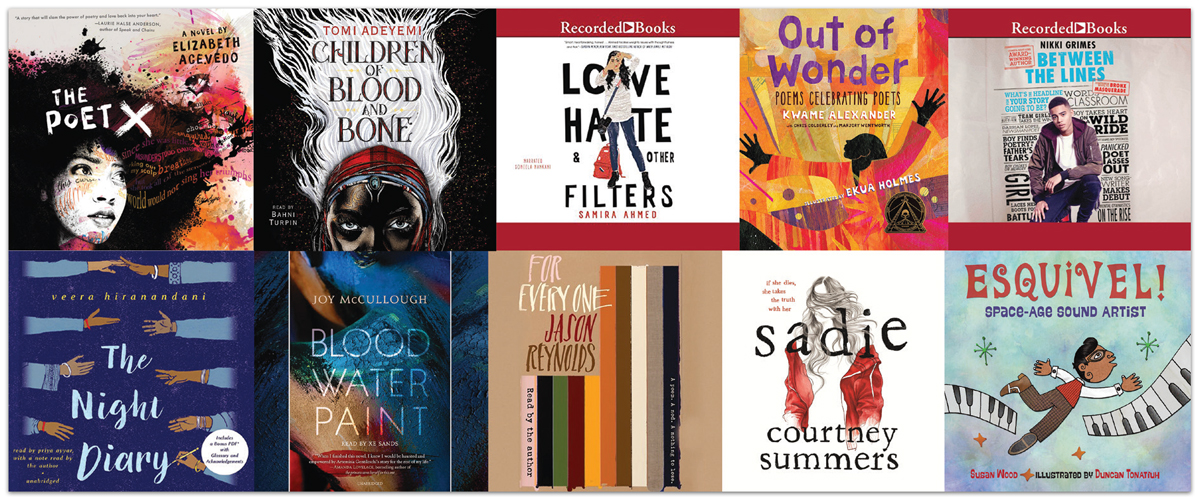 These 10 audiobooks represent the best of November 2017 to October 2018 releases, with selections for all age groups and interests. They tell fascinating stories that are enhanced by exceptional narration. Poetry is a theme throughout the list with poet characters, novels in verse, and volumes of poetry all making an appearance.
The Poet X by Elizabeth Acevedo. HarperAudio. Gr 7 Up. Read by the author.
That Acevedo narrates her debut novel in verse is a sublime gift. She's undoubtedly the ideal aural arbiter of her spectacular coming-of-age tale about a Harlem teen whose generational, cultural, religious, and emotional conflicts coalesce to teach her "to believe in the power of [her] own words." Encouraged by her English teacher to claim her voice, Xiomara's performance of her verses will be "the most freeing experience of [her] life." Patrons who opt for the audio format can access Acevedo's additional explanatory track about a final contrapuntal poem.
Children of Blood and Bone by Tomi Adeyemi. Macmillan Audio. Gr 9 Up. Read by Bahni Turpin.
Under brutal King Saran, Orïsha is no longer a magic-filled world of Burners, Healers, Reapers, and Connectors. Zélie's is a divîner, with potential for magic, and she trains and plots against Saran's heavy-handed rule. When the king's daughter, in possession of a stolen scroll, begs for Zélie's help, the two go on the run with Zélie's brother, Tzain. The trio risk their lives on the seemingly impossible task of uniting the scroll with sacred objects, which will restore magic to the world. Bahni Turpin easily distinguishes among Zélie, Amari, Tzain, and antagonist Inan.
Love, Hate & Other Filters by Samira Ahmed . Recorded Bks. Gr 9 Up. Read by Soneela Nankani.
Teens who find themselves caught between parental expectations and how they personally want to live their lives will identify with this debut title. Seventeen-year-old Maya Aziz is American born, but her parents want her to follow traditional Indian customs, live at home, and marry a nice Muslim boy. Maya just wants to go to college in New York City and study filmmaking. Soneela Nankani does an excellent job differentiating the characters and accents. Ominous sections focusing on a mysterious character are sandwiched between chapters, and Nankani delivers these with an appropriately sinister aura.
Out of Wonder: Poets Celebrating Poets by Kwame Alexander & others . Dreamscape. Gr 4-7. Read by Ron Butler, MacLeod Andrews, & Erin Bennett.
Poets Chris Colderley and Marjory Wentworth join Alexander in honoring writers from Rumi and Basho to Terrance Hayes. A rich, diverse mix of 20th- and 21st-century authors includes Maya Angelou, Billy Collins, Naomi Shihab Nye, William Carlos Williams, Mary Oliver, and Pablo Neruda. Each original entry reflects the work of the poet who inspired it. Ron Butler, MacLeod Andrews, and Erin Bennett narrate with a careful, light-handed touch.
Between the Lines by Nikki Grimes. Recorded Bks. Gr 8 Up. Read by Various.
Darrian is determined to become a reporter and believes his skills will be strengthened by taking a poetry class. Different writing exercises help the students challenge themselves and their own preconceived notions of each other. The book culminates around a poetry slam, where each person will have to lay it out on the line. This audiobook is beautifully read by Sisi Aisha Johnson, Edward Lopez, Lori Gardner, Almarie Guerra, James Shippy, Ruffin Prentiss, and Cherise Boothe.
The Night Diary by Veera Hiranandani. Listening Library. Gr 3-7. Read by Priya Ayyar.
When 12-year-old Nisha's family is forced to flee from what becomes Pakistan to "the new India," she faces a complicated future not of her making. With pitch-perfect youthful delivery, Priya Ayyar is an ideal narrator for Nisha's evolution from reluctant and reticent to bold and brave. The addition of Hiranandani's reading of her author's note—in which she reveals her father's family's 1947 exodus along Nisha's family's route from Mirpur Khas to Jodhpur—proves especially gratifying.
Blood Water Paint by Joy McCullough. Listening Library. Gr 9 Up. Read by Xe Sands.
At 12, Artemisia Gentileschi loses her mother and by 17 is her father's assistant, although she's clearly the better artist. When she is raped by her teacher, Artemisia goes to court, where she's subjected to further brutality, yet she stalwartly demands justice. Written in free verse (as Artemisia) and prose (as Artemisia's mother), McCullough's revelatory historical fiction, set in the early 17th century, is enhanced by narrator Xe Sands, whose portrait of an artist as a young woman is sensitively modulated to be deliberate and controlled, hesitant and unsure, resigned and determined.
For Every One by Jason Reynolds. S. & S. Audio Gr 7 Up. Read by the author.
Originally performed at the Kennedy Center for the unveiling of the Martin Luther King Jr. Memorial, and later as a tribute to Walter Dean Myers, Reynolds's poem is for dreamers everywhere, telling them that while they will struggle to achieve their dreams, having a dream is the start of something wonderful. The author's performance is powerful and inspiring.
Sadie by Courtney Summers. Macmillan Audio. Gr 9 Up. Read by Various.
Audio is the natural format for Summers's latest, which alternates between Sadie's first-person perspective as she searches for the man she believes murdered her 13-year-old sister, Mattie, and a serialized podcast called The Girls. The podcast, set in the future after Sadie's car has been found abandoned with her belongings inside, details a New York City radio host's search for her, addressing themes of revenge, abuse, ineffective policing, poverty, and addiction. Rebecca Soler, Fred Berman, Dan Bittner, Gabra Zackman, and others do an exceptional job of bringing the book to life.
Esquivel! Space-Age Sound Artist by Susan Wood. Live Oak. Gr 2-6. Read by Brian Amador.
Juan Esquivel began his musical career as a child in Mexico by playing piano and soon started matching sound to situations. He was a musical artist, using sound like paint. This audiobook version of the picture book biography is magical. Brian Amador's narration, sound effects, mariachi band music, and unusual instruments perfectly blend to support Wood's text. Listeners are introduced to a theremin, a buzzimba, and an ondioline. The CD includes original songs performed by Esquivel.