Rick Riordan and Mark Oshiro's middle grade adventure receives a star this month, as do a Jarrett Lerner early reader and the Nintendo game Metroid Prime Remastered.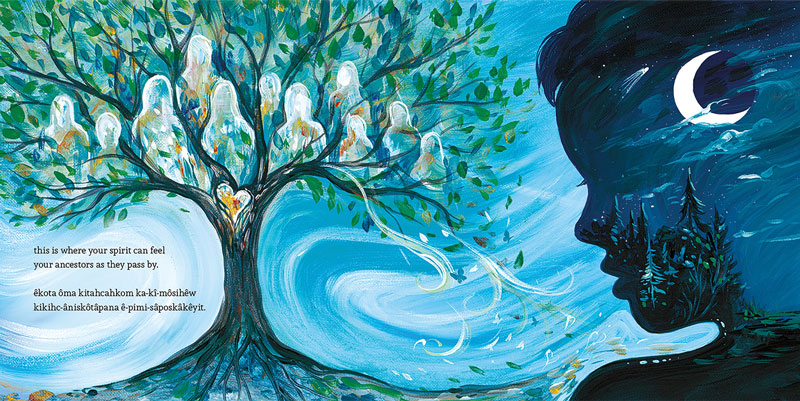 Forever Our Home/kâkikê kîkinaw. (Simpson) ©2023 by Carla Joseph

Picture Books
Arnaldo, Monica. Mr. S. HarperCollins/Katherine Tegen.
Asterplume, Z.B. Sometimes, a Tiger. Feiwel & Friends.
Charlton-Trujillo, e.E. & Pat Zietlow Miller. A Girl Can Build Anything. illus. by Keisha Morris. Viking.
Freitas, Bethany V. Ready for Kindergarten. illus. by Maja Andersen. HarperCollins/Clarion.
Paul, Baptiste. Patchwork Prince. illus. by Kitt Thomas. Dial.
Reidy, Jean. A Book About You and All the World Too. illus. by Joey Chou. HarperCollins.
Simpson, Tonya. Forever Our Home/kâkikê kîkinaw. illus. by Carla Joseph. Orca.
Tillotson, Carrie. B Is for Bananas. illus. by Estrela Lourenço. Penguin/Flamingo.
Transitional Books
Lerner, Jarrett. Nat the Cat Takes a Bath. S. & S./Spotlight.
Middle Grade
Hobson, Brandon. The Storyteller. Scholastic.
Riordan, Rick & Mark Oshiro. The Sun and the Star: A Nico di Angelo Adventure. Disney-Hyperion.
YA
Albertalli, Becky. Imogen, Obviously. HarperCollins/Balzer + Bray.
Boulley, Angeline. Warrior Girl Unearthed. Holt.
Caprara, Rebecca. Spin. S. & S./Atheneum.
Owen, Margaret. Painted Devils. Holt.
Reynolds, Jason. Miles Morales Suspended: A Spider-Man Novel. illus. by Zeke Peña. Atheneum/Caitlyn Dlouhy.
Rosenblum, Cameron Kelly. The Sharp Edge of Silence. HarperCollins/Quill Tree.
Graphic Novels
Glasheen, Kate. Constellations. Holiday House.
Quin, Tegan & Sara Quin. Tegan and Sara: Junior High. illus. by Tillie Walden. Farrar.
Nonfiction
Aikens-Nuñez, Talia. Men of the 65th: The Borinqueneers of the Korean War. Zest Bks.
Barton, Bethany. I'm Trying to Love Germs. Viking.
Berne, Jennifer. How the Sea Came to Be: (And All the Creatures in It.) illus. by Amanda Hall. Eerdman.
Kumura, Yukie, Kōdo Kumura & Steven Sheinkin. Yukie's Island: My Family's World War II Story. Roaring Brook.
Magoon, Kekla. Ketanji: Justice Jackson's Journey to the U.S. Supreme Court. illus. by Laura Freeman. HarperCollins/Quill Tree.
Miller, Ron. The Big Backyard: The Solar System Beyond Pluto. Twenty-First Century.
Skiadas, Elaine. Fantastic Vegan Recipes for the Teen Cook: 60 Incredible Recipes You Need to Try for Good Health and a Better Planet. Page Street.
Weiss-Tuider, Katharina. Mission: Arctic: A Scientific Adventure to a Changing North Pole. tr. by Shelley Tanaka. illus. by Christian Schneider. Greystone.
Wenjen, Mia. Food for the Future: Sustainable Farms Around the World. illus. by Robert ­­Sae-Heng. Barefoot Bks.
Wilkes, Angela. Children's Quick and Easy Cookbook: More Than 60 Simple Recipes. DK.
Adult Books 4 Teens
Makkai, Rebecca. I Have Some Questions for You. Viking.
Mohamed, Deena. Shubeik Lubeik. Pantheon.
Wimberly, Ronald. Now Let Me Fly: A Portrait of Eugene Bullard. illus. by Brahm Revel. First Second.
Professional Reading
Kroski, Ellyssa, ed. 25 Ready-to-Use Sustainable Living Programs for Libraries. ALA Editions.
Muhammad, Gholdy. Unearthing Joy: A Guide to Culturally and Historically Responsive Teaching and Learning. Scholastic Professional.
DVD
The Little Red Fort/El fuertecito rojo. adapt. from the book by Brenda Maier. illus. by Sonia Sánchez. Weston Woods.
Town Destroyer. Bullfrog Films.
Games
Metroid Prime Remastered. Nintendo.