The concepts of flow, community, and nonverbal communication are explored in three intriguing and artistically daring games.
Jenova Chen and thatgamecompany produce games that are artistically daring and intriguing to people who rarely play games. Working exclusively with Sony from 2006 to 2012, they released such notable titles as Flow, Flower, and Journey.
Earlier this year, Flower and Journey were re-released for both Windows and iOS, making this the perfect opportunity to introduce these titles to students and colleagues for the first time, or, to revisit these contemporary classics.
Additionally, thatgamecompany has released Sky: Children of the Light as a free download for iOS (and announced for Android). Sky builds upon many of the ideas of flow, community, and nonverbal communication explored in the games mentioned above.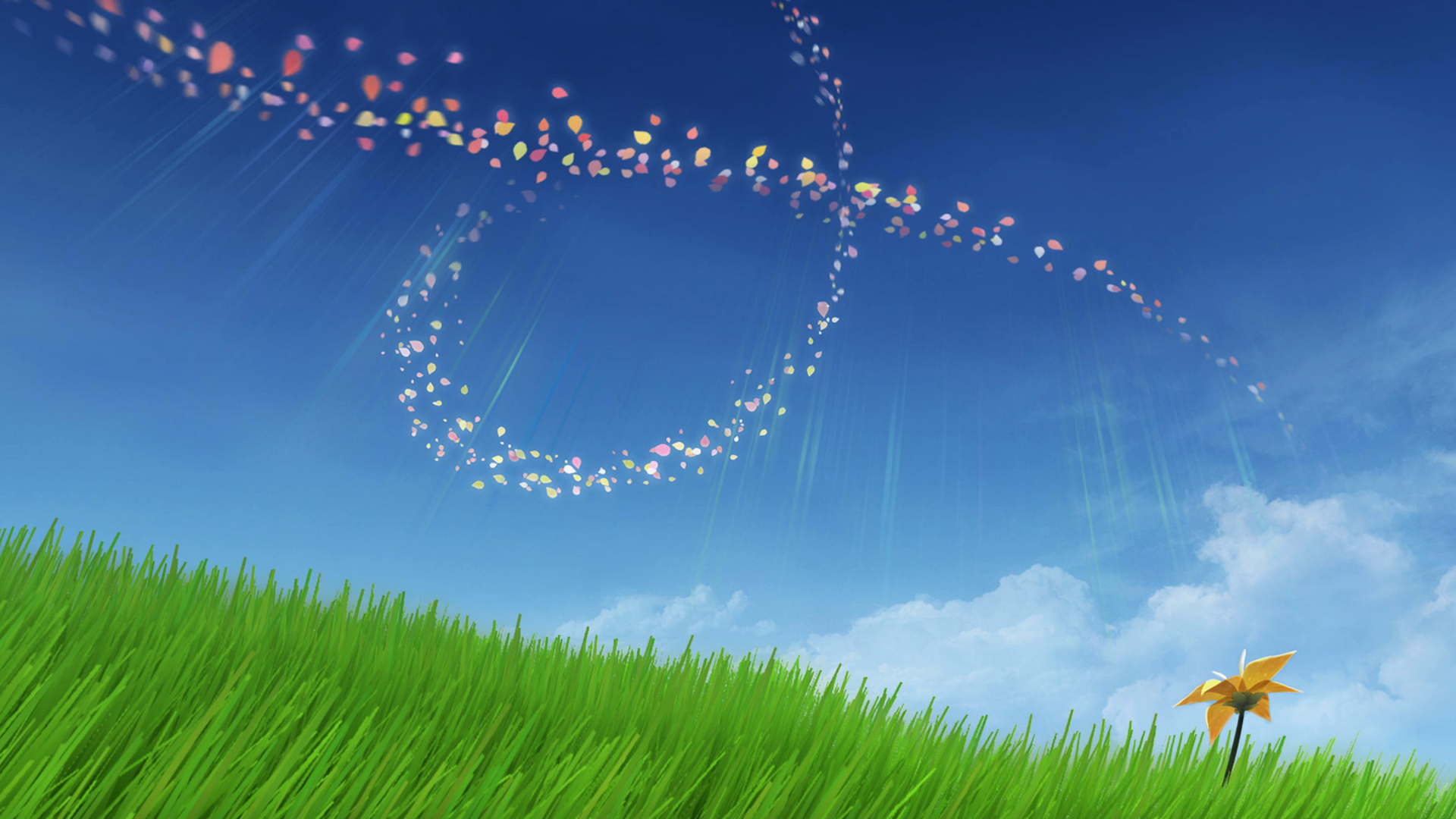 Flower (thatgamecompany, 2009)

Flower ($4.99 to $6.99; Gr 1 Up) plays like no other game; it is subtle and relaxing, yet its narrative clearly hints at a friction between the gray, urban environment that serves as the menu, and the idyllic, grassy expanses where much of the activity takes place.
Players initially control a single flower petal as it glides through the air. Soon they are piloting a cloud of petals through the nonlinear levels and collecting an additional petal from each flower they encounter.
When players have visited every plant on a path, the camera zooms out to show a dazzling landscape where new flowers sprout from the ground. At the end of each level, a portal appears, signifying the end of the section.
Flower was originally released for the Sony PlayStation 3 with a control scheme that only allowed players to direct movement by tilting the controller up-and-down or angling it left-and-right. However, in the new version of Flower (February 2019), traditional controls, such as using the left thumbstick to steer and pushing a button to accelerate have been added, make the game more relaxing to navigate.
One important concept related to the controls and aesthetic of the game is "flow theory," which was coined by Hungarian psychologist Mihály Csíkszentmihályi and the subject of Jenova Chen's thesis at USC. With its elegant mechanics and serene world, Flower invites players to enter a state of flow, in which they are completely immersed and engaged with the game as it gradually increases the challenge. VERDICT A unique interactive experience. Introduce it in classes exploring plant ecology or conservation as well as in discussions about flow theory and nonverbal storytelling.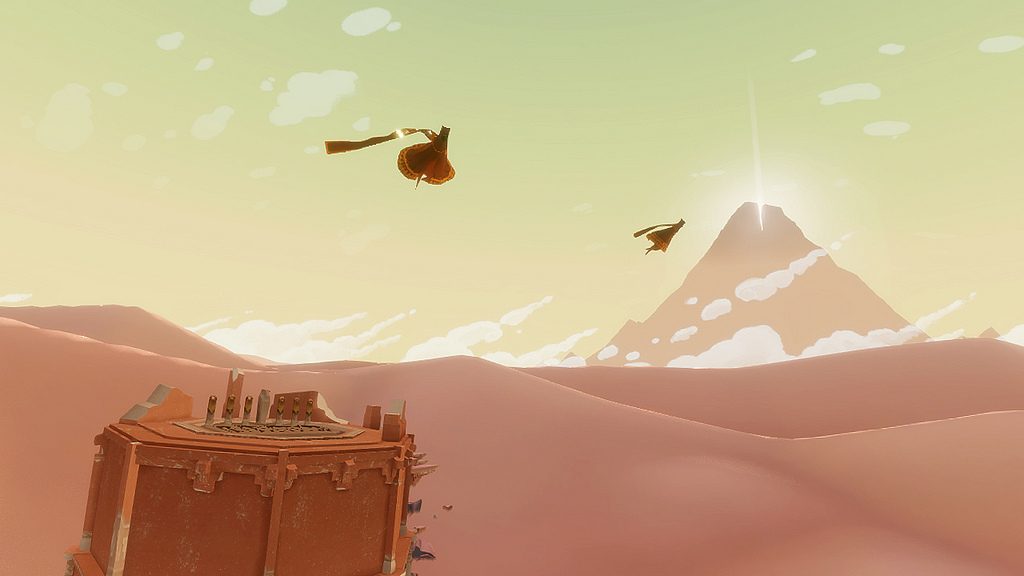 Journey (thatgamecompany, 2012)

The BAFTA-award winning Journey ($14.99; Gr 6 Up) was originally released in 2012 for the PlayStation 3 and later ported to the PlayStation 4 in 2015. It is now available on Windows, exclusively through the Epic Games Store, as well as iOS.
The story is loosely based on Joseph Campbell's monomyth or the hero's journey, a concept familiar to those studying mythology. However, similar to Flower, Journey uses nonverbal storytelling to relate its tale of adventure, overcoming adversity (often with the assistance of a helper character), death, and rebirth.
It opens with the blinding white light of a desert sun, the texture of endless sand, and a seated figure meditating. Players press a button to make the figure rise and begin walking across the dunes, encountering little but enigmatic monuments.
Other than the intriguing setting, the game might appear as a fairly conventional platforming adventure in which players must walk using the left thumbstick and jump (or fly for a limited time) using the x-button, to solve simple puzzles.
However, the most interesting element of Journey is its online multiplayer, which players can encounter in the second level. (The puzzle consists of building a bridge of cloth to progress.) Multiplayer is cooperative, rather than competitive, and is limited to two players. These players can help guide each other through the world or solve the game's various challenges. However, they can only interact with a sound effect and a randomly assigned symbol.
The limited communication lends itself to a multiplayer environment that feels safe. Simplifying interactions appears to encourage cooperative play in that it does not reward negative behavior, and is mutually beneficial for both gamers to progress through the puzzles together.
When played alone, a feeling of isolation and insurmountable odds permeates Journey. However, with a reassuring and chirping companion, it becomes a daring tale of adventure and friendship. VERDICT A fascinating game that strives to reinvent online multiplayer play as a cooperative and positive experience. Classes can discuss issues related to social-emotional learning or explore its use of mythology and nonverbal storytelling.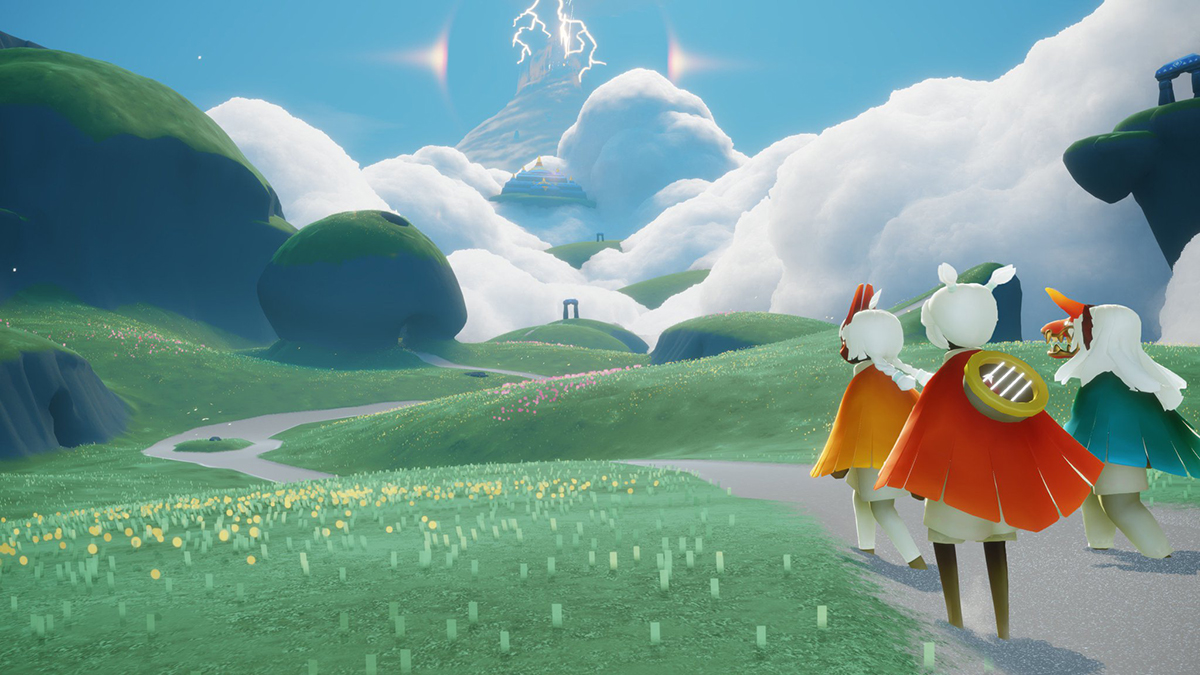 Sky: Children of the Light (thatgamecompany, 2019)

Just released by thatgamecompany for iOS (and soon available on Android), Sky: Children of the Light (Free; Gr 9 Up), is a free, downloadable game. It combines the elements of flow theory found in Flower with the prosocial mechanics of Journey.
Players assume the role of a cowled avatar whose cape functions as wings for sequences of limited flight. Flying requires players to collect light from various flames, found throughout the world. Players can also use accumulated light to create a candle, which functions as a form of currency.
Educators may at first find the goals of the game as well as the logic of the currency system a little fuzzy. Sky does contain IAP or in-app-purchases. However, neither the currency system nor the purchases greatly impede enjoyment of the game. If anything, the game rewards a sense of exploration, curiosity, and wonder and is inherently social. At certain areas, players can leave messages for other players, mention something they are grateful for, and even chat using a phone keyboard. While educators will want to keep an eye on these exchanges, there is a built-in feature for reporting negative messages. So far the game has fostered a positive and encouraging community.
Sky is Jenova Chen's most abstract game yet, but also his most conventional. It uses the concepts found in a modern game such as Fortnite (free-to-play, cosmetics, emotes, season passes) but reinvents them in a title about gratitude, sharing, and community. VERDICT Sky takes the flow aspect of Flower, combines it with the social elements of Journey, and borrows from modern free-to-play games like Fortnite to create something new and unexpected.
---
Thomas Knowlton is school outreach librarian for MyLibraryNYC at the New York Public Library, and the creator of NYPLarcade @nyplarcade. Follow him @thomasknowlton.