Sensory explorers by nature, toddlers are made for scientific inquiry. Here's how to engage them.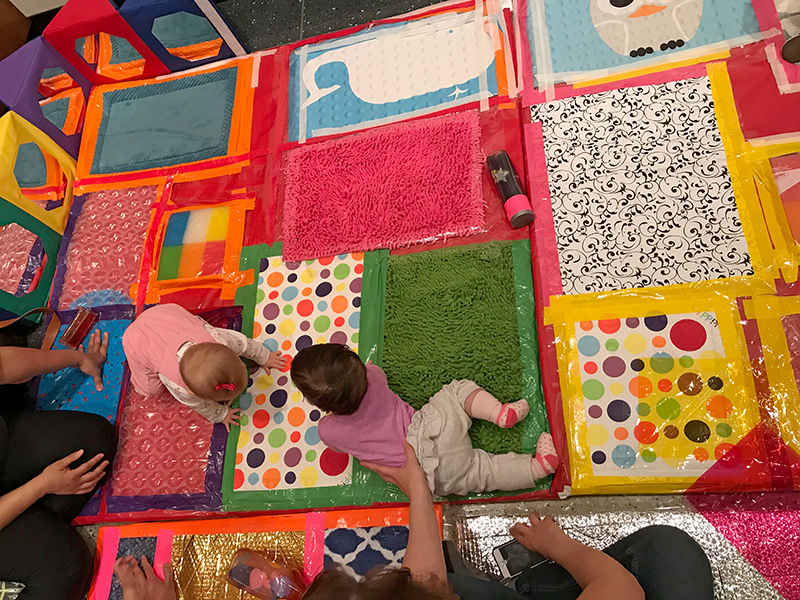 A Sensory Crawl at the Brooklyn Public Library helps toddlers compare and classify textures and vocabulary.
At a Science Baby program at the Bushwick branch of the Brooklyn Public Library (BPL), two toddlers explored blocks of ice in plastic tubs and carefully poured colored salt over them with spoons. As colors mixed and ice melted, caregivers asked questions such as "What do you notice?" and "What do you think will happen if...?" The toddlers paused to consider the questions and, without answering, continued to experiment and occasionally taste the salty ice. They were doing what toddlers do best—play!—while learning simple STEM concepts: chemical and physical reactions.
Babies and toddlers are natural scientists. To build an understanding of their world, they explore, observe, experiment, compare, classify, and problem-solve. "Adults tend to think they need to switch a child's thinking on like a button," says Emma Gordon, the facilitator of Science Baby programming at BPL and creator of Science Baby Playshops. "But for children, it is always on. Their very simple world is one giant experiment."
To engage curiosity, STEM programming for this age group should be hands-on. "Sensory-rich experiences afford young children ways to understand the world through asking questions, probing for answers, investigating, and communicating," says Janella Watson, associate director of the Providence (RI) Children's Museum. "By providing natural phenomena to explore and tools to investigate, we encourage the development of skills, including identification of patterns, measurement, counting, sorting, and classification."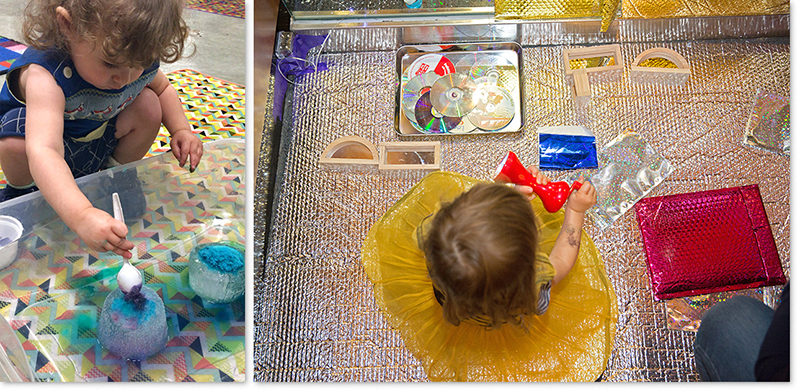 Little ones explore aspects of chemical reactions (left) and reflection and light at BPL.
One of our favorite activities at BPL is the Sensory Crawl, when we tape a variety of textures to the floor (bath mats, place mats, bubble wrap). Babies feel these textures while crawling and hearing descriptive words from caregivers (rough, bumpy, smooth). They're building a foundation to help categorize, classify, and compare for years to come.
For many adults, STEM initiatives for ages 0–3 may need explanation. When Emily Dagg, head of youth services at Everett (WA) Public Library, asked families what they thought of her STEM Playtime concept for very young children, most reacted positively. Some did not. "When some people heard math and science, they immediately thought of flashcards and memorization," she says. Her program showed that young children can learn concepts like gravity by playing with ramps and things that roll.
STEM activities are a powerful opportunity for building early literacy skills. "When we use science and math words like predict [and] words for textures or spatial relationships like above and below, we support vocabulary for science concepts and language," says early childhood literacy consultant Saroj Ghoting. "Babies and toddlers won't understand all that we say, [but] exposure to the words and concepts, especially in the context of play and experiences, is the most meaningful way to develop language and comprehension."

It's important to ask questions beyond "How many?" or "What shape?" Pose open-ended ones: "What do you think will happen next?" or "What do you notice?" Ghoting notes, "Wait five to 10 seconds to see their response. It takes time to think!"
A simple way to bring STEM into your 0–3 storytimes is to look for science and math concepts in books you already share. Kitten's First Full Moon by Kevin Henkes can kick off a discussion about reflection. Put out baby-safe mirrors and flashlights and encourage grown-ups to use words such as reflect, light, and shine. There's been an explosion of STEM board books, but not all of them work. Seek titles addressing concepts babies and toddlers can see, touch, feel, hear, taste, or experience. Gravity and light? Yes! Black holes and quantum particles? Not yet.
You are probably already doing STEM in your storytimes, but a simple shift in how you plan activities and model engagement can give your programs a STEM language-building boost. Watson says, "Early sensory-rich exploration helps young learners build language as they share what they notice, better understand how the world works, and gain confidence to keep questioning and exploring." Isn't that what lifelong learning is all about?
---

Rachel G. Payne is coordinator of early childhood services at the Brooklyn Public Library. Jessica Ralli is BPL's coordinator of early literacy programs.