The best fundraisers bring your school community together—and that means ensuring that every student can contribute. Readathons offer the best of both worlds: allowing your school to prioritize literacy and raise critical funds without alienating lower-middle-income families. All students can read and participate in fundraising events, and all kids can be recognized equally for their efforts.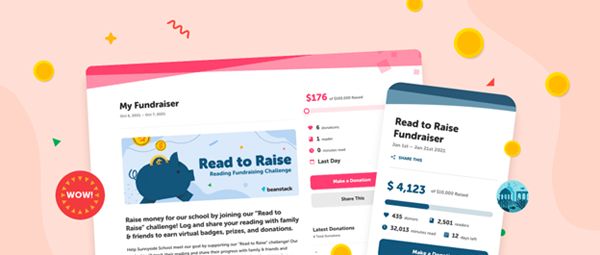 Fundraising is a crucial funding source for enrichment programs at schools across the country, with school groups raising more than $1.5 billion per year on average. For decades, book fairs have been the go-to option, but this popular fundraising model has two fundamental flaws: It requires time-intensive setup and students need disposable income to participate. Schools in search of an equitable and easy way to raise funds while incentivizing students to read more are leaning toward reading fundraisers.

Relieve the Burden from Staff and Parents
For many schools, planning less labor-intensive events is pivotal as they face shrinking pools of parent volunteers and diminished staff planning time. Reading fundraisers, or readathons, give schools a simple and meaningful way to raise funds from their community online while encouraging students to read. A PTA leader in California who uses Beanstack for their readathons puts it this way: "We are lacking volunteers now that folks need to work more hours, so we are always looking for ways to cut the amount of work we issue to volunteers. Beanstack cuts down that time!" With a reading fundraiser, volunteers, staff, and administrators can focus on planning a fun and educational experience for kids—not managing inventory.
One Texas media specialist who used to run in-person book fairs for her elementary school closed the school library for a whole week to pull off the event. In February 2022, she launched the school's first Beanstack reading fundraiser for students in Pre-K and kindergarten. In just 10 days, the youngest students in the school surpassed their fundraising goal of $2,000. "The Beanstack fundraiser was way less work than running a book fair," she noted. "I was very pleased."
Along with saving school staff and volunteers' time, virtual readathons are often more effective at raising money than traditional alternatives. With a virtual reading fundraiser, the focus is on reading, not products—so more money goes to the school. Virtual readathons are also more flexible, with virtual payment options and no need to coordinate orders and deliveries.
Create a Level Playing Field for Students
For many students, book fairs can bring up feelings of shame and alienation. As bestselling science fiction author Elizabeth May tweeted: "Scholastic Book Fairs are actually the first childhood memories I have of realizing we were poor. People don't tend to think of books as conspicuous consumption, but they absolutely are."
During book fairs, schools raise money based on the number of products they sell, including books, toys, school supplies, posters, and other items. They earn a percentage of the total profits from the fair—which means that students have to buy things for the fundraiser to be successful. This can put tremendous pressure on kids and parents, and may result in shame and embarrassment for kids who walk away empty-handed.
Book fairs' reliance on student dollars also means that wealthier schools and districts make more from their fundraisers, while underfunded schools continue to struggle. As Danika Ellis writes in her Book Riot article on inequality in school book fairs, "Underfunded schools can also feel a lot of pressure to try to make the fairs as profitable as possible, because it constitutes the majority of their library budget. Since their students usually have less money, this places a further burden on them."
With reading fundraisers, schools can cast a wider net for donations by involving friends, family, and connections near and far. Community members can stay involved throughout a readathon with encouraging messages and up-to-date reading and fundraising statistics, and students earn badges based on the number of donations they receive—not the total amount.

Foster a Feeling of Friendly Competition
At Kaimuki Middle School in Honolulu, Hawai'i, media specialist Dianne Pang led her sixth, seventh, and eighth grade students to blow past their reading fundraiser goal of $5,000 during the 2021–22 school year. Pang noted, "It can be hard to get middle school kids excited, but I was surprised by the level of participation."
Friendly competition builds energy and buy-in for reading fundraisers. Students at a Texas elementary school looked forward to seeing their media specialist's daily updates on Seesaw and Facebook, and they flocked to the "Wall of Fame" bulletin board where she posted top readers and fundraisers. Students loved seeing their names published with the number of total minutes they had read. Their media specialist also tapped into what makes her students smile, setting up freebies for top readers like extra recess time, library time, computer time, and free time during class to motivate everyone to read more.
Similarly, Pang observed that announcing regular updates on the top readers and raisers at Kaimuki Middle School nourished a competitive spirit that made her reading fundraiser take off. She found that offering pizza party prizes for the three highest-earning classrooms, along with creating chances for top readers and raisers to win Barnes and Noble gift cards, motivated students to participate.
Earn More and Build a Culture of Reading
The biggest reason that schools gravitate toward reading fundraisers is the educational benefit. Readathons encourage students to read independently, which studies show can dramatically improve academic performance and social-emotional health. And with two out of three U.S. children reading below national reading proficiency standards, administrators and educators alike are on the hunt for creative ways to get their students to pick up a book and hone those skills. One Beanstack client reported a whopping 98% participation rate for their virtual reading fundraiser, meaning that almost every student in the school read for some amount of time during the fundraising period.
Another important differentiator for reading fundraisers is the profit margin. With Beanstack's reading fundraiser platform, for example, schools get to keep a much larger percentage of the profits than with a book fair. Scholastic book fairs, for example, only send 30–50% of the profits back to schools—much less than the 90% that schools receive from a Beanstack reading fundraiser. That means every school, no matter their level of funding, will benefit more from a readathon.

Prioritize Equity During Your Readathon
The best fundraisers bring your school community together—and that means ensuring that every student can contribute. Readathons offer the best of both worlds: allowing your school to prioritize literacy and raise critical funds without alienating lower-middle-income families. All students can read and participate in fundraising events along with their peers, and all kids can be recognized equally for their fundraising efforts. Book fairs typically rely on the students' immediate and local family providing money for them to buy a physical product, usually at least $10. But a reading fundraiser lets students reach their family and network wherever they are and gives donors an easy way to contribute and see the impact of their contribution. And with this donation-based fundraising model where any amount is accepted, it makes it easy to get the whole community involved, reducing financial pressure on individual parents.
Beanstack's intuitive software and mobile app makes it easier than ever for your students to raise money while they read. Learn more about Beanstack reading fundraisers and start earning today!
SPONSORED BY