The timing of the Winter Reading Challenge plays a key role in student success. With schools closed from late December to early January, the challenge motivates students to focus on daily reading both while school is out and once they return.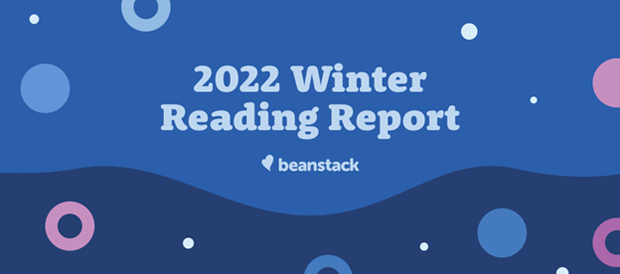 Every January since 2018, Beanstack's annual Winter Reading Challenge has inspired libraries and schools across the country to welcome the new year with reading. Motivated by Beanstack's reading gamification tools and the chance to win big community prizes, communities rally around the monthlong contest to strengthen their daily reading habits and their reading cultures.
To shed light on how the Winter Reading Challenge helps communities of all sizes read more, the Beanstack team reviewed historic participation data and compiled insights from past participants and winners. The 2022 Winter Reading Report features data-driven tips, helpful tools, and inspiring stories about how to use the Winter Reading Challenge to encourage a community-wide love of reading.

The Growth and Impact of Winter Reading
The first Beanstack Winter Reading Challenge launched in 2018, with 93 libraries and schools participating and a total of 6.9 million minutes read. Over the past five years, the challenge has expanded tenfold. In 2022, more than 2,500 libraries and schools participated and logged 45 million minutes.





Beyond the large community numbers, Winter Reading helps grow healthy reading habits at the individual level. On average, 2022 participants read 25 minutes per school day—nearly 10 minutes higher than the national average. And data analysis at school districts in Texas and Georgia revealed up to a 60% increase in test scores and a 10% increase in reading comprehension after a full school year of using Beanstack as part of their literacy strategies.

Why Winter and Why Beanstack?
The timing of the Winter Reading Challenge plays a key role in student success. With schools closed from late December to early January, the challenge motivates students to focus on daily reading both while school is out and once they return. "The Winter Reading Challenge really helps motivate our students to get back on track with their reading after the winter break," said Amanda Butcher, a librarian at Pearl Hall Elementary in Texas. "It also encourages them to read over the break to get a jump start on their minutes that week before we return to school."
Here are three top takeaways about using Beanstack's Winter Reading Challenge to uplift the love of reading in your community.

1. Minimize Lift and Maximize Rewards
Offering a reading challenge may seem like a time-consuming task when starting from scratch. To work smarter, not harder, schools can use Beanstack's pre-made reading challenge templates to launch their Winter Reading Challenge in just a few clicks.





For an even lighter lift, schools participating in the 2023 Beanstack Winter Reading Challenge, "All the Feels," gain access to marketing materials that pair with the emoji-themed challenge template. Plus, for the first time ever, schools can offer Winter Reading as a bingo reading challenge to give students different pathways to participate and celebrate their reading achievements.

2. Boost Participation With Community Goals and Library Collaboration
Community reading goals not only bring readers together, but also galvanize big reading gains. The report's findings demonstrate that schools with a community goal had more than three times as much active challenge participation and more than double the total minutes logged as those without a community goal.
Pairing up with your local library for Winter Reading also amplifies your reach and engagement. With Beanstack's tandem connection feature and widespread use among libraries, students can easily switch between library and school accounts and count their reading toward both Winter Reading Challenges. Out of all the Winter Reading school winners in the past five years, 80% have an active tandem connection with their local library. With Winter Reading on the coattails of the holidays and the cusp of the second semester, tandem connections are a powerful way to connect readers to resources and reading motivation both inside and outside of school.

3. Encourage Friendly Competition
When polled, more than 60 percent of former Winter Reading school winners mentioned running reading competitions as a key element in their promotion strategy. Thurmont Elementary School in Frederick County, Maryland, announced the school's leading student and classroom reading totals on their morning announcements. And one Texas elementary school used a classroom "scoreboard" to recognize when individuals, classrooms, and grades reached key reading milestones within the challenge.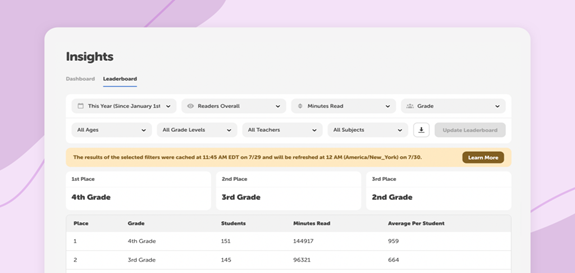 Beanstack offers easy and impactful ways to promote friendly reading competition within your school. The friends and leaderboards feature allows students to see their friends' recent reading achievements and stats. The 2022 Winter Reading Report's analysis found that students with friends added in Beanstack logged nearly seven times more minutes. And teachers and administrators can check individual, class, and grade progress quickly and efficiently in their own customizable Insights Leaderboard.

Mobilize All Your Readers This Winter
Offering a digital Winter Reading Challenge keeps students and families engaged no matter where they are during winter break. Beanstack's easy-to-use and highly rated mobile app inspires sustained reading habits and improved outcomes. Jennifer Siderius, media specialist at New Market Elementary School in Maryland, saw its impact firsthand. "Using the app is highly motivating for families," she said. "We have an active, on-the-go community, so having the convenience of logging in the app helps them stay involved in the contests and makes it easier for primary students to log their reading."
Beanstack is trusted by more than 10,000 public libraries, schools, and school districts around the world. Learn more about how Beanstack can help with your literacy initiatives at beanstack.com.
SPONSORED BY