The organizations leading the fight for intellectual freedom need data, money, and locally led action—big and small—from people who support the right to read and access materials.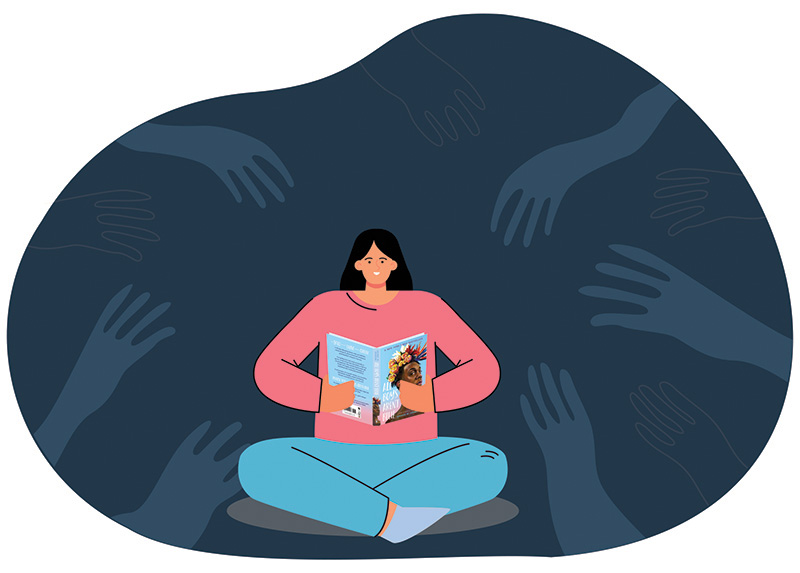 The fight for intellectual freedom needs a community-led revolution.
"Grassroots is so important," says Christopher Finan, executive director of the National Coalition Against Censorship. "It's much more important than it's ever been."
Those leading the charge against the censorship and book banning attempts and educational gag order legislation impacting students and educators around the country need help. They are trying to build resources and execute a counter strategy, while having to respond to daily attacks on access and information. And they are doing it in an all-out pursuit of the opposition.
"We're honestly playing catch up," says Patrick Sweeney, political director for EveryLibrary.
Right now, objectively, the side of censorship is winning—or at least has the momentum. They are controlling the narrative, locally and nationally, and creating a ripple effect on school curriculum, library collections, displays, and other materials and resources. They are getting laws passed. And they are facing only pockets of resistance.
"It takes time to build a response," says Finan. "Democracy is always slow to mobilize. We're working on a lot of different levels, and it takes time to establish the connections that you need to win the fight."
The opposition, however, is well-funded, well-organized, well-trained, and backed by national and international organizations, says Sweeney. They talk to each other. They are working at every level, from local school boards to state legislations to national campaigns. They have data for donors and well-established networks. Libraries are the center of the storm—and critically under-resourced.
"We're really flying blind," says ­Sweeney. "We don't have money. We don't have people. We don't have data. We don't have the infrastructure. I have no idea about the demographic makeup of somebody who's for or against book banning. We've never done those kinds of studies in this country."
EveryLibrary is trying to collect the information now to build the datasets and networks needed, but that takes time.
"We're going to build some data around understanding who is for and against book banning—what messages resonate with them, how to talk to the voters about what's happening in this country in a way that's meaningful to them," says Sweeney.

[READ: EveryLibrary Institute Releases Report: Voter Perceptions of Book Bans in the United States]
The numbers are needed to fight back against book banners, create the human and monetary resources needed, and to push for legislation in opposition of the educational gag orders and censorship-spawning laws passing in statehouses across the country.
It starts with something as simple as signing a petition, joining a coalition, or adding your name to a mailing list—from EveryLibrary to Unite Against Book Bans to PEN America's #FreetheBooks campaign. These seem like inconsequential acts, considering the ongoing censorship efforts and ­personal and professional attacks on librarians, educators, and protesting students, but it is necessary foundational work, according to Finan and Sweeney.
Another offshoot of the efforts is education. PEN America is using Banned Books Week to try to build awareness and move people to speak up and engage their community on the importance of fighting back against book bans and those pushing to limit access to resources and ­information.
"We need to arm people with basic talking points about these things, because this isn't about countering one movement of censorship with another wave of censorship," says Jonathan Friedman, PEN America's director of free expression and education programs. "It's, unfortunately, the work of engagement. That engagement is going to be uncomfortable for a lot of people. And we have to recognize that we're dealing with a movement that, in many cases, is acting in bad faith."
Bad faith and a willingness to push boundaries in words and actions, according to Sweeney.
"The big issue is that the people who are in favor of book bans are morally ready to go further than I believe librarians are," says Sweeney. "Trying to fight back using the same rhetoric or the same negativity, tools, tactics won't be as effective for the librarian, because they'll always one up, they're always willing to go a little bit further."
With that in mind, Sweeney says he's not sure fighting back in public spaces is always the right move.
"I think librarians need to be smarter, understand how to talk to their communities in ways that are really meaningful within their communities," says Sweeney. "If we're going to fight back, it needs to be done a lot more strategically."
That smarter strategy needs to involve national coordination with a network of local advocates leading the way in their communities. That requires knowing who the local allies are, according to Finan.
"Our biggest problem in this latest campaign, this latest round of challenges, is the fact that it's almost all happening at the local level," he says. "It's happening in school districts, it's happening in library boards. And our forces are scattered. We don't really have a list of people in every community who we can reach out to and help support in opposing these challenges."
School administrators need to understand that the loudest voices are not speaking for everyone, Finan says, and that there are people in the community who strongly oppose the book bans. While it all seems a bit bleak at the ­moment, Finan encourages people not to despair.
He finds hope in the successes of grassroots movements in Central York, PA, and some communities in Texas and Florida, where opposition to censorship has organized, fought back, and won. And, he says, these voices speak for the majority on the issue, which is another reason he is hopeful.
"Even though we're kind of back on our heels at this point, and we are working to have a more effective response, we really do have the majority on our side," says Finan.
The intellectual freedom fighters also have precedent on their side and a successful road map to follow.
"We have a long history of these battles, and we've won every one," he says. "The way we've won them is by coming together to fight them. I see people angry and wanting to fight this battle, and that encourages me to believe we'll be successful again."
In the 1980s, for example, the push to ban Judy Blume books like Forever and other titles that discuss important issues to kids, including sex, led to an organized educational campaign about banned books and an institutional push to create review policies and protect a student's right to access these materials, according to Finan.
Forever is once again on the book banning lists, but Finan sees history repeating itself in a more positive way, too.
"We have a lot of activism to be proud of over a long period of time, and I see it coming to life again," he says. "I think we will win again."