Best-selling YA author Ahmed discusses the brutal realities of everyday racism and xenophobia, what it means to be an American, and how librarians and educators can step up and speak out on behalf of marginalized youth.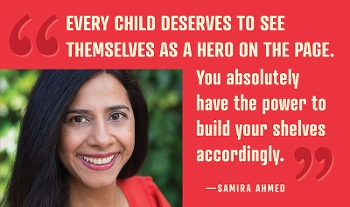 I was eight years old the first time a racist yelled at me to "Go Home!" As if I wasn't already home, as if America didn't belong to me, too. I've heard that same bigoted refrain all my life. It's a favorite amongst xenophobes and politicians.
"Go home!" Two syllables that imply that this nation of the people, by the people, for the people, is really only for some people. And those fortunate ones, they don't look like me. And now that America's public school population is majority-minority, that narrow definition of "home" excludes most of our kids, too.
I'm here to say that this nation built by enslaved people on stolen land must be a country where all our children have equal opportunity. Where the words "with liberty and justice for all" must not ring hollow but must be a clarion call for all of us to form a more perfect union. If our democracy is to survive, if the promise of America is to ever ring true, we must act to create schools and communities that are actively anti-racist (See Laurie Halse Anderson's excellent essay), where diversity, inclusion, equity are the foundation of the tomorrow we are building together.
I've been fortunate to meet readers all across the country, and so many times, I've been met by well-meaning folks who are shocked by the overt prejudice that seems to be trickling down and spilling into our streets. But here's the truth: for many of us, this is nothing new. As I wrote in my author's note for Internment, "Fascism isn't going to simply appear in America one day. It's here. But so are we." What is new is the growing sense that we must use our power and privilege for a purpose—to make this world better for all our children. It's a lofty goal, but our children deserve no less. I'm asking you to make a choice, to realize there is no room for moral equivalencies when we're faced with hatred that dictates policy. As Elie Wiesel rightly demanded of us, "We must take sides. Neutrality helps the oppressor, never the victim."
Another comment I've heard as I've toured for Internment is perfectly captured in the words of a young hijabi woman who approached me at the North Texas Teen Book Festival. "Thank you," she said. "You put my fears onto the page. But you also gave me hope."
GIVE THEM HOPE
So what can you do? In your libraries, schools, and communities you have the privilege of working with young people and the power to curate the books that they have access to, to create a space that is a home for all. It's a big task. Start by asking yourself tough questions and finding the answers. Some of these answers might make you uncomfortable. Live with the momentary discomfort because you're trying to topple the walls of hatred and build bridges—it's worth it.
My challenges to you:
CHALLENGE: Question the cultural hegemony.
Think about what is the default? The normative? If we really believe that America is the "Greatest Poem," as Walt Whitman said, then we need to build spaces where every child can contribute a verse. America's population is changing but our institutions are lagging behind. Consider that while we are still talking about building schools and libraries for tomorrow, those kids are in our classes today. Do your shelves reflect that?
CHALLENGE: Disrupt the exclusionary status quo.
When I was a high school teacher, I taught a unit called "What is an American." I used to start my American lit classes with a simple assignment—look in a magazine and bring in a photo of an American. Over 90 percent of my students in the diverse suburban and New York City public schools I taught at brought in photos of white models. When you imagine an American, what do you picture? Think about that as you not only build your collections but as you walk down the street.
Representation matters. Consider what it must be like for a child to be bombarded with Presidential tweets and popular culture where the people who look like them are labeled as terrorist, thug, cockroach, criminal, liar, un-American. EVERY CHILD DESERVES TO SEE THEMSELVES AS A HERO ON THE PAGE. You absolutely have the power to build your shelves accordingly.
CHALLENGE: Don't be a bystander, be an upstander.
A bystander is passive, someone who is silently complicit: a person who sees a child being bullied, othered, facing aggressions both micro and macro, and can't extend themselves, can't push past their fears to find the compassion that child needs at that moment. A bystander is someone who can't step out of their comfort zone to help that kid who is in a far worse position.
Be an UPSTANDER: Be informed. Be active. Be willing to be uncomfortable so you can use your privilege, so you can extend your privilege to dismantle the very system that thinks some individuals deserve that privilege because of the color of their skin. An upstander will help lift their student's voices, will help them read, write, think, and investigate critically so they can speak up against the system that is trying to hold them down.
I'm asking you to imagine for a moment what it must be like to be othered. To be the kid whose Americanness is questioned, who is bullied because they're fat or queer or brown, or whose parents are terrified they're going to be shot for walking in the wrong neighborhood.
I'm asking you to examine the role we adults play in creating such a brutally unfair world for our children and to do what you can to change it. It starts with a conversation. It starts with challenging yourself.
I'm asking you to live in the discomfort of realizing your privilege, of how you've benefited from various institutionalisms. I'm asking you to screw your courage to the sticking place, to live with the discomfort, so you can help our kids simply live. To be kids. To be known. To be loved.
---
Samira Ahmed is the New York Times bestselling author of Love, Hate, & Other Filters and Internment. She was born in Bombay, India, and has lived in New York, Chicago, and Kauai, where she spent a year searching for the perfect mango. She currently resides in the Midwest. Find her online at samiraahmed.com and on Twitter and Instagram @sam_aye_ahm.