Check out SLJ's exclusive interview, excerpt, and cover reveal of Roshani Chokshi's highly anticipated new novel rooted in Filipino mythology, The Spirit Glass.
Eleven-year old Corazon cannot wait until her powers as a babaylan emerge; as a mystical healer and spirit guide, she will finally be able to bring her parents back to life instead of using her soul key for their weekly visits from the spirit world. But when her powers seem dormant and a malicious ghost steals her key, Corazon must traverse both worlds to save her own, and the people she loves. SLJ joined Roshani Chokshi to discuss the process behind The Spirit Glass, her highly anticipated standalone fantasy rooted in Filipino mythology.
You are a seasoned author with so many amazing titles under your belt. What makes this one special for you?
That's very kind of you to say, thank you! The Spirit Glass is special for a number of reasons. First and foremost, it is the fulfilment of a promise I made to my mother many years ago when I told her that one day I would write a story just for her. But when The Spirit Glass really became special to me was during the act of writing. What I had thought would be a story about ghosts and funny monsters, quests, and history became…softer. It became a story of grief and growing up. It became deeply personal in the aftermath of loss I experienced at the time of writing and it made every scene all the more precious and, truthfully, cathartic to bring to life.
What was your writing process for The Spirit Glass? How did it differ from your other works?
The Spirit Glass required a lot of research at the outset before I felt comfortable enough to start outlining, let alone draft. Growing up, I was exposed to a treasure trove of stories. I inherited the vast and complex tales of Hindu mythology from my father's side. I inherited the beautiful and sometimes ghastly stories of Filipino folklore from my mother's side. But to draw from those sources required entirely different approaches because of colonialism. Under British rule, many ancient Hindu epics were translated and, arguably, well preserved. By contrast, Spanish rule decimated local religions, forced conversions of native populations and left the rich traditions of the Philippines archipelagic era (roughly 900-1565) in tatters. In my approach to The Spirit Glass, I wanted to avoid the assumption that my word was "true" when in many ways I was trying to honor the holes history left behind. For me, The Spirit Glass could only ever be a ghost story because of this colonial legacy.
Did working on this project deepen your relationship to your Filipino heritage?
Very much so! My mother passed down many things to me, some of which are obvious and others less so. I have her cheekbones and cupid's bow and when we smile, our faces crinkle in the same pattern. But I also have her superstitions. When I walk through an unfamiliar place, I say "tabi tabi po" ("please excuse me") because she taught me that.
My mother is both spiritual and religious, and in writing this book, I came to understand that in the context of the Philippines' history as well. The Philippines is a place where magic and religion exist side by side. My Lalany, my grandmother, was a devout Catholic all her life. Years ago, she told me in a very matter-of-fact fashion that an engkanto lived in the coconut tree of her brother's property and helped keep the place clean in exchange for a bag of rice each year. In working on this project, I came to understand that what at first seemed dissonant and at odds with itself was in fact a unique tapestry of tradition, folklore, and faith.
How do you hope librarians and educators bring The Spirit Glass into educational spaces?
My hope is that it sparks conversation about how history is, and will always be, a story. Who records it, translates it, articulates it is about who survives it. History is a ghost story we pass down generation by generation.
I've been very happy to see how so many educators and librarians are tackling media literacy in their classrooms. Robust interrogation of information is not only crucial for critical thinking; it is also the foundation of empathy. We cannot feel for others unless we allow space for more than one narrative to exist. I hope that The Spirit Glass's discussion of history, the revelation — and perhaps redemption — of its ghost offers another avenue to hold those discussions.

[Read: APA Creators Draw on Myth and Folklore to Craft Personal, Yet Universal Stories]
Corazon has to trust in herself that her true magic is inside her, even when she feels she cannot access it. What message do you have for readers who also have trouble accessing their inner magic?
I would say that sometimes it is the dream of inner magic which prevents us from accessing it. When we have a very rigid idea of power and joy, we end up not being able to see the other forms it can take…forms that are no less wondrous, but perhaps different from what we expected. Magic is an exercise in seeing. I promise you possess magic, but give yourself a little more time to see it for what it truly is.
And now, a peek at the cover of Roshani Chokshi's The Spirit Glass, out September 2023: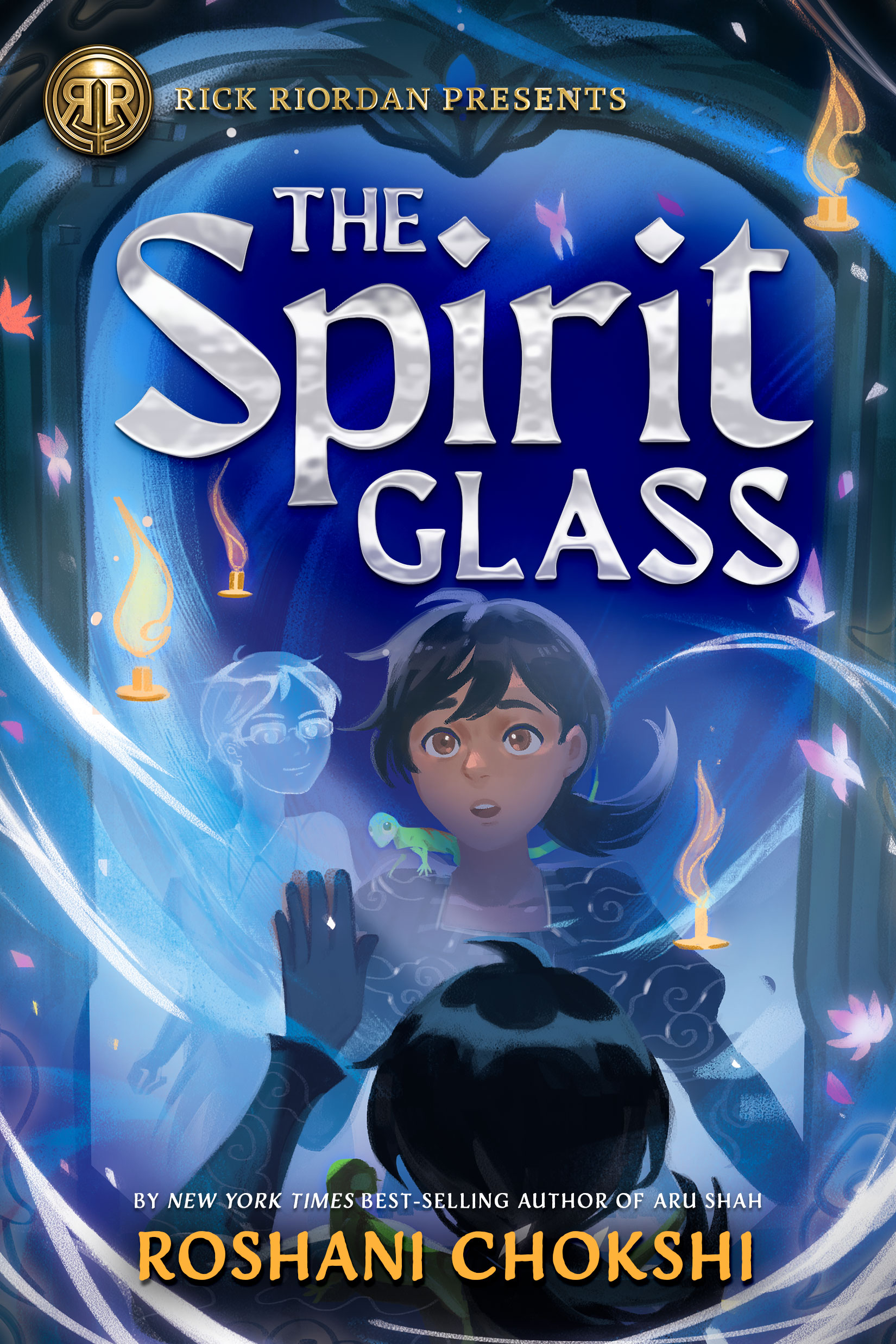 Read the extended excerpt by clicking the cover image above, or through the link here:
https://s3.us-east-1.amazonaws.com/WebVault/SLJ/PDFs/Spirit%20Glass_excerpt.pdf