With empathy and wit, the creator of the graphic novel Living with Viola portrays anxiety as a malicious person who won't leave the main character alone.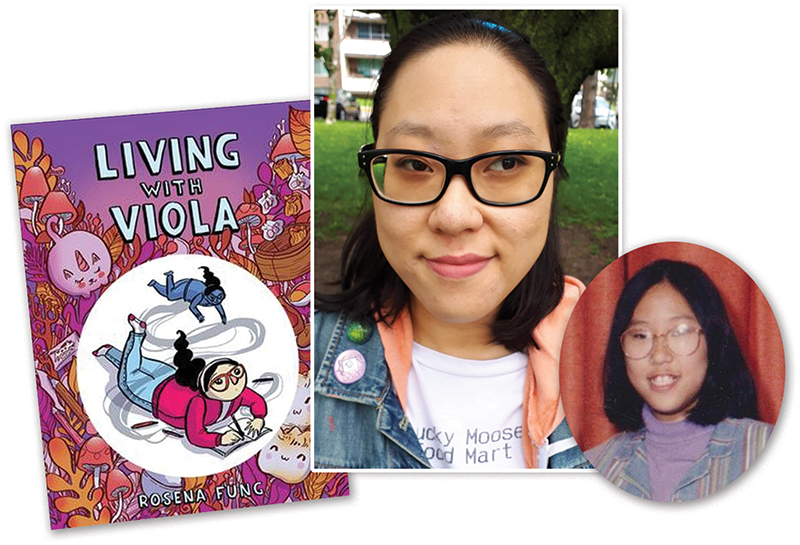 Rosena Fung is the author of the graphic novel Living with Viola, in which Chinese Canadian Livy grapples with anxiety and panic attacks. In vivid illustration, Fung turns Livy's anxiety into a character, Viola, who tags along behind her, confirming her worst-case-scenario worries. Fung was profiled in the SLJ article "Not OK? That's OK. Middle Grade Authors Provide Compassionate Portrayals of Mental Health."
What drew you to writing about mental health?
Living With Viola is partly based on my own personal experiences with anxiety and panic disorder as a kid. It is something that I still live with, so it was important for me to write about how it feels so that young readers can see that they are not alone and for others to understand what it is like living with anxiety.
What kinds of treatments, supports, and therapies take place in the book?
Livy develops her own coping mechanisms throughout the book (drawing, reading, cooking with her mom) in order to calm her anxiety (in the form of Viola). In the end of the book, she talks to her mom about what she's experiencing, and she sees a psychiatrist who also teaches her other coping mechanisms such as breathing exercises, grounding, anchoring, and distraction.
Tell me about the effects mental health has on the main character, their family, and those around them.
Livy is confused and overwhelmed by her experiences. She feels that it's something to be ashamed about and needs to hide it from others. This in turn makes the anxiety, and Viola, grow stronger. Livy's parents don't know what is happening, and she ends up pushing them and her friends away. She doesn't understand what she's going through, only that she feels worse and worse, and she believes there's no one to talk to. While Livy's learning to navigate aspects of her identity and her family with her friends, and with herself, her anxiety amplifies her deepest insecurities.
What is the most challenging part of writing about these topics for middle grade readers?
Young readers are extremely astute, aware of things that are happening around them, and have complex and nuanced emotions and thoughts. They are also at an age where they are discovering their voice while learning to navigate the world. It's important to find the balance of making sure the book respects their acuity, while also retaining that deep sense of wonder that many middle grade readers have.
How did you balance depicting the reality of living with mental illness with a message of hope?
At the end, the most important thing Livy does is reach out and talk to someone about her experiences. Living with anxiety can be extremely challenging. And yet, finding out that you're not the only one, that there are resources and people and help, can be life-changing. Mental health issues don't just magically disappear, but you can learn to live with them, which is exactly what Livy learns in the end.
What do you hope readers take away from your book?
You're not alone! And also, embrace the things you love, no matter what others say about it!
What do you hope to see explored more in middle grade books that deal with mental health?
More variety of neurodivergent experiences from different kinds of people in different places.