The Jason Chin title earned the annual award for best STEM picture book.
The Bank Street Center for Children's Literature (CLL) has named Your Place in the Universe by Jason Chin (Holiday House/Neal Porter) its 2021 Cook Prize winner.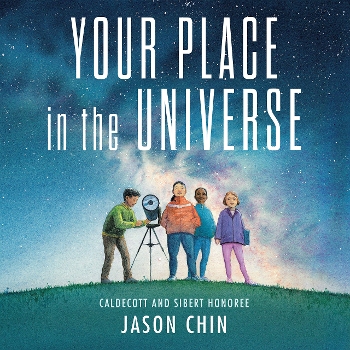 The Cook Prize has been awarded annually since 2012 to the best STEM picture book. It is the only national award chosen by children that honors a STEM title.
"CCL is so proud to administer this award chosen by thousands of children," said director of Bank Street's Center for Children's Literature Cynthia Weill. "The process of selection helps children to become better and more observant readers, sharpen deliberation, advocacy and public speaking skills, think critically, and acquire new information on STEM topics. Bank Street is dedicated to putting children at the center of their learning and this award reflects that philosophy."
The young readers enjoyed learning about the size of the universe and their place in it.
"It shows you where you are in the whole world from an eight-year-old boy to beyond the Milky Way," said Dylan, who is in third grade. "It keeps getting further and further and deeper into space."
Said Eric, a fourth grader: "I chose the book Your Place in the Universe because of its education to me and the rest of fourth grade of how small you are in this rapidly expanding ball of stars. It gives you a vast sense of how huge the universe really is."
The 2021 Cook Prize honor titles are:
Honeybee: The Busy Life of Apis Mellifera by Candace Fleming and Eric Rohman (Holiday House/Neal Porter)
If You Take Away the Otter by Susannah Buhrman-Deever, illus. by Mathew Trueman (Candlewick)
Perkins Perfect Purple by Tami Lewis Brown and Debbie Loren Dunn, illus. by Francesca Sanna (Little, Brown)
This year's award ceremony, previously scheduled for May, has been canceled because of COVID. Award recipients will create child-friendly videos about their books that will be available to the public on the CCL website.