A lesson plan for Sophie Blackall's award-winning picture book.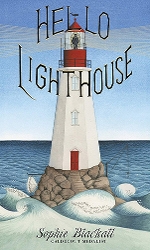 Sophie Blackall's 2019 Caldecott-winning Hello Lighthouse is a stylistic tour de force that will intrigue and delight readers. The following teaching ideas emerged from the powerful storyline, the skillful, varied illustrations, and the myriad opportunities for students to hone their close reading and research skills.
Exploring themes of loss and loneliness. Hello Lighthouse offers an opportunity to examine these themes through the keeper's experiences. Throughout the story, he fills his days with routine tasks. He writes in his logbook and threads his needle. He listens to the gathering wind. Explore with students the ways daily routine can help build a happy life. What routines do they notice in their own lives that bring comfort and security?
Discuss the ways that the illustrations and the print indicate occasional loneliness for the keeper. In what ways does his daily routine help distract him from bouts of loneliness? At the end of the story, there is a sense of loss as the keeper and his family leave their beloved lighthouse home. Discuss the different kinds of loss here, and extend this discussion with a reading of the "About Lighthouses" back matter, which explains the ways keepers risked, and sometimes lost, their lives.
Where does inspiration hide? Read the back matter with students to learn about Blackall's inspiration for the book. She describes being at a flea market and finding an old print showing a cutaway interior of a lighthouse. Her curiosity sent her on a path of research that included museum and lighthouse visits. Use this to consider where inspiration lives in our daily lives and how we can tap into what we see and experience to create something new.
Flea markets are full of hidden treasures and stories waiting to be told. Recreate the feeling of attending one by gathering a variety of objects such as shells and other items from nature, art postcards, family heirlooms, and old photographs. Invite students to explore the objects to find one that piques their interest and imagination. Give them an opportunity to draw, write, and create something that the object inspires. Finally, have students share their new creations and encourage them to view the world in new ways by always being on the lookout for inspiration.
Researching the history of lighthouses. Over the course of this picture book, the reader is introduced to the essential role that lighthouse keepers played in protecting ships and their crew, and the how the role of lighthouse keeper was eventually replaced by automation. Pull together a range of print and digital texts for students to explore these questions and learn more. What was the first lighthouse in the United States? When was it built? How many lighthouses once dotted each coast of the United States? How many still do? Which regions have more lighthouses than others and why? How and when did automation happen? Did it happen all at once or over time? Students can show their learning by writing books, recording podcasts to share with the school, or building models of historic lighthouses.
Experiential learning: Spending time in a lighthouse. What was it like to live in such a relatively small and round space year-round? Have students research the size and width of different lighthouses,and then map that out on the floor in the library or another place in school. Have them complete activities within that physical space over a period of time. Like the lighthouse keeper in the book, ask them to keep a log of their activities and include how they feel staying inside such a small circular space.
Experiential learning: Looking out a lighthouse window. If your school is on or near a coast, your students may know or understand what it is like to look out the window and see the sea. But maybe they haven't or maybe you live in a landlocked area. Have students research living in a lighthouse or even on a small island. Bring in or build a window frame or two for or with your students. Have them paint murals of the ocean. Ask other students to listen to recordings of the sea. They can try to recreate and record the sound of the ocean by using found objects and materials within your school as well as their own voices. Next, invite other students from your school to spend some time "looking out the window" and listening to the ocean. Invite them to write poetry about their experience as well as their questions about the sea.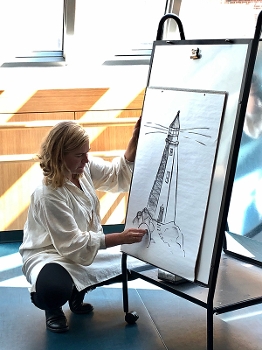 Color and space: Decision-Making as an illustrator. Two of the most striking artistic elements of Hello, Lighthouse are Blackall's use of color and the space. Invite students to share what they notice about how Blackall uses these composition elements to create suspense. How does her use of color and space create movement or contrast as you turn from one page to the next? What overall effect does that have on readers? Have students identify pages from the book that they want to more closely analyze as a mentor text. Invite students to incorporate some of Blackall's artistic choices into their own illustration of either previously written stories or new words inspired by the book.
What next? Writing a new story. At the end of the book, the family that lived in the lighthouse is now living on shore. What's it like for them? How do they feel? Explore the last illustration in the book. Brainstorm with your students what each family member might be feeling. Why? What's the evidence in the illustration? In either a shared or individual writing experience, have students write what happens next to the family with the daughter as protagonist.
Playing with punctuation for effect. Hello!...Hello…!...! Hello, Lighthouse! Throughout the book, Blackall plays with punctuation through this repeated refrain. What effect does this have on readers? Invite students to read these lines matching the intended effect the punctuation creates. Encourage students to consider how long they should pause, how loud their voice should be, and with what expression they should read each line. Then, have students look back at previous writing in their journals or writing folders and identify places where they can play with punctuation for effect by adding in ellipses, exclamation marks, and italics to entice but also guide their readers.
Repetition as a craft technique. Young readers greatly benefit from identifying and then anticipating the patterns authors craft throughout a book. Conduct a repeated reading of Hello Lighthouse with students first by reading aloud the story to support comprehension of the storyline. Then, reread the story with a focus on repetition as a craft technique, encouraging students to read along with you as they recognize the patterns in the text such as: "He tends the light and writes in the logbook…" and " Hello…! Hello…! Hello, Lighthouse!" Encourage students to incorporate repetition into their writing to help guide their readers.
Duet reading: Hello Lighthouse and Lightship. Read aloud Hello Lighthouse and Brian Floca's Lightship. Ask students to compare and contrast the different responsibilities of a lighthouse keeper and a lightship crew. Next, ask them to compare and contrast the visual elements of each book. How do Blackall and Floca both play with shifting perspectives and moods in their illustrations? How do their illustrations show action?
Book design and classroom publishing. Hello Lighthouse is a great example of the right match between a book's content and its trim size. In the back matter, Blackall names the two book designers. Your students might be surprised to know that books have designers. To help them think of about their role, create a display of picture books of all genres and topics. Have students peruse the collection and document what they infer is the relationship between the book's topic and its size and shape. Work with students to develop a protocol for designing book format. When should a book be tall and thin like Hello Lighthouse? When should a book be small and square like Me...Jane by Patrick McDonnell? During their next writing project, have students take turns being book designers. As student authors-illustrators finish their written pieces, have them meet with student book designers who help them develop the right format for their book. Ideally, you can partner with the art teacher to make paper, cardboard, and binding decisions.
Room for debate: Technology as progress? At the end of the story, the keeper is no longer needed, as technology replaces him. Engage in a mini-debate about the impact of technology on society and whether technology always equals progress. Explore the impact of technology on jobs today such as automated tolls, grocery store checkout, and ATMs. What technologies can students imagine in the future that may replace human jobs or tasks such as driverless cars and drones? Support students in learning how to engage with one another when they have differing opinions by using respectful language such as "I see your point, however…" and "Since I've listened to your point of view, can I tell you what I believe."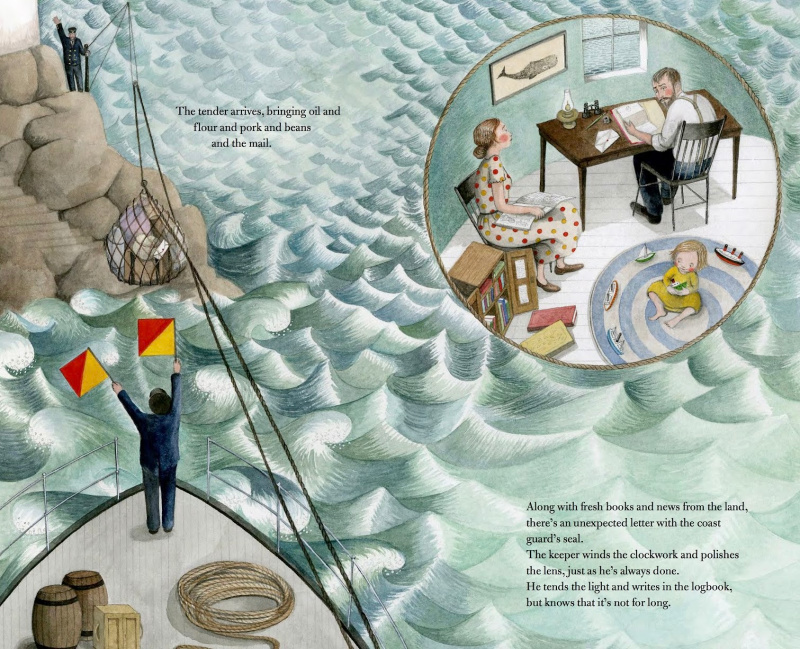 ---
Mary Ann Cappiello is an a ssociate professor of language and literacy at Lesley University. Katie Cunningham is an a ssociate professor at Manhattanville College and co-editor for the New York State Reading Association's professional journal, The Language and Literacy Spectrum. They blog regularly at The Classroom Bookshelf.