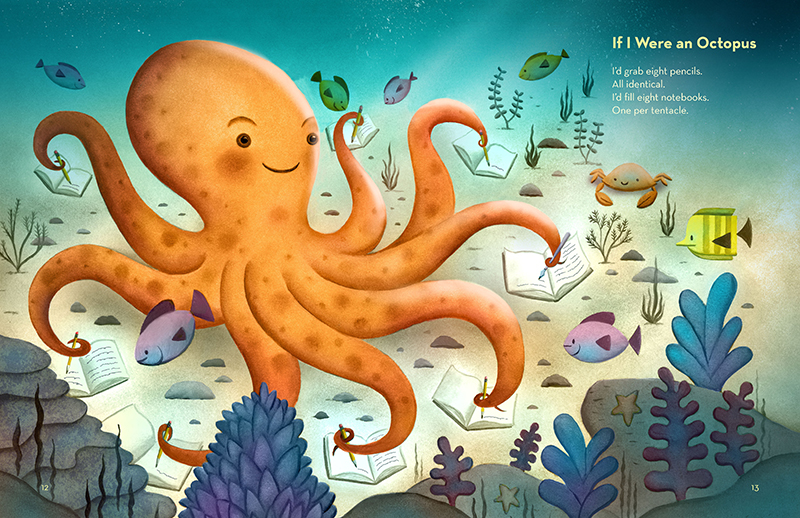 From Write! Write! Write! by Amy Ludwig VanDerwater. Illustrations ©2020 by Ryan O'Rourke (Boyds Mills/Wordsong).
In 1977, the NCTE Excellence in Children's Poetry Award Committee was created to recognize the work of outstanding poets who write for children. Since then, in addition to naming an outstanding poet every two years, the committee has selected annual notable lists of poetry and novels in verse. This year, members of the committee are pleased to recognize 25 outstanding books of poetry and 13 novels in verse as 2021 Notables. Each of the books was published in 2020. Read and evaluated by every committee member, these selections were deemed notable for their use of language and poetic devices and their appropriateness for children ages three to 13. The form or structure of the poems was evaluated to ensure that the mood and subject matter was well represented. The selections include a memoir, biographies, historical accounts, and collections of new or unusual topics; also found here is the work of a classic American poet in picture book form. An annotated version of this list is available on the SLJ website.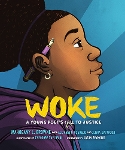 Browne, Mahogany L., Elizabeth Acevedo & Olivia Gatwood.
Woke: A Young Poet's Call to Justice.
illus. by Theodore Taylor III. Roaring Brook. ISBN 9781250311207.
Gr 3-6–An eclectic and moving contribution to the tradition of social justice poetry, this book is a call to action for young poets. Poetry by Browne, Acevedo, and Gatwood combine with emotional images from Taylor to communicate the most pressing issues of our time. The poems employ rhyming, free verse, narrative, and inventive poetic forms, and use imagery and emotive language to inspire readers to act.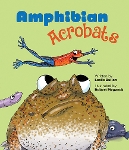 Bulion, Leslie.
Amphibian Acrobats.
illus. by Robert Meganck. Peachtree. ISBN 9781682630983.
Gr 3-5–Fun illustrations, compelling poems, and inviting narratives with succinct expository texts offer an adventurous, engaging, literary science exhibition for young readers. The worlds of amphibians are opened up with descriptive, yet poetic descriptions of ecological systems, natural enemies, environmental uniqueness, and more. Various movements of frog species and tadpoles display their talents as acrobats, jumpers, runners, and more, based in their diverse shapes, sizes, and colors. Names like Strawberry Poison Frog and Star-Fingered Toad will make readers wonder about their survival secrets.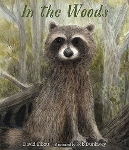 Elliott, David.
In the Woods.
illus. by Rob Dunlavey. Candlewick. ISBN 9780763697839.
Gr 1-3–This collection is an invitation to the deepest corners of the woods. Through sweeping double-page spreads, the words and images combine to tell the story of creatures who inhabit the woods. Short, fact-filled poems will appeal to young readers, and the impressionist style illustrations will invite them into the animals' habitat. The poems make use of diverse formats, and include familiar (fox, skunk, deer), as well as lesser-known (tangar, millipede, fisher cat), creatures. Back matter gives more information about each animal.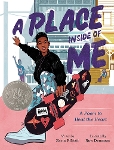 Elliott, Zetta.
A Place Inside of Me: A Poem To Heal the Heart.
illus. by Noa Denmon. Farrar. ISBN 9780374307417.
Gr 3-5–This book gives language to different emotions that reside deep down inside the narrator, a middle grade Black boy, as he experiences his world. Emotions are personified as if they hide and wait until each is recognized for its strength, using repetitive phrasing. Each feeling is weighted with specific colors and sensory ideas. For example, Joy glows bright, Sorrow is cold and heavy, and Anger is sharp and concrete. Feelings of hunger, freedom, pride, peace, hope, and love are reimagined with compelling illustrations.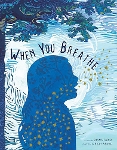 Farid, Diana.
When You Breathe.
illus. by Billy Renkl. Abrams. ISBN 9781944903930.
K-Gr 3–"Outside,/ it's air/ until…/ you breathe in, inhale./ And then/ inside/ air becomes/ breath." In language both simple and grand, physician and poet Farid describes how we are connected to the universe with each breath we take into our lungs, "the upside-down tree/ inside your rising chest." Illustrator Renkl renders respiratory science for young readers as a gorgeous blue-green garden-galaxy. The metaphors swirl into an understanding that our human bodies don't stand over the natural world, but are part of it. The book concludes with a useful glossary of "Breathing Words."

Ferrada, María José.
Mexique: A Refugee Story from the Spanish Civil War.
illus. by Ana Penyas. tr. from Spanish by Elisa Amado. Eerdmans. ISBN 9780802855459.
Gr 3-5–In poignant verse, this poem across pages tells the story of Mexique, the ship that set sail from Bordeaux, France to Mexico, carrying 456 children, refugees of the Spanish Civil War, for "three or four months" that became lifetimes. The young girl narrator realizes, "War is a very loud noise./ War is a huge hand that shakes you/ and throws you onto a ship." The illustrations show the story of this journey, predominantly in black and white, with sparing use of red and tan. An Afterword gives larger historical context.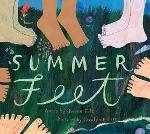 Fitch, Sheree.
Summer Feet.
illus. by Carolyn Fisher. Nimbus. ISBN 9781771088540.
PreS-Gr 3–"Hello toes, our tootsie friends/ Hello, summer feet again!" This book is a bucket of fun, from the rhythmic, chantable text, full of call-and-response and repetition, to the rollicking fonts and playful placement of words on the page. Feet of many colors traverse the landscapes of summer, from gravelly rocks to trampoline bounce, from mighty-baboonish to sandiest-sunniest, from mud-slippery to squeal-squirmy, "outrageous-courageous" right up until "we shiver a little in a sweater-time day." Fitch and Fisher's celebration of bare-naked feet is irresistible.
Hopkins, Lee Bennett, ed.
Construction People.
illus. by Ellen Shi. Boyds Mills/Wordsong. ISBN 9781684373611.
Gr 2-4–This collection of poems takes readers from plans to completion of a city skyscraper, including poems about "Dump Truck Drivers," "Crane Operator," and "Elevator Installers." Each poem has a distinct style and voice by a prominent poet for children. The illustrations depict diversity of people and follow a young Asian girl and her mother architect as they watch her plans enacted: "once known/ as blueprint/ now part of a/ breathtaking/ spectacular/ skyline."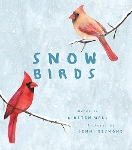 Hall, Kirsten.
Snow Birds.
illus. by Jenni Desmond. Abrams. ISBN 9781419742033.
Gr 1-3–In this beautiful and engaging book, Hall pays tribute to birds who live in cold climates—the Northern Cardinal, Snowy Owl, and other non-migratory species. The short verse about each bird is accompanied by Desmond's mixed-media illustrations and an example of the bird's call ("Kri-ki-ki-ki!" for the Snow Goose, "Chi-tik, chi-tik" for the Snow Bunting). The poems address habitat, feeding, and other aspects of bird survival; "Ruffed Grouse" begins, "Beneath the snow lies a winter house/ A tunneled hole for a sleeping grouse." A "Meet the Birds!" section gives additional facts and illustrations.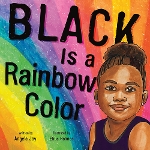 Joy, Angela.
Black Is a Rainbow Color.
illus. by Ekua Holmes. Roaring Brook. ISBN 9781626726314.
Gr 2-5–This boldly illustrated picture book is distinguished by its back matter for adults. Joy recounts the challenge of explaining to her children how they are "black" when objectively their skin is brown. Gently repetitive, rhyming text carries readers from seeing black as a color to understanding Black as an ethnonym—explained in a time line—and a culture, introducing towering figures from art, music, literature, religion, and law. Also included are a playlist, elaborations on the poem's referents, and iconic poems about Black identity.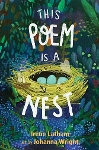 Latham, Irene.
This Poem Is a Nest.
illus. by Johanna Wright. Boyds Mills/Wordsong. ISBN 9781684373635.
Gr 4-6–In this compact book, Latham draws tiny found poems—"nestlings"—from a single 12-stanza poem about the seasons—her "Nest." Each uses words from the Nest strictly in order; through clever reimagination and titling that capitalizes on multiple meanings, Latham feeds her readers tasty tidbits of metaphor and image. From the section "Color My World," we get "Indigo/ song of/ sky and ink." Most nestlings are under ten words, making this a perfect mentor text for teaching beginners the power of a few well-chosen words.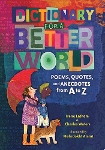 Latham, Irene & Waters, Charles.
Dictionary for a Better World: Poems, Quotes, and Anecdotes from A to Z.
illus. by Mehrdokht Amini. Carolrhoda. ISBN 9781541557758.
Gr 4-8–This collection of alphabetical full-page spreads addresses critical topics in our world today with sensitivity and urgency. Each word featured in the book (e.g., "dialogue," "justice," "respect") inspires readers to make the world a better place. Filled with inventive poetry, quotes, and anecdotes, the book is an experience to be savored and visited again and again. Using digital painting, collage, and photography, the illustrations enrich each spread and complement the relevant text.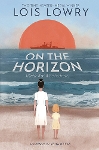 Lowry, Lois.
On the Horizon: World War II Reflections.
illus. by Kenard Pak. HMH. ISBN 978035812940.
Gr 5-8–Weaving together haunting images in free verse, haiku, triolet, and prose, Lowry retraces memories of growing up in Hawaii and Tokyo during and after World War II. Her vignettes offer a fresh perspective on familiar history: she tells us of twin sailors on the sinking USS Arizona, of particular children killed in the Hiroshima bombing, of bowing and weeping years later before a memorial in Hiroshima—a blackened tricycle. Pak's pencil drawings capture the poetry's light and shadow.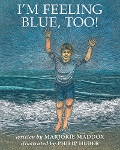 Maddox, Marjorie.
I'm Feeling Blue, Too!
illus. by Philip Huber. Resource Publications. ISBN 9781725253100.
Gr 4-6–This series of untitled poems, all ruminations on the color blue, are completed by Huber's detailed, multi-textured illustrations. Blueberries become "A/ miniature/ morsel of midnight/ that pops." In a lovely blend of alliteration, meter, and slant rhyme, a dragonfly proclaims, "My flutter flaps summer/ and hums to the blue firs/ and strums with cicadas/ and hovers by still lakes." Another poem ponders patience and precision, chronicling the process by which we "weigh/ and decide/ what to make/ from a block/ or a stone/ or a life." A lovely addition to a library.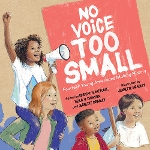 Metcalf, Lindsay H., Keila V. Dawson & Jeanette Bradley, eds.
No Voice Too Small: Fourteen Young Americans Making History.
illus. by Jeanette Bradley. Charlesbridge. ISBN 9781623541316.
Gr 4-6–This rich, inspiring collection introduces readers to 14 young activists, each on a double-page containing a summary of their achievement—for example, eight-year-old Mari Copeny protested the contaminated water in her town of Flint, MI; a vivid color portrait; a suggested action that readers might take to improve their community; and a celebratory poem by such writers as Nikki Grimes, Janet Wong, and Joseph Bruchac. Poems range from free verse to cinquain, tanka, ballad, triolet.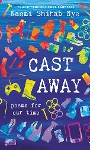 Nye, Naomi Shihab.
Cast Away: Poems for Our Time.
HarperCollins/Greenwillow. ISBN 9780062907691.
Gr 5-8–In this collection of poems, Nye highlights what is discarded, thrown out, cast away. Subjects range from musings on trash talk to castoff cardboard to ruminations on recycling. In "Junk Mail," readers learn that poet W. S. Merwin, "wrote first drafts of his poems/ on junk mail envelopes/ plucked from the garbage/ so he never had to worry/ about wasting paper/ or being perfect." Trash is something to be acknowledged, appreciated, even marveled at—the existence of this collection is a fine start.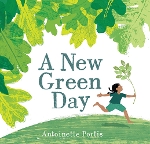 Portis, Antoinette.
A New Green Day.
illus. by author. Holiday House/Neal Porter. ISBN 9780823444885.
PreS-Gr 3–Various elements of nature are celebrated as a young girl moves through a new green day in a series of inventive riddles. Rhythmic verse and metaphor create strong images for the reader to guess before the next page turn provides confirmation. Portis utilizes brush and sumi ink, leaf prints, vine charcoal, and hand-stamped lettering to reveal the wonders of an ordinary day. The rich illustrations make this riddle book a delight to share with young readers.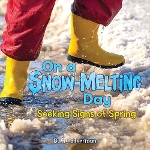 Silverman, Buffy.
On a Snow Melting Day: Seeking Signs of Spring.
Millbrook. ISBN 9781541578135.
PreS-Gr 2–This inviting picture book captures, in vibrant, close-up photographs and lively, fun-to-say rhymes, the gradual warming of winter into spring. From a "drip-droppy, slip-sloppy...hawk-squawking, paw-sinking" day, when "snowmen droop" and "cardinals swoop," we move on to watch "flowers warm" and "insects swarm." The rich back matter—notes on the animals, birds, insects, and weather depicted along with a reading list—is organized for easy use by young researchers.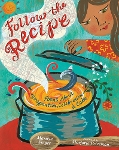 Singer, Marilyn.
Follow the Recipe: Poems About Imagination, Celebration, and Cake.
illus. by Marjorie Priceman. Dial. ISBN 9780735227903.
Gr 4-6–Singer gives readers a collection of poems to inspire and enjoy. Complemented by splashy artwork from two-time Caldecott Honoree Priceman, the lively and fun poems are ideal to share individually or as a collection. The poems can serve as a side dish for larger topics of study ("Social Studies," "Fairy Tales"), or as food for thought for the curious reader seeking to reflect, through recipes for "Balance," "Love," or "Understanding."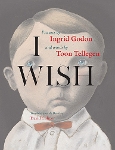 Tellegen, Toon.
I Wish.
illus. by Ingrid Godon. tr. from Dutch by David Colmer. Elsewhere Editions. ISBN 9781939810328.
Gr 4-6–This is a collection of compelling narratives from powerful portraits. Godon renders children's most intimate thoughts and desires from careful observation of reading their eyes, faces, and postures. Each narration is matter-of-fact, which, along with blank facial expressions, creates a melancholy tone. Wishes as desires express themes of courage, secret jobs, fearless dying, imagination, and more. This book would be great for writing explorations.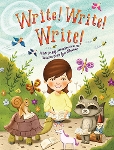 VanDerwater, Amy Ludwig.
Write! Write! Write!
illus. by Ryan O'Rourke. Boyds Mills/Wordsong. ISBN 9781684373628.
Gr 2-4–In this softly colored companion to Read! Read! Read!, VanDerwater empowers children through 22 poems about how and why we write. From "Our Alphabet" ("Mix endless worlds from 26") to "One Wish" ("The reason I write? To connect"), poems illuminate common writing experiences, and for classroom use, address common writing tasks like reports, opinion, and revision. Throughout, rhythm, rhyme, and VanDerwater's trademark short lines deftly engage readers in the joyful, playful power of writing.

Weatherford, Carole Boston.
Box: Henry Brown Mails Himself to Freedom.
illus. by Michele Wood. Candlewick. ISBN 9780763691561.
Gr 4-8–Weatherford depicts Henry Brown's journey from birth to freedom in a series of 50 sixains in Brown's first-person voice. Six figures prominently to reproduce the six sides of a box, emphasizing his harrowing journey. Wood uses a palette that matches the colors of the 1800s. Square patterns fill borders and backgrounds of each illustration to convey feeling boxed in. Back matter includes a time line, a bibliography, and notes from the illustrator and poet. Overall, this book expresses the pain, suffering, and beauty of Brown's life.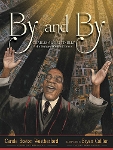 Weatherford, Carole Boston.
By and By: Charles Albert Tindley, the Father of Gospel Music.
illus. by Bryan Collier. S. & S./Atheneum. ISBN 9781534426368.
Gr 3-5–In rhyming verse, in first person narration, Weatherford depicts Charles Albert Tindley's remarkable life story as the creator of gospel music. Weatherford includes snippets from spirituals and Tindley's original hymns in italic to convey Tindley's spiritual state of mind on his life's journey. Collier uses watercolor collage with an earthy color palette, powerfully, such as scraps of music swept across the landscape, to depict Tindley's inspiration. Back matter includes author and illustrator notes, resources and bibliography, and a list of Tindley's most popular hymns.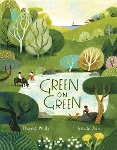 White, Dianne.
Green on Green.
illus. by Felicita Sala. S. & S./Beach Lane. ISBN 9781481462785.
K-Gr 3–This lyrically illustrated picture book sings a fresh song of seasons, focused on their changing colors and a young boy's seasonal joys with family and friends: "Lemonade petals./ Sunflakes between./ Lemonade, sunflakes, and yellow on green." The rhythmic, rhyming little stanzas invite chanting aloud and learning by heart, while the artwork's images invite imaginative connections to the text. Readers follow a family through the year, culminating in the birth of a baby, to whom the young boy, now an older brother, brings a new spring's flower.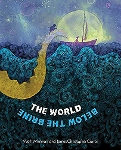 Whitman, Walt.
The World Below the Brine.
illus. by James Christopher Carroll. Creative Editions. ISBN 9781568463612.
Gr 2-4–Whitman's poem is set against luminous, enchanting illustrations that depict a boy's adventures "below the brine." The world that Whitman describes is vast and complex, both verbally and visually beautiful. The lines, "Sea lettuce, vast lichens, strange flowers/ and seeds, the thick tangle, openings/ and pink surf" are set off by a light-drenched illustration of the boy diving deeper as multicolored stems stretch beyond the upper and lower borders of the pages. Other text/illustration pairings celebrate "The leaden-eyed shark, the walrus, the turtle,/ the hairy sea-leopard, and the sting-ray." A lovely introduction to Whitman.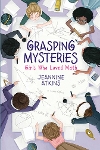 Atkins, Jeannine.
Grasping Mysteries: Girls Who Loved Math.
S. & S./Atheneum. ISBN 9781534460683.
Gr 3-5–Atkins creates vivid portraits of seven women: astronomers Caroline Herschel and Vera Rubin, statistician Florence Nightingale, engineer Hertha Marks Ayrton, cartographer Marie Tharp, mathematician Katherine Johnson, and census official Edna Lee Paisano. Paisano's story is especially compelling as she works tirelessly for more accurate representation of Native Americans in the census. In graceful and engaging free verse, Atkins presents rich detail to enhance readers' knowledge and celebrate these accomplished women.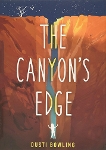 Bowling, Dusti.
The Canyon's Edge.
Little, Brown. ISBN 9780316494694.
Gr 5-8–Gut-wrenching and heart-stopping, this verse novel creatively tells Nora's story after losing her mother in a random act of violence. As Nora and her father uniquely navigate their grief, they set out on a harrowing adventure exploring a slot canyon in Arizona. The verse is edgy, inventive, and honest, tracing the physical and emotional journey Nora takes to process her grief and PTSD. A page-turner from start to finish, this book tackles a challenging issue head-on, imparting strength and resilience through its words.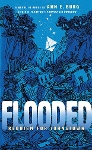 Burg, Ann E.
Flooded: Requiem for Johnstown.
Scholastic. ISBN 9781338540697.
Gr 5-8–Burg's multi-vocal verse novel recreates the 1889 Johnstown, PA, flood. Through these poems, readers meet townspeople like the young man who plans to propose with a willow twig ring and the schoolgirl whose father owns the general store. The flood kills families, neighbors, dreams for the future, and eventually, any hope of justice as the wealthy men responsible escape punishment. Burg melds the elements of historical fiction with evocative free verse poetry in voices that remain distinct but tell a collective story of hubris, privilege, and grief.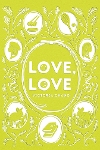 Chang, Victoria.
Love, Love.
illus. by Lorraine Nam. Sterling. ISBN 9781454938323.
Gr 3-5–Every poem in this spare verse novel quietly disrupts the familiar territory of "misfit bullied at school." Frances is ten, Chinese-American, awkward, curious, and worried about her sister Clara, whose hair is inexplicably falling out. Through unpunctuated free verse interspersed with prose "Hair Dreams" and, eventually, excerpts from Clara's diary, Frances investigates the mystery of Clara's hair. Wigs, Nancy Drew, egg rolls, and tennis help to reveal Frances herself: "if I solve it/ my false will become/ true my invisible/ will become visible."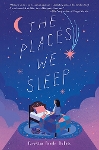 DuBois, Caroline Brooks.
The Places We Sleep.
Holiday House. ISBN 9780823444212.
Gr 6-8–Abbey is the new kid at school, and as this verse novel opens, she is unsettled about getting her first period. Before long, her self-consciousness is overshadowed by the fear and chaos of the 9/11 terrorist attacks, which claim the life of Abbey's beloved Aunt Rose. This verse novel is ambitious in its inclusion: bullying, cliques, anti-Muslim racism, puberty, death, the deployment of a parent in wartime, and learning to speak up for oneself are all part of Abbey's story. The verse is engaging, the story believable, the characterizations deft. A skillful rendering.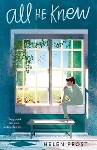 Frost, Helen.
All He Knew.
Farrar. ISBN 9780374312992.
Gr 5-8–In this work based on true events, Frost uses free verse masterfully to convey the perspective of Henry—a child who is deaf and is confined to an institution for "unteachable children" from age six, in 1939, to age 11, in 1944, when he is finally reunited with his family—and sometimes the perspective of his older sister, Molly. She uses sonnet form for Victor's perspective—a conscientious objector who is assigned to the institution and brings kindness to the children—and for letter writing format. Frost's poetry expresses the strong emotions, moods, and themes that this book raises.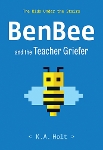 Holt, A.K.
BenBee and the Teacher Griefer.
Chronicle. ISBN 9781452182513.
Gr 5-8–In Holt's moving and often very funny verse novel, four engaging sixth-graders, all resistant readers with different learning disabilities, but a shared passion for a Minecraft-style video game, make a deal with their summer school teacher, Ms. J: One minute reading aloud in class equals a minute they can play Sandbox. Slowly, trust develops and learning begins, for students and teacher alike, as communication grows: two students in free verse, one in emoji-rich emails, and one through notebook drawings and lists.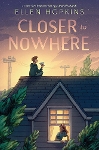 Hopkins, Ellen.
Closer to Nowhere.
Putnam. ISBN 9780593108611.
Gr 6-8–Told from the dual-perspectives of Hannah, a middle school gymnast who lives with her mother and father, and Cal, her cousin who comes to live with her after his mother dies and father goes to jail, this verse novel represents difficult realities in sensitive and realistic ways. As the family adjusts to Cal's presence in their lives, Hannah's reality shifts, and she is forced to face her own challenges. Hopkins captures the challenges of families, mental health, and adolescence through raw and honest verse.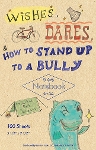 Jacobson, Darlene Beck.
Wishes, Dares, and How To Stand Up to a Bully.
Creston. ISBN 9781939547620.
Gr 4-6–This compelling verse novel, narrated by 11-year-old Jack, whose father is missing in action in Vietnam, balances a realistic setting and characters—their voices created through memorable recurring and contrasting images—with a wish-granting fish, who tangles Jack in a mesh of dare, hope, and fear. Poignantly, he finds some answers in his father's boyhood journal. In a final kite-flying scene he exults: "For now at least,/ I am the kite./ Watch/ me/ soar."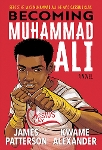 Patterson, James & Kwame Alexander.
Becoming Muhammad Ali.
illus. by Dawud Anyabwile. Little, Brown. ISBN 9780316498166.
Gr 4-8–When young Cassius Clay has his new bike stolen, he decides to learn boxing to fend off bullies. In nine "rounds," this lively, suspenseful, often funny verse novel depicts his gradual coming of age in a warm-hearted family and a segregated Louisville. Each round is introduced in prose by his best friend, Lucky; then, Clay's own swagger of fast-rhyming jive, backtalk, and gumption takes over. Clay's narration concludes at age 17, just before his Olympic journey. In the "Final Round," Lucky glimpses the rise and fall of Muhammad Ali's glorious career.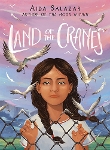 Salazar, Aida.
Land of the Cranes.
Scholastic. ISBN 9781338343809.
Gr 4-8–This compelling verse novel is narrated by nine-year-old Betita, a young poet and artist. Betita is proud of her Indigenous Aztlan identity from the Land of the Cranes. Ths book gives a realistic portrayal of a deported father and the hardship Betita and her pregnant mother endure at a family detention center. It exposes the detention center's inhumane conditions under an autocratic surveillance system through Betita's perspectives, and her resilience.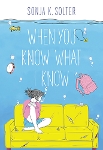 Solter, Sonja.
When You Know What I Know.
Little, Brown. ISBN 9780316535441.
Gr 5-7–In this verse novel, 11-year-old Tori confides: "It's not the kind/ of thing you can/ talk about/ at school or/ at the park/ or anywhere,/ with a new friend/ or an old one/ or even with your sister." Even when she tries to talk about what happened, what she says at first isn't believed even by her mother. Challenges that a victim of sexual abuse face are realistically and poetically portrayed. Tori's internal questions and thoughts of many what-ifs, regrets, disappointment, peer relationships, and family responses are unavoidable steps of pathfinders toward resilience and recovery of family relationships.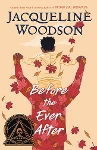 Woodson, Jacqueline.
Before the Ever After.
Penguin/Nancy Paulsen. ISBN 9780399545436.
Gr 4-6–In poignant poems, 12-year-old Zachariah Junior, ZJ, tells the story of his father's descent from being a football hero as he suffers the onset of a degenerative brain disease from repeated blows to his head. The book takes place in 1999 to 2000, when CTE was not yet recognized in football. Woodson explores powerful themes of love and loyalty that bind friends and family to endure hard times. Woodson uses repetition masterfully, both to express ZJ's propensity for songwriting, and to show his father's suffering: "Before the ever after,/ there was the three of us/ and we lived happily/ before the ever after."
The 2021 NCTE Poetry Committee: Ted Kesler (chairperson), Gabrielle Halko, Judy Rowe Michaels, Heidi Mordhorst, Mary-Kate Sableski, Yoo Kyung Sung