The picture book about "everything in life" follows her 2016 Caldecott-winning Finding Winnie.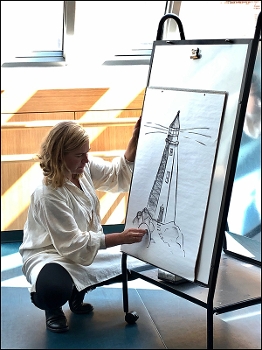 How does someone celebrate becoming a two-time Caldecott Medal winner? Sophie Blackall stood on a bustling street in Yangon, Myanmar, "weeping" while surrounded by stray dogs, playing children, and policemen.
Blackall had just left her father and stepmother inside a restaurant and stepped outside to take the call from more than 7,000 miles away, in Seattle, which was the center of the children's literature world on Monday.
"There was something quite lovely about being on the other side of the world," said Blackall, whose Hello Lighthouse was named 2019 Caldecott winner. "It's such a strange time for everybody who made a book in the preceding year."
Before the call came, Blackall had just ducked into a restaurant and ordered fermented tea leaf soup.
"I had seen the amazing and much-missed Anthony Bourdain talking about it, so it was something I was keen to try," she said.
Blackall stopped in Myanmar on the way home from Singapore, where she spent two "incredible" weeks as artist in residence at the Singapore American School. Her father, who was in Myanmar in 1962, returned to "retrace his steps," and Blackall joined him to for a short time before returning home.
When her phone rang, she forgot about the soup, got up from the table, and stepped into the street to learn she was now a two-time winner, having earned her first in 2016 for illustrating Finding Winnie: The True Story of the World's Most Famous Bear by Lindsay Mattick.
"I couldn't in my wildest dreams imagine I could be so fortunate [to win again]," she said, adding that she must just have faith in the committee and its process.
No matter what happened with the awards, she said, she had already gotten back more than she could have ever wanted from the book.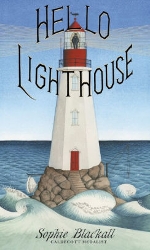 "Its life out in the world has been rewarding outside my wildest expectations," she said of Hello Lighthouse. "The responses from people, both adults and especially children, have just filled me with joy."
Hello Lighthouse became the exact book she wanted to make, she said. The visual and story came to her almost fully formed in a moment at a flea market when she saw a print of a cutaway of the Eddystone Lighthouse in Plymouth, England. She imagined a story unfolding and the lives in the round rooms. But she had to put that idea aside for other projects she was working on at the time, including Finding Winnie. Blackall literally put the inspirational print in a box, she said, and hoped when she looked at it again, the original vision would come flooding back. And the story she tells from that lighthouse is universal.
"It's about everything in life, in a way," Blackall said hours after learning she's won her second Caldecott Medal. "It's about birth and work and love and loss and endings and change and hope and renewal. It's all of those things that we all experience."
Mary Fellows, Caldecott committee chair, said they read and evaluated nearly 1,000 books this year.
"Our face-to-face deliberations are a process of appreciating strengths and articulating concerns, embracing new loves and letting go, sometimes with regret, of old loves," she said. "In the end, we choose the book that seems to us the truest expression of what distinguished means in a picture book for children."
Blackall's work won over the committee.
"In Hello Lighthouse, Sophie Blackall masterfully uses shape and intricate cutaways to tell the story of a lighthouse and the family that lives within," Fellows said. "From the tall narrow book and its title font to the cylindrical vignettes and the circular lighthouse interior, every detail is considered to make this a book that children will return to again and again."