Reading has the power to open eyes, minds, and hearts, and together, we can help #StopAsianHate, says Cicely Lewis.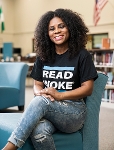 When former president Donald Trump referred to COVID-19 as the "­Chinese virus," I cringed. The consequences have been devastating. The organization Stop AAPI Hate reported over 6,600 incidents of hate against Asian Americans and Pacific Islanders between March 2020 and March 2021. Among them were six people of Asian descent killed in an attack in Cherokee County, GA, in a shooting that struck fear into the heart of the local Asian American community.
Our country has a long history of discrimination against Asian Americans. In 1882, the Chinese Exclusion Act prohibited the immigration of Chinese ­laborers; the ban on immigration and naturalization wasn't repealed until 1943. I ashamedly admit that I learned of the ­imprisonment of those of Japanese descent during World War II for the first time when I heard George Takei speak at the 2018 SLJ Leadership Summit. Reading has the power to open eyes, minds, and hearts. Together, we can help #StopAsianHate.

Eyes That Kiss in the Corners by Joanna Ho. illus. by Dung Ho. HarperCollins. 2021.
K-Gr 3–Ho emphasizes the importance of family love as the protagonist, a girl of Asian descent, connects with her Amah, Mama, and little sister while talking about the shape of her eyes, which "glow like warm tea." The vibrant colors keep young readers captivated in this story about self-acceptance and love.
The Fearless Flights of Hazel Ying Lee by Julie Leung. illus. by Julie Kwon. Little, Brown. 2021.
Gr 1-4–Hazel Ying Lee was the first Chinese American woman to fly for the U.S. military. In 1932, less than one percent of pilots were women, and in the face of racial discrimination, she broke barriers. Flying was an escape: "No one could see her eyes, hair, or skin color when Hazel was thousands of feet above." Lee's story will inspire.
The Floating Field: How a Group of Thai Boys Built Their Own Soccer Field . Scott Riley, illus. by Nguyen Quang & Kim Lien. Millbrook. 2021.
Gr 2-5–Imagine only being able to play soccer two times a month, when the tide is low. Well, that's the situation that Prasit Hemmin and his friends face on the island of Koh Panyee, a tiny Thai fishing village. After watching an underdog team win the World Cup on the island's one TV, the young boys are inspired. They form their own team and compete in a tournament on the mainland. This story will inspires perseverance when the odds of success look slim to none. The breathtaking illustrations convey the beauty of the island and its Muslim culture.
The Last Fallen Star by Graci Kim. Disney-Hyperion/Rick Riordan Presents. 2021.
Gr 3-7–Kim intertwines Korean mythology with the story of Riley Oh, a young Korean girl on a journey to save her family while also learning about her heritage. Fantasy is short on diverse representation, and Riordan's imprint gives many writers a platform. It's important to offer more than tragedies when we suggest books that teach acceptance. This empowering fantasy delivers plenty of thrills.
They Called Us Enemy by George Takei, Justin ­Eisinger & Steven Scott. illus. by Harmony Becker. Top Shelf. 2019.
Gr 7 Up–Takei's family was taken from their home after the attack on Pearl Harbor and forced into the camp so accurately depicted here. They joined 120,000 other people of Japanese descent who lost almost everything. This graphic memoir draws chilling parallels to recent history. Why didn't I learn about this in school?

Crossover Adult Titles
Sigh, Gone: A Misfit's Memoir of Great Books, Punk Rock, and the Fight to Fit In by Phuc Tran. Flatiron. 2020.
Gr 8 Up–In this coming-of-age memoir about growing up in an immigrant family, Tran discusses how he endured bullying and stereotyping but found strength through books such as Crime and Punishment, The Scarlet Letter, and The Autobiography of Malcolm X.
Untold: Defining Moments of the Uprooted. edited by Gabrielle Deonath & Kamini Ramdeen. Mango and Marigold. 2021.
Gr 8 Up–More than 30 South Asian writers from the United States, the UK, and Canada share stories of colorism, mental health, gender identity, racism, and more. With titles such as "Coming Out Again" and "A Tale of Two: A (Cancer) Journey Between Best Friends," there's something here for all readers to connect with.
---
Cicely Lewis (Twitter: @cicelythegreat) welcomes suggestions.