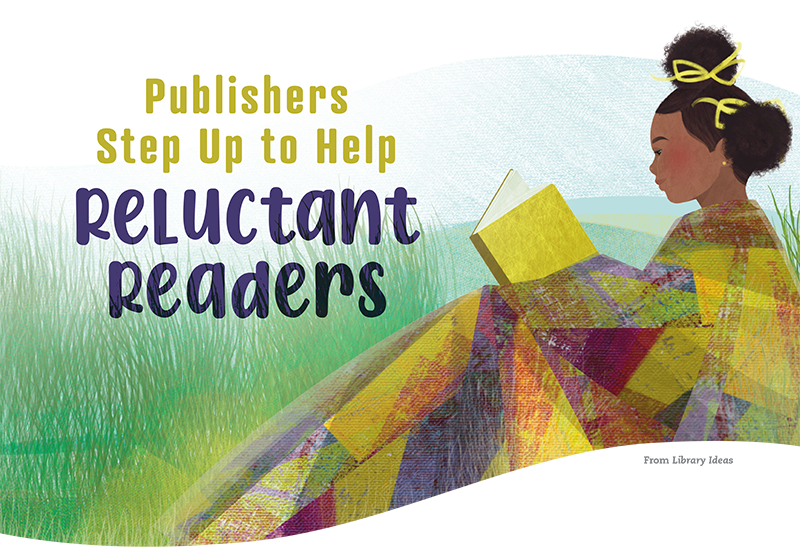 "The research is out. Kids are behind in reading acquisition," says Sarah Hartley, educational sales manager at Orca Book Publishers. "I've been to numerous conferences—every teacher is telling me how behind their students are."
Supporting the anecdotal evidence, the results from the Nation's Report Card (the NEAP 2022 Reading Assessments) revealed that only one-third of American fourth graders were performing at or above the NEAP Proficient level. Eighth graders are also struggling, with 30 percent of students performing below NEAP Basic level.
Publishers are hearing increased demands for books to address reading deficits at every grade level. "Twice a year, we interview teachers and librarians across the country. There's a ton of demand for books that are easier to read," says Jon Fishman, associate editorial director, Lerner Publishing Group.
Publishers are responding to this need with more titles, more imprints, and more products for reluctant readers than ever before. Lerner Publishing Group recently launched a nonfiction hi-lo brand, UpDog Books, while Orca Book Publishers has also expanded the company's roster of hi-lo lines with the addition of Orca Anchor. And technology has been harnessed by Playaway and Library Ideas's VOX Books to make content more accessible to all readers.
But publishers are keenly aware that their books have to work harder than ever before—with more exciting storylines, more eye-catching and mature design, and popular topics that entice reluctant readers, like mysteries, horror, paranormal phenomena, dangerous jobs, cars and planes, and pre-historic creatures. "If the stories are good, struggling readers will keep coming back," says Hartley.
Read on for a plethora of new books and products that incorporate both learning and fun!

Library Ideas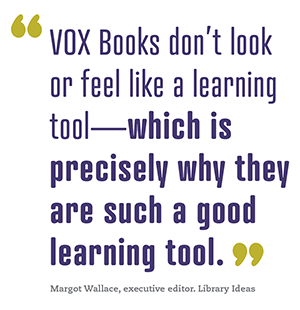 A VOX Book looks just like a regular picture book—until a reader opens the cover, presses the button, and hears a voice. The permanently affixed VOX Reader transforms that print book into an all-in-one read-long. "VOX Books empower reluctant readers by building confidence and developing a love of reading. The addition of audio brings an extra level of energy and enthusiasm," says Executive Editor Margot Wallace. "VOX Books don't look or feel like a learning tool—which is precisely why they are such a good learning tool."
Acquired by Library Ideas about seven years ago, VOX Books was always intended to be a learning tool for emerging and reluctant readers. To judge by the research, the line is achieving this goal. Widener University's Dana M. Reisboard, PhD, recently published a white paper entitled "Inspiring Early Readers: New Technology and Formats Show Efficacy." Dr. Reisboard concluded that VOX Publishing products have important features that lead to advanced literacy development in children. "Her findings matched ours. These books really work," notes Wallace.
Two young birds mistake a polka-dot ball for an egg in Duck & Goose, written and illustrated by Tad Hills, narrated by Matt Braver, June 2023, ISBN 9798885191845 (originally published by Penguin Random House). "It's hilarious to see them bicker about how best to care for the egg," says Wallace. "It's all about friendship, humor, and cooperation." This New York Times bestseller for ages 4–8 is also now an animated series available to stream on AppleTV.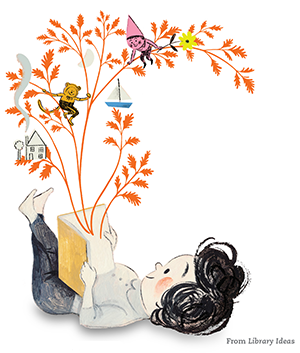 World-renowned poet and Coretta Scott King Honor winner Nikki Giovanni celebrates imagination and exploration in A Library, illustrated by Erin K. Robinson, narrated by Nikki Giovanni, June 2023, ISBN 9798885191883 (originally published by HarperCollins). Written in verse, this picture book for readers ages 4–8 emphasizes the importance of libraries to Black and Brown children. "It's a love letter to libraries," says Wallace. "Once you can enjoy books, the whole world is at your fingertips."
Big Truck Little Island written and illustrated by Chris Van Dusen, June 2023, ISBN 9798885192927 (originally published by Candlewick), was inspired by an actual traffic mishap in Vinalhaven, Maine. On a small island, ingenious kids figured out how to get to ballet class when a truck blocked the way. "This story shows the power of community resourcefulness and kindness," says Wallace. "The clever rhyming wordplay is absolutely perfect for a read-aloud."
Young Katherena feels out of place in her new town until she meets the elderly artist who lives next door. Birdsong, written and illustrated by Julie Flett, narrated by Alaska Jackson, June 2023, ISBN 9798885190251 (originally published by Greystone), highlights the importance of intergenerational relationships, spending time in nature, and sharing your passions with a friend. This book for ages 4–8 was an American Indian Youth Literature Honor title and won a TD Canadian Children's Literature Award.
A Story Is to Share: How Ruth Krauss Found Another Way to Tell a Tale by Carter Higgins, illustrated by Isabelle Arsenault, June 2023, ISBN 9798885192545(originally published by Abrams), is a nonfiction picture book biography of legendary children's book author Ruth Krauss. "Ruth was so successful at reaching children because she respected them," explains Wallace. "She understood children's hearts and minds—and never lost her own sense of wonder."

Playaway Products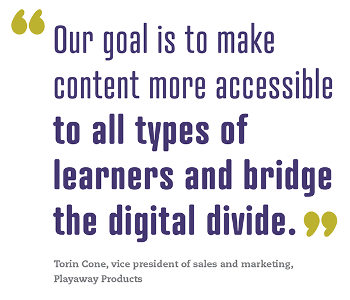 Ohio-based Playaway Products launched its first audiobook platform in 2005. Since then, Playaway has created products for circulation-based institutional lenders like schools and public libraries. "We don't design for consumer markets. We develop our products based on the direct feedback we get from schools and libraries," explains Torin Cone, vice president of sales and marketing. "Our goal is to make content more accessible to all types of learners and bridge the digital divide."
The original Playaway Audiobook is an all-in-one, prerecorded player about the size of a deck of playing cards. With no connectivity or downloads needed, it gives patrons the freedom to listen and enjoy audiobooks anywhere. Plus, listeners can slow down the narration to make it easier to follow along. Playaway Kids features the best children's audiobooks on vibrantly colored players. "I was a struggling reader in school, so these products are personal to me," says Cone. "When I found audiobooks, they opened up my world and helped foster a love of reading."
In 2019, Playaway Products launched Wonderbook, a read-along print book with an audio player permanently attached to the inside cover. Featuring the best children's books from top U.S. publishers, a Wonderbook circulates like a print book with no packaging or additional pieces to manage. There are Wonderbooks of picture books, chapter books, large print, leveled readers, plus musical sing-along storybooks, all designed to help "bridge the gap for struggling readers," says Cone.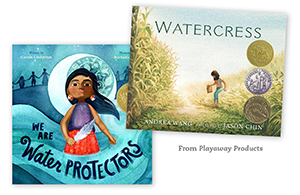 Wonderbook's current collection features over 650 titles, with 15–20 new titles released each month. Notable titles that have been added recently include Caldecott Medal Winner We Are the Water Protectors; Watercress, which garnered not only the Caldecott Medal but also a Newbery Honor and the Asian/Pacific American Award for Literature for Picture Books; and Sweet Justice: Georgia Gilmore and the Montgomery Bus Boycott, illustrated by R. Gregory Christie, winner of three Coretta Scott King Honors for illustration.
"So much tech is moving kids away from books. Wonderbooks move kids away from screens and back to books," says Cone. "That's why schools and libraries love these products. Give a Wonderbook to a child and they immediately know what to do with it."
Playaway Launchpad is a tablet preloaded with games, ebooks, and educational apps. Users press a button to access content instantly with no need for Wi-Fi. Playaway produces Launchpads for kids, teenagers, and adult users. Launchpad video delivers popular movies and TV shows for learning and entertainment anywhere.
Launchpad Academy offers several guided-learning tablets including Launchpad Reading Academy. Reading Academy helps kids master verbal, reading, and writing skills with a five-level guided-reading system, from pre-emerging (for preschool children) through independent readers. Kids can jump in at their current reading level and acquire new skills from a variety of apps, storybooks, and videos. With multiple Launchpads at each reading level, children can move from one to another in any order, or move up to the next level. "We want to teach children from the beginning until they become independent readers," says Cone.
"For reluctant readers, we want to empower them to choose how they want to digest content in a fun, engaging way." concludes Cone.

Orca Book Publishers
"One of the things Orca is best known for is our lines of hi-lo fiction," says Sarah Hartley, educational sales manager. The Canadian publisher has several hi-lo lines, including Orca Two Read for grades 2–4; Orca Currents, which is targeted to middle-school reluctant readers; and the Orca Soundings line, which offers teenagers edgy, page-turning stories written at a 2nd- to 4th-grade reading level.
What makes Orca hi-lo books different is that they "are not prescriptive. We don't assign story ideas to writers, with a reading level and word count to meet. Instead, authors bring us their authentic story ideas; then they work with our editors to make the reading level right for hi-lo," says Hartley.
In the "Meg and Greg" series's Scarlett and the Ring by Rowena Rae and Elspeth Rae, illustrated by Elisa Gutiérrez, January 2023, ISBN 9781459825017, the title characters search for missing items on Stardust Island. This fourth decodable book in the Orca Two Read line is for students in grades 2–4 who still need phonics instruction.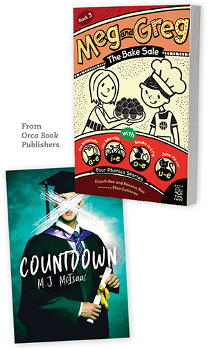 "We hear lots of talk about coming back to phonics and the science of reading," Hartley reports. "We saw such an increased demand for Meg and Greg's third book that we ran out before we anticipated."
A new Orca hi-lo line, Orca Anchor, offers short, high-interest stories specifically for teens, written at a 1st- to 2nd-grade reading level. These ultra-readable books feature dyslexia-friendly fonts, increased spacing, simplified sentence structures, and cream paper to reduce contrast. Countdown by M.J. McIsaac, February 2023, ISBN 9781459835351, follows a popular high school athlete who receives a text threatening to expose a life-changing secret. "The entire story is told in text messages. It grips the reader from the first page," says Hartley.

Lerner Publishing Group
In 2010, Lerner Publishing Group entered the hi-lo fiction market with the best-selling paranormal-themed "Night Fall" series. In the ensuing 12 years, Lerner has published 40 hi-lo fiction series for YA readers and two for middle-grade readers mainly through the company's Derby Creek imprint. The books cover a wide range of genres, including mystery, sci-fi, horror, and sports.
"For struggling or reluctant readers, we work hard to keep the reading level low so kids can read successfully and stay engaged," explains Lois Wallentine, school and library marketing director. "These fun stories for grades 6–12 are written at a 3rd-4th grade reading level."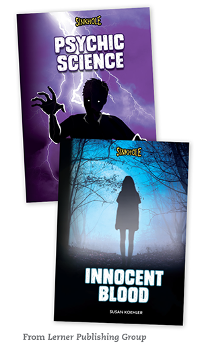 Darby Creek's new "Sinkhole" series offers six titles, starting with Cursed by Susan Koehler, January 2023, ISBN 9781728475509. Set in Foggy Creek, Texas, this series explores the creepy, paranormal things that have happened since the town's first sinkhole appeared. Stories in the series feature a cursed pocket watch, an infestation of tarantulas, and a trapped teenager. "Over and over, we hear from customers that spooky stuff is universally popular," says Associate Editorial Director Jon Fishman. "From kindergarten through high school, readers like mysteries, UFOs, and not-very-horrible horror!"
In 2020, Lerner started a nonfiction hi-lo program under the brand UpDog Books. Aimed at upper elementary levels (grades 3–5), the books are written at a 1st to 2nd-grade level. Key to the imprint's success is "really nailing topics that 3rd-, 4th-, and 5th-grade students want to read, but at that lower reading level, and making sure that the books have a mature design," says Fishman.
UpDog Books's six-title "Dangerous Jobs" series begins with Fighter Pilots by Clara Cella, January 2023, ISBN 9781728475530. This engaging series showcases the perilous work of not only fighter pilots, but also ice-road truckers, race car drivers, smoke jumpers, stunt performers, and underwater construction workers. For ages 8–11 (reading level grades 1–2), "these books draw readers in with the danger and thrill of these jobs," says Fishman. "Each book has big, colorful photographs and text that provides information about safety gear."
The U.S. Air Force in Action by Percy Leed, August 2022, ISBN 9781728458281, is the first title from UpDog Books's "U.S. Military Branches" series. This seven-title series for readers ages 8–11 (reading level grades 1–2) also introduces readers to the U.S. Army, Navy, Coast Guard, Marine Corp, and National Guard, and America's newest military branch, the U.S. Space Force. Each book features branch-specific military vehicles, technology, and possible missions.

Claire N. Rubman
Cognitive developmental psychologist Claire N. Rubman, PhD, has taught child psychology at the college level for over 20 years. Before that, Rubman taught kindergarten in the U.K. "It fascinated me how some kindergarteners came in being able to read and others left not being able to read at all," remembers Rubman. "There's so much more we could do to help."
It's not just a problem in kindergarten. Rubman sees a silent failure chain that creeps through our school system, all the way to college. "We have over fifty years of research as our guide," Rubman says. "We know what's missing in our children's education: the ability to comprehend the printed word!"
Drawing from over five decades of research and her own experience, Rubman wrote This May Be Difficult to Read: But You Really Should (for your child's sake), January 2023, ISBN 9798987086117. Rubman thinks parents can do many things to set their children up to be successful readers, starting with honing their listening-comprehension skills, which are very similar to reading-comprehension skills. "By the time children get to kindergarten, they should be able to extract meaning from words," explains Rubman.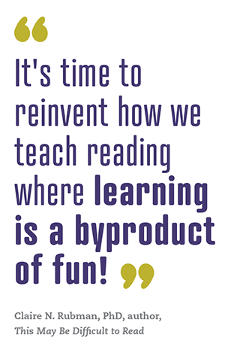 Rubman also stresses that children learn through active engagement and shared experiences—and libraries are key to this process. "Libraries are phenomenal places for parents and children to discover together. Librarians have so many wonderful and exciting activities that bring books to life for children. That's exactly what we are missing."
Winner of the 2023 National Parenting Product Award, Rubman's book suggests ways parents can create a "need to read" as part of the family's daily routine with fun, easy and engaging child-centered interactions. "Our educational paradigm hasn't shifted in over 50 years. It's time to reinvent how we teach reading where learning is a byproduct of fun!" says Rubman.

Bellwether Media Inc.
John Martin, a librarian's son, founded Minnesota-based Bellwether Media in 2005. Martin aspired to improve literacy by "lighting up the imaginations of children who require more excitement than the average reader."
Annually, Bellwether publishes 225–250 series nonfiction books, of which 50–100 titles are geared to struggling and reluctant readers. Bellwether's Torque imprint publishes action-packed books about sports, cars, and adventure for 3rd–7th graders at a 3rd-grade reading level. The Epic imprint offers ultra-high interest content written at a 2nd-grade reading level. Eye-catching photography, diagrams, and infographics are included in each title to maximize reader engagement.
Bellwether strives to deliver an immersive reading experience, so design is an integral component of its books. "We want readers to be excited about what they're learning, so we put a premium on design," says President Derek Zobel. "The look and feel of our hi-lo series are much more mature. If I'm an 8th grader, I don't want to be handed a baby book."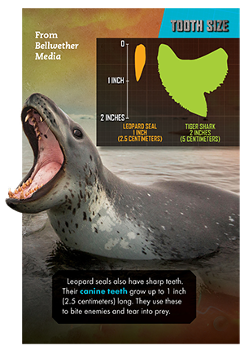 Nature's top predators face off in Torque's best-selling hi-lo series "Animal Battles." Readers learn about each animal's particular characteristics before getting a front-row seat at a fictional fight scene. Author Nathan Sommer provides the fascinating and action-packed text for American Alligator vs. Wild Boar, January 2023, ISBN 9798886871647 and Dung Beetle vs. Tarantula Hawk, January 2023, ISBN 9798886871654. "These titles move quickly, so we have trouble keeping up with demand," notes Zobel.
Also from Torque, the all-new "Sports Superstars" series showcases talented athletes from basketball, gymnastics, football, and more. Each title covers the childhood and career highlights of sports legends like Serena Williams, Simone Biles, Lionel Messi, and Lebron James. Author Allen Morey tells the stories of Steph Curry, January 2023, ISBN 9798886871630, and Patrick Mahomes, January 2023, ISBN 9798886871593. "These books have amazing photos and special features like sidebars and timelines," says Zobel. "We view our end customer as the kid who is picking up this book and choosing to read it."
From the Epic imprint, readers will discover giant turtles and enormous sharks in the new, six-title "Ancient Marine Life" series. Author Kate Moening brings prehistoric creatures back to life in Sea Scorpions, January 2023, ISBN 9798886871739, and Megalodon, January 2023, ISBN 9798886871708. Each book includes maps and full-spread profiles with size, diet, and fossil information of the animals depicted. "Who doesn't love sea scorpions and megalodons?" asks Zobel.
SPONSORED CONTENT