Ebooks aren't ideal for tactile toddlers, but in virtual story times, they can minimize problems like glare and book size.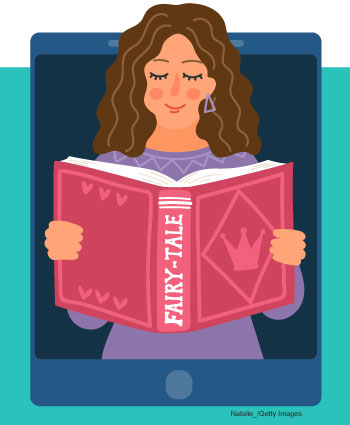 When the pandemic hit and public libraries closed, collection funds at many libraries diverted toward ebooks, including ebooks of board books and picture books. While ebooks for little ones are never as popular and widely available as adult titles, they are useful for families who want to share content remotely. "I depended upon ebooks to supplement my home library for Zoom sessions with my grandchildren. Ebooks help fill the gap," says Nina Levine, adjunct librarian at Westchester (NY) Community College.
Ebooks also provide more read-aloud options for librarians working remotely, who may have less access to collections. In virtual story times, using an ebook instead of a print edition may eliminate problems like glare, poor lighting, and book size. "I love using them in virtual ­story time," says Molly Roa, senior library assistant at San ­Leandro (CA) Public Library. "Kids can usually see better and have more time with illustrations. I model how kids can point to things on a screen just like a physical book."
But are ebooks a good format for young children? The research is a mixed bag. A 2019 study (bit.ly/3tn3Vcb) showed that toddlers are less interested when reading tablet-based books with parents. Do the bells and whistles in enhanced ebooks help or hinder? A 2012 Joan Ganz Cooney Center report found that parents engaged more with children around story content when they used print or a straight ebook than when they used an enhanced ebook with animation, games, and other features. But some of these features, when smartly integrated, promoted children's language and literacy skills—particularly dictionaries, text that highlights as narrators read, and interactive features that support comprehension. Research also shows ebooks can help children with developmental delays.
Many parents choose to use print over ebooks to cut down on screen time, and ebooks may not be the best choice for the youngest readers who chew or yank books. "I haven't read any ebooks to my almost-two-year-old—despite actively purchasing them. Maybe because board books are so ­tactile," says Grace Dwyer, MyLibraryNYC collection development librarian for BookOps of New York Public Library and Brooklyn Public Library. "I imagine other parents and caregivers have felt the same; the few board books that were available digitally were much less popular than other formats."
When a trip to the library is difficult, the ability to check out ebooks increases access. Many parents don't know about the availability of ebooks for children, so spread the word! Some may need pointers on how to read ebooks. Roa shares tips, such as setting controls on devices so kids stick to the story, and turning down blue light when reading on a tablet or phone. Encourage parents to engage with children and talk about the story together, whether it is an ebook or a print book. And remind parents that ebooks shouldn't replace print. Learning to handle print and turn pages is an important early literacy skill.
When purchasing ebooks of picture books and board books, be aware that quality can vary greatly, and review the title on different devices, if possible. Some ebooks have a fixed layout, but the text may not be legible or resizable for accessibility purposes on some devices. For an additional cost, some ebooks are audio-enabled and narrated, a good replacement for antiquated book/CD sets. And you can't get every title in ebook format. Some high-profile creators, like Sandra Boynton and Mo Willems, exclusively work with software developers to create book-based apps, unavailable for downloadable circulation.
While ebooks have advantages and disadvantages for young children, there is one important idea to keep in mind. How adults read and interact with young children makes a huge difference, whether you're turning pages or swiping while reading. Interaction is the way young children learn, so talking about the story, encouraging children to point to pictures, and asking open-ended questions, even with babies, can make reading either a print book or an ebook a rich, interactive learning experience.
---
Jessica Ralli is coordinator of early literacy programs at the Brooklyn Public Library. Rachel G. Payne is coordinator of early childhood services at BPL.