Meet Collaboration Awards finalists Hillary Marshall and Brenda Hitchins of Washougal (WA) High School.
SLJ 'S INAUGURAL LIBRARIAN/TEACHER COLLABORATION AWARD FINALIST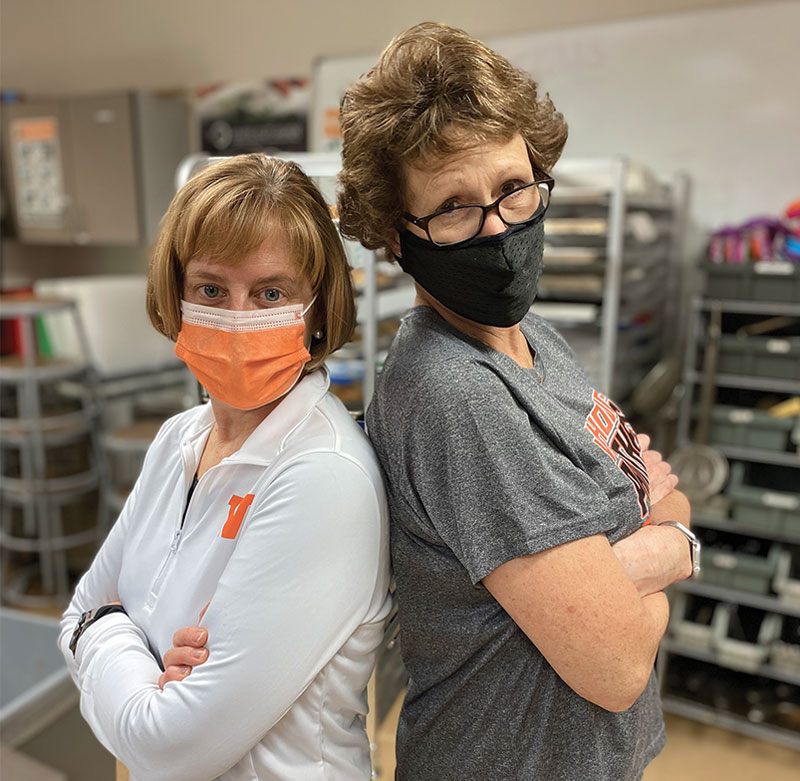 Hillary Marshall (left), library media specialist, and Brenda Hitchins, culinary arts teacher, Washougal (WA) High School
Photo courtesy of Rene Carroll, Washougal School District
Hillary Marshall, the library media specialist at Washougal (WA) High School (WHS), jump-started her collaboration with culinary arts teacher Brenda Hitchins by contacting Hitchins before she even started working at the school or had moved to the state.
When the district announced Hitchins's hiring, Marshall was thinking about weeding the cookbooks in her library collection and buying new titles. Marshall figured she should consult with a professional chef. Hitchins had a career in hospitality in Las Vegas and was also a teacher in Clark County, NV, before joining WHS, a school of about 1,100 students from mostly blue-collar suburban and rural areas, in 2015.
After Marshall reached out, the two swapped ideas before the next school year started. Once they started working in the same building, it was natural to create projects together. Hitchins believes that cross-curricular instruction and students' mastery of technology tools are key to successful Career and Technical Education (CTE) project-based learning. When Marshall mentioned how she hoped to get students experience using computer-aided design programs and the new 3-D printer, Hitchins suggested challenging students to create 3-D cookie cutters. She and Marshall launched the Cookie Cutter Project, a tech-based project that integrated library services with CTE curricula related to engineering and food and hospitality. Innovations like these earned Marshall and Hitchins a finalist spot in the SLJ Librarian/Teacher Collaboration Awards (launched by SLJ with support from TLC).
The students took to the cookie cutter idea immediately. The first year, about 100 students in four sections of culinary classes created a custom shape. Both Marshall and Hitchins learned how thin each line should be and how to avoid small details that might not work with cookie dough.
When the pandemic pushed classes online, the duo committed to keeping the program going. Marshall showed students how to use the software through a Zoom lesson, and Hitchins recorded herself making the cookie recipe. The educators prepared kits for sugar cookies with icing that families picked up at the school so students could keep baking at home.
Students used CAD software to create designs. Marshall says it's her dream to begin a computer science class at the school. In the meantime, students gained some experience through this project.
Students sent in their designs electronically, and Marshall oversaw the 3-D printing of each shape. Some of the best cookie cutters included the Seattle skyline, a hot chocolate mug, a unicorn, and a llama.
Students show off their creations twice a year, Marshall says. In the winter, they provide 1,000 cookies for the town's tree lighting ceremony, and in spring, they provide the same for the school's annual art show.
Hitchins used Skype to bring food service professional Michael Kennedy to talk with students. Kennedy is the director of food operations for 13 restaurants at the South Point hotel complex in Las Vegas. During the pandemic, Marshall and Hitchins also led a novel study of With the Fire on High by Elizabeth Acevedo. As they discussed the book with students, Hitchins demonstrated some Puerto Rican cuisine described in the novel. Students photographed dishes they created and provided evaluation.
For the past five years, the pair has also collaborated to teach units on Career Exploration, helping students research job paths in hospitality and tourism, create résumés, talk to professionals via Skype, and apply for jobs.
Hitchins also teaches children about history through food, from what Indigenous North Americans grew and how enslaved people built the economy through farming, to learning what dishes students are served at home. "There's many generations here," she says of the area in the state's southwest corner, "and it's great to bring those dishes into the classroom."
---
Wayne D'Orio is a journalist who writes about education.