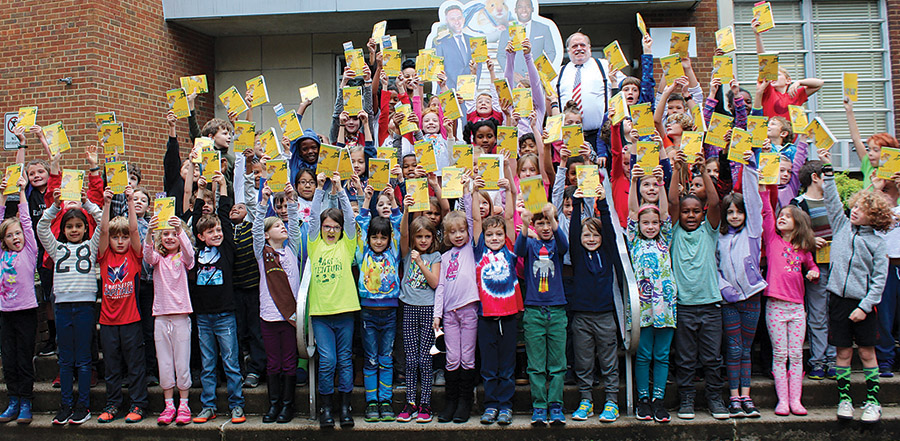 Perhaps there is no better time for a communal reading experience, as the nation still grapples with a pandemic and mass protests and educators search for ways to engage students and overcome the COVID-19 learning slide as we brace for a new school year. Maybe 2020 is the best year yet for a one-school read.
"I believed before COVID-19—and still do today—that reading and books can unite us, and we need that now more than ever," says Terri Gaussoin, an elementary school teacher librarian in Albuquerque, NM.
With one-school, -district, or -community reads, schools and public libraries attempt to build literacy skills and a sense of community using a common book and group discussions. The Seattle Public Library is believed to have started the "one book, one city" programs in 1998. Since then, other cities and towns have designed similar programs. In 2006, the National Endowment of the Arts (NEA) started the Big Read, which supports community reading programs designed around the NEA's book selection. Whether part of established programs or on their own, each year hundreds of locations across the country read the same title and take part in book groups and events.
Such all-school reads date back at least a decade. The biggest decision, of course, has been what book to choose. At the Martin Warren Elementary School in Warrensburg, MO, librarian Kirsten Shaw was motivated to pick a book for the moment.
After a video appeared on social media with some former students making racist comments about Black and Middle Eastern people, she was disappointed and angry.
"This moment was out of my control, but I still felt a responsibility to respond in some way," Shaw says. So she approached her principal about using Torrey Maldonado's What Lane? as the all-school read. Maldonado's spring release shares the story of a mixed-race middle schooler coming to grips with being treated differently than his white friends.
"Reading What Lane? with our students and having this important discussion through [Maldonado's] story is one of the best ways for us to take control in shaping our students to be better humans and better allies," she says.
This will be the first all-school read at Martin Warren Elementary. Beginning in September, Shaw and other teachers will read the book aloud to all grades, and discussions will involve all staff, including art and music teachers and counselors, Shaw says.
If the school is learning remotely, Shaw plans to continue the all-school read without interruptions, doing the read-alouds and book conversations online. While it won't be the same as doing it in person, it is a program that is easy to adapt to distance learning for most schools with class meetings that can resemble online book clubs. In some places, it has already happened.
When the pandemic shut down schools and public libraries in March, communities in the middle of one-read programs had to adapt. One Book, One Philadelphia, whose program ran from January 22 to March 18, canceled events and moved others online. While the one-city reads are typically adult titles, the Free Library of Philadelphia offers two companion youth titles, curriculum guides, and a list of all-age recommendations that share the theme of the featured adult title.
Building family and community literacy
Many schools and districts run One School, One Book or One District, One Book programs through Read to Them (readtothem.org), a nonprofit literacy organization that delivers copies of a title selected from its lists for every student and staff member, as well as resource packets about the book and read-aloud tips for parents. The organization encompasses a consortium of state programs promoting reading to children.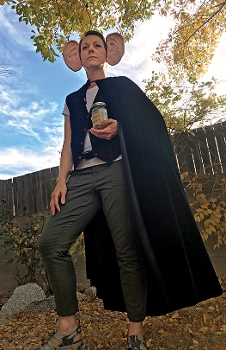 School librarian Terri Gaussoin
dressed like a giant when her school
read The BFG.
Each school handles the cost of books and materials differently. Some use money from the library budget, others get funding from the PTA or grants. Some schools have been supported by local banks in exchange for including materials about financial literacy. The school chooses books about kids who are entrepreneurs or those about spending or saving money.
Schools that use Read to Them pick from about 150 K–5 books, each of which comes with materials such as trivia questions for contests or family reading nights and scripts for kickoff assemblies held to announce the title and build interest in the book. The organization also supplies related classroom activities, though not a formal curriculum.
"I think it's extraordinary, the idea of a community reading the same book and having conversations around it," says Kelly Benadi, principal of R.P. Connor Elementary School in Suffern, NY, which started participating in the program during the 2017–18 school year.
Gaussoin agrees. Eight years ago, the teacher librarian at the Janet Kahn School of Integrated Arts in Albuquerque, NM, brought the program to her school, which uses the arts to help teach core subjects. "It's been really fun to be there over time and see how it has spread."
And it keeps spreading. "I'm proud to say that 10 years ago, we might've [had] 100 schools, and we're going to have 1,000 schools this year," says Bruce Coffey, acting executive director of the Virginia-based Read to Them. "Over 3,000 schools across the country have done the program, as well as others that used the concept to create their own independent programs," he says.
Coffey launched the program in his children's Richmond school about 20 years ago, using copies of The Trumpet of the Swan by E.B. White. He eventually joined forces with Read to Them, and the organization grew slowly.
One year, he remembers, they bought 5,000 copies of The Trumpet of the Swan. If a school signed up, he'd ship out boxes of books. "It was grassroots, out of the trunk of the car, out of the garage for a little while, until we expanded and came up with a better model."
Gaussoin's school signed on before Read to Them had a website or other resources. She was looking for things to do with her students and their families to help "build that idea of family literacy."
"When I was a kid, I grew up with my mom reading to me," she says. "It's one of my favorite memories." But she saw that students at her Title 1 school didn't necessarily have that experience, or own many books of their own. When she learned about Read to Them, she obtained a grant from the district to launch One School, One Book. It's now part of the school budget.
Kelly Benadi found the program online and decided it was perfect for her school. "We have strong literacy goals in our building, and we had made a commitment to independent reading and making sure that students have access to books of choice, books that they're able to read with their families."
The list of books Read to Them offers has grown over time, but it's still limited. Coffey says the organization's staff selects books they think are good quality and would appeal to kids in K–5—whether the students are able to read it themselves yet or not—and has been trying to diversify the list over the years.
Schools do have specific requests for books, he says, some of which are easier to fill than others. Some want STEM books, or titles on subjects like bullying. Many want books with Black and Latinx protagonists. A language barrier can be an issue as well. Benadi's school has a high percentage of English language learners, so they rely on language apps that offer books in Spanish, and record guest readers reading the chapters in Spanish for posting on the school's website.
Gaussoin's school has done similar recordings, but she worries about copyright issues. And Spanish-language books wouldn't help her families who speak Arabic or Kurdish at home. "We'll continue to puzzle it out, because books should be for everybody."
More than the read
To make the whole experience more engaging and memorable, schools go beyond the reading and discussions. Gaussoin builds excitement by creating clues to the book title before the selection is announced.
When Benadi's school read The World According to Humphrey, staff turned the gym into a gigantic maze in honor of the hamster protagonist. The school also handed out mini hamster toys and had parents send photos of where Humphrey had
Students look at their one school read book.
been. Last year, the school held a book-related QR scavenger hunt through town. A Kansas school gave book trivia questions to local restaurants, and when a family came in and the child answered a trivia question from a waiter, they'd get a free drink or dessert.
Wishtree by Katherine Applegate, which Gaussoin's school read last fall, inspired a real-life wishtree project. There was an old tree in the kindergarten playground area in danger of being lost to renovations. "I had several kindergarten teachers come and say, 'We want to turn our tree into a wishtree.' "
Unfortunately, the COVID-19 closures kept the spring plan from happening, but she plans to find a way to go forward with a fall all-school read whether kids are in class in person or not to help bring together students and staff, even if they are physically apart.
Some schools give the book to custodians, bus drivers, and cafeteria staff, along with teachers, according to Coffey. If a child sees different people reading the book, "not just their brother or their parent, but their principal and their teacher and the fifth grader and the crossing guard and the mayor, it makes a bigger difference," he says.
Gaussoin likes to think that One School, One Book helps people remember how important reading is. "And isn't that one of the things that libraries should do, is to help grow readers? And if we're growing them beyond the walls of the school, even better."
Over the years, one thing that surprised Coffey was that the program doesn't just encourage reading. It encourages more regular attendance and better homework habits. One school in North Carolina reported that its tardy rate went down during the all-school read. "Kids wanted to be at school on time to answer the trivia questions," he says.
The positive impact lasts well after kids have read the book. Gaussoin says about four years after the first The Trumpet of the Swan mass read, a parent reached out to thank her for doing the program. Her son, a fifth grader when he read the book, was inspired to play the trumpet in middle and high school.
The reading makes students better able to retain information, and it strengthens family bonds, Coffey says. Ultimately, it broadens minds. "That's what makes you more sophisticated and able to have an open-minded dialogue with your fellow citizens, right?"
Marlaina Cockcroft is a freelance writer and editor. SLJ news editor Kara Yorio contributed to this article.