Award-winning Jerry Pinkney retraces the siren call of Hans Christian Andersen's classic tale and how he finally met the challenge of retelling it in his inimitable way.
It was half buried in the sand, a bright seashell. Who could help retrieving this lovely gift of nature? I pressed the shell to my ear and listene
d. Instantly a haunting song from the sea brought to mind Hans Christian Andersen's "The Little Mermaid." I held it there for awhile, recalling how the mermaid's story, since its first publication, had taken a space on my list of classic fairytales to adapt. Yet, time and again I had placed it on a back burner in order to work on other projects."The Little Mermaid" has been to me an intriguing yet a daunting story because the original text was far too long, and I found the plot to be out of step with the times; today's readers are seeking their own true paths, blazing new trails. So I began reimagining the tale around Melody's need to explore.
The heroine in my adaptation has an overwhelming desire to dream about other places beyond the sea. She is often found alone, creating intricate, imaginary worlds with an abundance of objects from the wreckage of sunken ships. Everything changes one day when Melody finds a doll which looks much like her—except the doll doesn't have a tail. (You and I know that it has legs.) This discovery sets in motion the little mermaid's quest for a soulmate, which in my version is a friend, and not a romantic interest. And yes, like in the Andersen text there is her father (the king of Merfolk), and the devious sea witch which makes a bargain with Melody to give up her beautiful voice in exchange for legs and a life on land with a true friend. Lastly there is a fierce battle in which a heroic and triumphant Melody regains her voice, and resolves never to give it up again for anyone or anything.
Like the little mermaid's journey to find her voice, I needed to embark on my own journey to find my storytelling voice. First, I created a storyboard, focusing on emotional and dramatic highlights found in Andersen's tale. Then I generated over one hundred and twenty thumbnail sketches, and more then forty detailed concept studies, all without using live figures or photo reference for the figures. All were done before tackling the text. My process of developing the visual narrative for this story has changed the way I create books, and I expect I may never use a model in the studio again.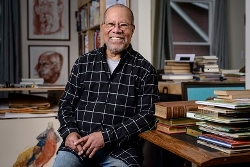 My interest and fascination with "The Little Mermaid" was also due to its setting, which bridges two worlds, water and land, for a day in which they become one world. I was especially drawn to the undersea with all its oddities and spectacular creatures. I found that the more I researched, the more I realized how overwhelmingly full of energy and life the oceans are, and I knew it would be challenging to capture the awesomeness found there. My aim was for my art to reflect that overwhelming feeling I experience when exploring these new territories. My research also yielded fascinating details about the various African mythologies around water spirits, or Mami Wata. It was rewarding to have the opportunity for me to paint a mermaid of color, give her a strong voice, and best of all, to experience the joy of giving her a new friend.
Jerry Pinkney is one of the most heralded children's book illustrators of all time and has illustrated more than 100 books. He has the rare distinction of being the recipient of five Caldecott Honors and the winner of the 2010 Caldecott Medal for The Lion and the Mouse, and has since created several companion books: The Tortoise & the Hare, The Grasshopper & the Ants, The Three Billy Goats Gruff, and The Little Mermaid. He has won the Coretta Scott King Illustrator Award five times and the Coretta Scott King Illustrator Honor four times. Jerry has received several major lifetime achievement awards and was also the first children's book illustrator elected to the American Academy of Arts and Sciences. He lives with his wife, author Gloria Jean Pinkney, in Croton-on-Hudson, New York. The artist invites you to visit his website at jerrypinkneystudio.com.
[photo by Jacob Blickenstaff]
Reprinted with permission of Little, Brown Books for Young Readers