At its core, Mixerpiece is for lovers of art and visual expression who delight in creative play and the endless possibilities of collage.
Apps such as van Gogh and the Sunflowers and ExplorArt Klee, among others, have found an eager audience with children. Along comes a production for kids and adults who love art. Kathleen Wilson reviews Mixerpiece below.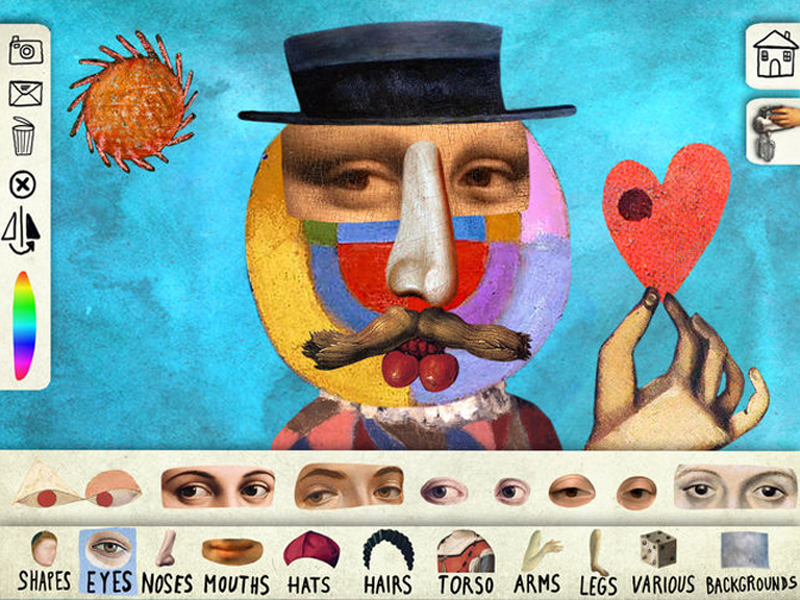 Anyone who has ever seen the artwork of Giuseppe Ragazzini, self-proclaimed painter, set designer, visual artist, and pictorial animator, will recognize his imprint on Mixerpiece (Giuseppe Ragazinni/Ovo Lab, iOS, $2.99; PreK-Adult) immediately. The app is imbued with the artist's playfully quirky, imaginative Picasso-esque style, and his approach, which builds on the traditions of mixed media and assemblage. At its core, Mixerpiece is for lovers of art and visual expression who delight in creative play and the endless possibilities of collage.
The easy-to-use interface is refreshingly visual and appealing. The landing page has just two basic options: "Create" and "Gallery," along with small buttons for simple navigation hints and information about the creators. In the first mode the screen becomes a free-form digital canvas with an index of interactive options displayed down the left side of the screen and two rows of thumbnail images running across the bottom. The 200 or so available images are organized into 11 categories represented by the thumbnails. Categories include the basic elements for building collages such as backgrounds, landscapes, fruits, hats, objects, shapes, torsos, and faces. When a category is selected, a scrollable set of images representing specific objects within the set fills the row above. For example, if the "landscapes" category is selected, images of different landscape elements such as mountains, waves, clouds, houses and trees, will appear.
Simply tapping a desired image causes it to be copied and moved into the central work area, where it can be dragged into a new position. Once placed, the scale and orientation of the image can be manipulated by resizing, rotating, or changing its color (or, if necessary, deleting it). To build a collage, any number of additional images can be selected.
For some extra fun and a bit of perspective-shifting, the iPad can be jiggled, literally, to see what happens when the collage elements that were originally chosen are "shaken up" and replaced by random elements from the same categories. For example, a mountain might become waves (landscape elements), a vase might become a hammer (object elements), or a hand might become a foot (body elements). Once completed, a Mixerpiece masterpiece can be sent to a friend as a postcard, shared on Facebook or Twitter, uploaded to the app's Gallery or deleted.
Of note, particularly for older users, is that each of the images used in Mixerpiece comes from a master work of art. Holding a finger down on an picture brings up the original art along with its title, information about the artist, medium, the date created, and the gallery or collection where the work can be found.
It's not unusual, then, for a collage created with Mixerpiece to be comprised of elements juxtaposed side-by-side that have been created by different artists from different eras in different styles. For example, it might end up consisting of a landscape element, such as a mountain, from Giotto's Miracle of the Spring, Legend of St. Francis (1267-1337), an object, such as a mandolin, from Rousseau's The Sleeping Gypsy (1897), and fruit, such as an apple, from Caravaggio's Basket of Fruit (1599). Similarly, a collaged figure might emerge with a torso from Cezanne's Man with a Pipe (1892-96), a face from Da Vinci's Lady with Ermine (1488-1490) , and eyes from Modigliani's Portrait of Moise Kisling (1916). A trailer is available. VERDICT Mixerpiece is a delight—lots of fun and full of surprises. Recommend it to anyone who considers art projects and creation a favorite form of play.—Kathleen Wilson, New York University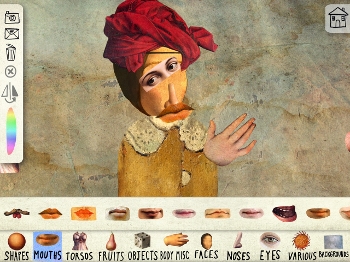 For additional app reviews, visit School Library Journal 's dedicated app webpage.