With these nine books, Star Wars fans can enjoy making edible treats and meeting new characters in the universe, while new fans and casual readers can enjoy learning about and spending time in a galaxy far, far away.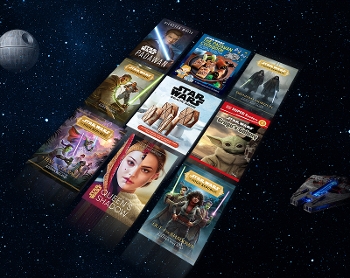 Star Wars: The Padawan Cookbook: Kid-Friendly Recipes from a Galaxy Far, Far Away by Jenn Fujikawa & Liz Lee Heinecke. Insight Editions. ISBN 9781647226312.
Gr 2 Up–Star Wars fans of all ages can find fun in this thematic cookbook. Combining cooking with the epic Padawan journey to becoming a Jedi is a surefire way to entice young Star Wars fans to branch out with cooking. Recommended for juvenile collections, especially where Star Wars is popular.
Into the Dark by Claudia Gray. illus. by Giorgio Baroni. Disney/Lucasfilm. (Star Wars: The High Republic: Light of the Jedi YA Trilogy: Bk. 1). ISBN 9781368057288.
Gr 7 Up–Gray drops readers into a perfectly spine-chilling survival story in this "High Republic" YA novel. Perfect for even casual fans, this novel is action-packed with adventure and mystery. With "Star Wars" interest at an all-time high, this is recommended for general purchase.
Out of the Shadows by Justina Ireland. Disney/Lucasfilm. (Star Wars: The High Republic: Light of the Jedi YA Trilogy: Bk. 2). ISBN 9781368060653.
Gr 9 Up–Assuming familiarity with the High Republic–era Star Wars universe, this book features multiple viewpoints and venues, and focuses on plot and suspense rather than action and description. This complex and suspenseful but occasionally confusing, story and its compelling characters will appeal most to fans of the Star Wars franchise and of mysteries.

[Read: 

8 Star Wars Series You Don't Want To Miss | Mondo Manga

]
A Test of Courage by Justina Ireland. illus. by Petur Antonsson. Disney/Lucasfilm. (Star Wars: The High Republic: Light of the Jedi (Middle Grade: Bk. 1). ISBN 9781368057301.
Gr 3-6–In this novel, readers meet four young characters: the inventive and rebellious daughter of a senator, a young padawan, an exemplary teen Jedi, and the son of an ambassador. An engaging adventure for young "Star Wars" fans, and a great introduction for new visitors to the galaxy far, far away.
Star Wars: Queen's Shadow by E.K. Johnston. Disney/Lucasfilm. ISBN 9781368024259.
Gr 6–10—Johnston offers readers a plot-driven science fiction tale chronicling Padmé Amidala Naberrie's transformation from the Queen of Naboo to its representative in the Republic. A fascinating perspective into the backstory of a beloved and well-known character within the "Star Wars" universe, this is a must-have for reluctant readers or for fans of the franchise.
DK Super Readers Level 1 Star Wars Grogu's Galaxy: Meet Mando's New Friend! by Matt Jones. DK. ISBN 9780744070668.
Gr 1-3–Zoom into another galaxy and meet Grogu! Star Wars fans will recognize Baby Yoda and other familiar characters, including the Mandalorian, as well as meet some new characters and concepts in this high-interest text. Beginning readers who love Star Wars will want to check out this book to feel confident about their reading.

[Read: 

Three Interstellar Novels for Teens Watching 'The Mandalorian' on Disney+

]
Midnight Horizon by Daniel José Older. Disney/Lucasfilm. (Star Wars: The High Republic: Light of the Jedi YA Trilogy: Bk. 3). ISBN 9781368060677.
Gr 7 Up–Older dives into Jedi ideology, the Light, and PTSD as many characters try to reconcile the calm of Starlight Beacon with the violence of the galaxy and find balance in the Force. The author juggles a large cast of familiar characters and subplots—some more successfully than others—to create one of the more contained installments to the expansive series.
Star Wars: Galactic Baking: The Official Cookbook of Sweet and Savory Treats from Tatooine, Hoth, and Beyond. Insight. ISBN 9781647223779.
Gr 4 Up–Bakers ready for an intergalactic experience will find much to enjoy in this franchise-based cookbook inspired by planets in the Star Wars universe. In general, this fun, easy-to-read cookbook will help fans young and old set their snack game to light speed just in time for movie night. Recommended for purchase where the Star Wars franchise is popular.
Padawan by Kiersten White. Disney/Lucasfilm. (Star Wars: Bk. 2). ISBN 9781368023498.
Gr 7 Up–This novel features some never before seen backstory for young Obi-Wan and the beginnings of his relationship with Master Qui-Gon Jinn. With Obi-Wan a cornerstone of the "Star Wars" franchise, this title is recommended for general purchase.