Caldecott Medal-winning author and illustrator Matthew Cordell discusses his picture book biography Hello, Neighbor! and why Mister Rogers's brand of unconditional kindness is much needed during these uncertain times.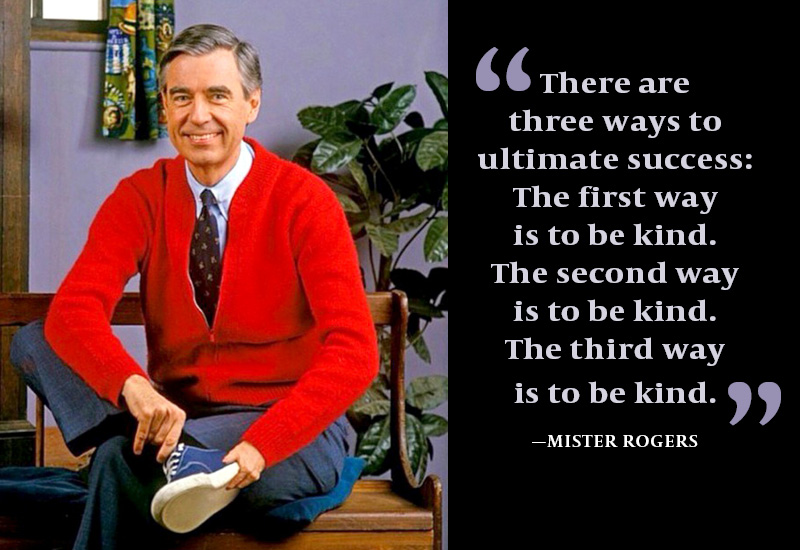 I was a child of the late '70s and early '80s, which was, in my mind, a kind of golden age of children's programming on PBS. We had Sesame Street, The Electric Company, and Mister Rogers' Neighborhood. Mister Rogers meant a lot to me and was a big part of my formative years. I loved the snapshots of everyday life in his "real" neighborhood. I loved the whimsy and fantasy that played out with puppets and human friends in the Neighborhood of Make-Believe. I could sense, even then, that Mister Rogers was caring and sincere.
Then...I grew up. As we grow up and out of childhood, it's a sad truth that we thicken our skins at the realization that the world can be a pretty dark place. Maybe we become jaded, negative, angry, or judgmental. I know I had a little of all of those emotions in my blood by the time I was well into adulthood. I had changed. And the child I once was and the time I'd spent with Mister Rogers was all but forgotten. Then came the biggest, greatest change in all of my life. I became a dad.
As my daughter, Romy, became a toddler and then a preschooler, my wife and I found ourselves watching PBS children's programming for the first time since we, ourselves, were kids. There was a fun, fresh crop of new shows. I was happy to see Sesame Street still going strong.
Then one afternoon, an old episode of Mister Rogers' Neighborhood came on. It turned my head. The opening sequence—where he sings and changes from his jacket and dress shoes into his cardigan sweater and sneakers—it shot me straight back to when I was four years old. A wave of nostalgia swept over me, and I ended up watching the episode all the way through.
By the time Mister Rogers was changing back into his jacket and dress shoes and saying his goodbyes, I was kind of a mess. But, like, a good mess. On one hand, it was like a time machine—taking me back to the innocence of my childhood. On the other hand, I had just watched Mister Rogers for the first time as an adult and for the first time as a parent.
It was an awakening. I saw a lot in him that I'd forgotten or maybe never realized before. Here was a man who was calm, gentle, patient, curious, optimistic, reassuring, and compassionate in a world that, frankly, does not often celebrate these things. Mister Rogers was an antidote to the darkness in the world. He didn't gloss over the fact that it exists. He reasoned with it. Picked it apart. He wasn't consumed or manipulated by it. It was refreshing. And being someone who works with little ones myself, I was taken by his palpable love and admiration for children. I felt a deep and immediate connection to Mister Rogers, and I watched the show daily after that—with or without Romy.

Read: SLJ's Starred Review of Hello, Neighbor!
Soon, I became curious about the man behind Mister Rogers: Fred Rogers. What was he really like? I had felt deflated time and again after looking up different artistic heroes in my past. These icons could never live up to my inner expectations. But I soon discovered that the real Fred Rogers was just like Mister Rogers.
The real Fred Rogers had a lifelong dedication to and respect for children. He was passionate about music and the arts. He was whimsical and had a terrific sense of humor. The real Fred Rogers promoted kindness, tolerance, and love for others. Fred Rogers was a person I had never encountered before. He was a rebel. An unexpected rebel. He was a male role model we had never seen before. It became clear to me that I needed to tell Fred's story. I needed to use my voice as an author and an illustrator to make a book that would share all of this with today's children and families.
"When I was a boy and I would see scary things in the news, my mother would say to me, 'Look for the helpers. You will always find people who are helping. If you look for the helpers, you'll know that there's hope.'"
It's one of the most remembered Mister Rogers quotes. The world can be a bleak, seemingly hopeless place. When we find ourselves in times like these, Fred's words have provided reassurance that not all hope is lost. Even if we don't have answers, there are experts and qualified people who do. Fred's words were directed toward children, who certainly require this level of reassurance. But when the events of our adult lives seem to spiral out of control—whether it be from world conflict, tragedy, and even now as a health crisis works its way around the globe—this message has proven to be universally comforting. Hope is not lost when there are trained experts—helpers—all around. All we need to do is look.
Fred himself was a helper. Helping children was his life's mission. Throughout my life, he has helped in more ways than I can fathom. In fact, Fred's words and helpful legacy allowed me to make a book about the man himself.
When I first thought about writing a book about Mister Rogers, it was both exciting and daunting. I had never written or illustrated any work of nonfiction. Starting out with the life of a personal hero felt especially intimidating. So, I thought about Fred's words and his mission in life, and I looked for help. I looked for nonfiction author friends who helped me to understand the process. I looked for an editor who had experience with picture book biographies and a shared love of Mister Rogers and his story.
When it came time to dig deep into the manuscript, I looked for the best help I could find. I met with Fred's longtime collaborators and friends at Fred Rogers Productions. And for my illustrations, I found the help I needed through the archivist at the Fred Rogers Center, in a vast collection of photo reference. Consequently, a book about a great helper would never have been possible without help.
At the very root of his message, Fred wanted all children to know that they have worth and significance. Each of us is distinct and unique and is capable of loving and being loved. Mister Rogers ended every episode of Mister Rogers' Neighborhood with that sentiment. A version of this was often said to Fred, when he was a boy, by his Grandfather McFeely: "Freddie, you made this a special day, just by being you."
It's a wonderful legacy to share that kind of love and admiration with our friends, family, and neighbors. The legacy of Grandfather McFeeley, of Fred, and of Mister Rogers' Neighborhood.
Let's all agree to pass it on.
---
Matthew Cordell is the Caldecott Medal-winning author and illustrator of Wolf in the Snow, and the illustrator of numerous highly acclaimed children's books including The Only Fish in the Sea (by Philip C. Stead) and Special Delivery which was a Washington Post Best Book of 2015. He wrote and illustrated Another Brother, Wish, and Hello! Hello!, a New York Times Notable Children's Book. Matthew lives near Chicago with his wife, author Julie Halpern, and their two children.