When Mary Ann Cappiello was starting out as a teacher at East Side Community High School in New York City during the mid-1990s, one of her first tasks was to build a classroom library. She drew on her own tastes and interests: novels by Judy Blume, Robert Cormier, and Paula Danziger. Looking back, she says, this was not the best strategy.
"The books did not reflect the diversity of my classroom filled with students of color, the majority of whom were of Puerto Rican and Dominican descent," Cappiello says. "It's no wonder that so many of them were not interested. The books were battered, the covers were awful, and they were mostly filled with the stories of white middle-class teens living in the suburbs of the 1970s and 1980s."
It didn't take long before she realized she needed the help of a professional. When Cappiello relocated to a high school in Pleasantville, NY, she struck up a relationship with the school librarian, who year after year helped her build a collection tailored to her students. Cappiello says, "I would never have been able to do any of the work I did with kids without the support of my school librarian."
Now a professor of education at Leslie University and coeditor of "The Classroom Bookshelf" blog (theclassroombookshelf.com), Cappiello, among other literacy leaders, maintains that classroom libraries should represent students' interests, not just those of teachers and administrators.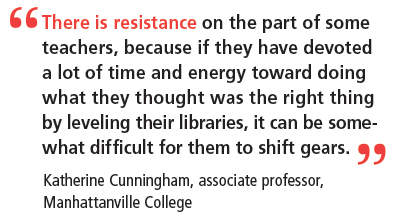 Most school librarians agree on those points—and they can play a strong collaborative role in developing classroom libraries. But while classroom and school libraries share the larger goal of advancing literacy, they often serve different purposes and budgetary priorities. A classroom library, for instance, may stock multiple copies of popular paperbacks for book clubs or independent reading, while a school librarian may focus on building a deep collection of quality fiction and titles related to the curriculum. A teacher's collection may be oriented toward boosting test scores, with titles featuring passages similar to what students would find on a test. A school librarian may strongly advocate for students to choose their own reading, pointing to studies showing that choice fosters literacy skills; librarians also aim to build lifelong reading habits.
Teachers are often cast as the keepers of classroom books, with school librarians in a supporting role. The most recent (2017) statement on classroom libraries from the National Council of Teachers of English encourages teachers and librarians "to collaborate on the selections available for student choice and reading." The statement's emphasis is on the teacher as "uniquely qualified to select books that supplement and complement curricula and address the needs, interests, and concerns of their students."
Cooperation between teachers and school librarians can vary depending on a school's culture or priorities—and how much a school values the librarian. Many classrooms level their books, which librarians often view as restricting kids' choices. Librarians may compete with classroom teachers for funding—leaving school librarians defending their expertise, and sometimes their jobs. Ideally, the school librarian is central in determining the character of classroom libraries and in shaping the literacy culture in the school.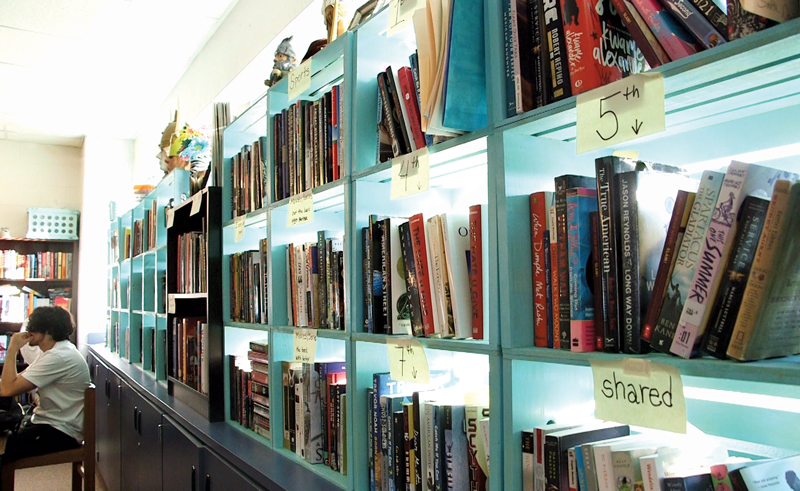 A classroom library at Clear Creek ISD in League City, TX.
Photo courtesy of Clear Creek Independent School District
Opportunities for collaboration
Kenna Terry, a tenth grade English teacher in Friendswood, TX, sorts her collection of some 350 classroom books according to categories: "Of This World" contains realistic fiction and nonfiction and "Not of This World" includes fantasy, dystopian, and science fiction. Particularly enticing to students is the section called "Read It Before the Movie Comes Out."
Such small, appealing displays can be a first step toward wider exploration. "For kids who have never been to a real library, [entering one] can be intimidating," says Terry. "Being exposed to books in the classroom…gives them more confidence when they go to the school library."
But teachers selecting books for independent reading continually need to refresh their collections, especially in support of their content area curriculums. Here, school librarians can supply the right titles from library shelves and signal to administrators where future money should be spent.
When Cappiello taught a ninth grade unit on the Middle Ages, she needed nonfiction books to supplement her batch of historical fiction. Bonnie Ellis, the school librarian at Pleasantville High School, helped her curate a collection and lent her support in appealing for future funding. "It was always important for my administrators to hear that I worked with the librarian," Cappiello says. "That showed the books were really worth purchasing. I could then request funding for the next budget year for those books." Ellis, too, continued to look out for books related to the unit and added them to the school library collection.
Challenges
Even if funding for collaboration is plentiful, librarians can find themselves struggling to create a vibrant, literate culture where there's pressure to boost test scores—and classroom collections are preselected by literacy specialists or curriculum coordinators with a focus on building skills. Teachers, in these cases, may not be in a position to get creative with their selections.
"There is resistance on the part of some teachers, because if they have devoted a lot of time and energy toward doing what they thought was the right thing by leveling their libraries, it can be somewhat difficult for them to shift gears," says Katherine Cunningham, associate professor of literacy and English education at Manhattanville College in Harrison, NY. Fewer teacher preparation programs are requiring candidates to take a course in children's literature, Cunningham adds. In addition, some 48 percent of candidates for elementary school teaching don't identify themselves as passionate readers, she says, citing the well-known Peter Effect study by Applegate and Applegate (2004).
At the school Cunningham's children attend, the librarian runs a Mock Caldecott program with students every winter. "The kids really remember those books," Cunningham says. "They remember the read-aloud. When I ask them about the read-alouds they're doing with their teachers, they usually struggle to think of books that interest them."
Cunningham also points to trends including graphic novels, and innovative books for young children such as Hervé Tullet's Say Zoop, which connects abstract images to sounds, and Dan Santat's Are We There Yet?, which employs a QR code. "The most innovative classroom libraries and school libraries are picking up on those changes."
Librarians can show leadership in their schools by keeping the principal and teachers informed on the latest research and circulating blogs and journal articles by literacy experts. A faculty book club, suggests Cappiello, could promote regular discussions about how best to teach reading.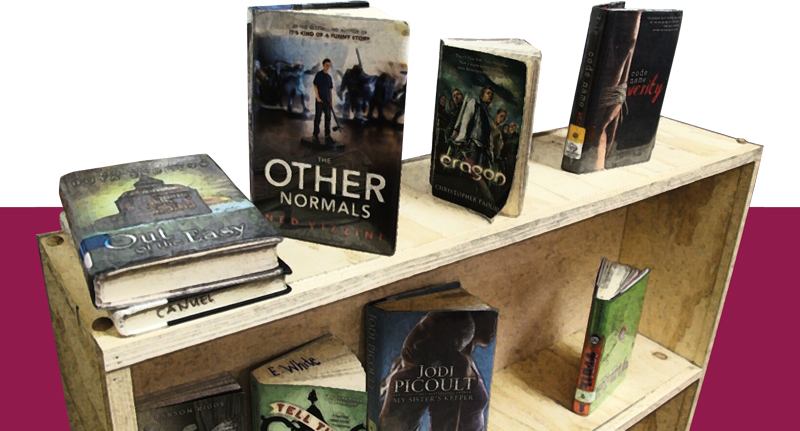 Photo courtesy of Clear Creek Independent School District
Navigating coexistence
When she worked at Niños Heroes Elementary Academic Center in Chicago, librarian K.C. Boyd saw her budget shrink as money was diverted into stocking classroom libraries. It was part of the $12.5 million Chicago Reading Initiative, an effort to raise test scores in the city's lowest-performing elementary schools.
The bitter irony for Boyd, now a library media specialist with District of Columbia Public Schools, was that she was enlisted to instruct teachers in organizing, not selecting, their collections. "Two years we didn't get any funding, and we had to help set those [classroom] libraries up? And then we didn't get any kind of recognition or thank-you? That was a thorn in my side."
The classroom libraries "were leveled, and they lacked diversity," adds Boyd, whose own strategy for creating a culture of reading was to introduce students to street lit. "When you don't have that library presence, the child's reading habits stop."
Devon Horton was a social studies teacher at Mays Academy in Chicago when the reading initiative was rolled out. He was struggling to assemble a collection of books for a classroom of African American males. "It was really tough," says Horton, now chief of schools for Jefferson County (KY) Public Schools. "I can honestly say, maybe a bit shamefully, that I did not have the resources to capture the attention of my students."
When Horton became deputy superintendent of East St. Louis (IL) High School District 189 in 2014, he hired Boyd as a district lead librarian to overhaul district libraries. It was a key piece in Horton's strategy to foster reading. More than 15,000 books were checked out during the new system's first school year, 2016–17.
"We didn't even look at classroom libraries," says Horton. "The data piece we felt the most valuable, in order to validate [our efforts], was to look at the checkout process and the number of books that libraries are having students check out."
Even in districts where there's agreement about the importance of having both school and classroom libraries, nothing can be taken for granted. "It has been an ongoing practice of advocacy," says William Eastman, a high school English language arts administrator for the Clear Creek Independent School District in League City, Texas. He works closely with Suzy Ferrell, director of library media services. "What Suzy and I have done together is build the case for funding being used on classroom libraries, but that doesn't take away from school libraries."
This year, Clear Creek is putting approximately 300 new books into every sixth through 12th grade classroom. Building classroom libraries is the centerpiece of the district's reading curriculum based on independent, self-selected reading, as mandated by Texas's new K–12 standards.
"Librarians are our models," says Eastman. "The library is an extension into the classroom library that needs to happen. A classroom library of even 300 books can't come close to competing with the school library."
Mary Charters has been a school librarian in Cutchogue, NY, for 17 years. In 2008, during a period of falling enrollment, she was laid off from her position at Cutchogue East Elementary. She has since returned. If you had asked her then about whether funding classroom libraries was a threat to school libraries, she would have said yes. "Why would you spend money putting books in classrooms when you have this school library where everyone has access to books and we can all share?"
She has since come to a different view. It's important to get books into kids' hands as soon as possible, she says, and if that happens in the classroom, fine. But going into the new school year, Charters's budget is half of what it was five years ago. More money is going into buying books for classrooms, and she hasn't been involved in selecting them.
"I'm not going to begrudge that for at least one year," she says. But "if it becomes a trend, and we're not purchasing what we should be in order to be a good school library, then I really have to find my voice and go to battle for the kids."
At Clear Creek, Eastman and Ferrell are certain their success depends on the collaboration between teachers and librarians. "It can be done," says Eastman. "It's just something that you have to keep advocating for, over and over again. We think this can be achieved in any school district [and] in any ELA classroom. There can be partnership between classrooms and school librarians anywhere."
---
Brian Seto McGrath is an editor of TIME for Kids magazine.